Note: This is an archived entry. Some links might not still work, but I have tried to ensure scan and video embeds are still in place. If any linked material is unavailable, please let me know and I'll attempt to find a copy in my personal archives.
Photos of Hugo and the rest of the cast are beginning to roll in: some of these are informal shots taken outside the theater… next will be the more formal, high-res Red Carpet shots by photographers with "access". 😉

Hugo Weaving and James D'Arcy (from Warner Bros Twitter Feed)
No, I have no idea what that pesky white stripe is all about… but I've never understood the appeal of Instagram either. 😉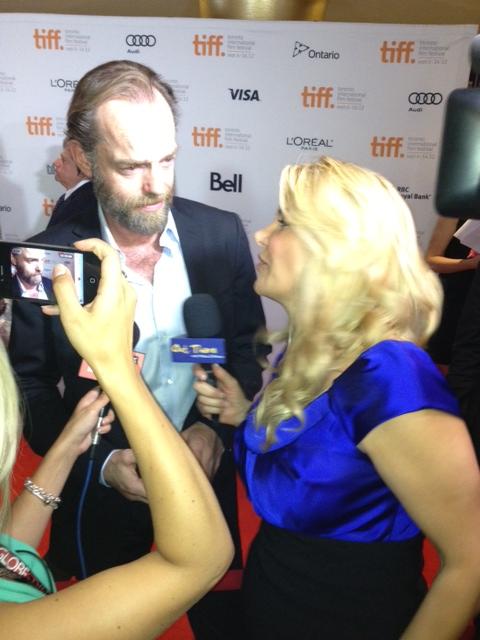 Melissa DiMarco "Showing off my mic to Hugo Weaving!"

Justine Lewkowicz: "Weaving says while ppl didn't think u could make film from book, Cloud Atlas is pretty extraordinary screenplay"

Leora Heilbronn- from inside theater (The cast and directors announce the film)

Lianne Gravitis (Hugo to immediate left of Lana Wachowski)

Jane C Stevenson

Teri Hart/The Movie Network (Susan Sarandon's in there too) 😉
According to fans lucky enough to be in the theater, the screening has begun. Video interviews, press photos, etc should start appearing soon. I'll do the best I can to keep up. Photos of other cast members on my Twitter Feed. You can also follow less specific 😉 TIFF press coverage here, here and here.
Here are the first Getty Images photos:

Photo: George Pimentel/Getty Images He's looking a little tired. After this past week, who wouldn't be! 😉

Photo: George Pimentel/Getty Images

Hugo Weaving with Hugh Grant and Susan Sarandon Photo: George Pimentel/Getty Images

Above two photos: Jason Merritt/Getty Images
More Getty premiere photos (lots) can be seen here. (Zimbio has some of the same shots, but not all so far.) It looks like Hugo bypassed most of the crowd activity outside the theater (Tom Hanks, Hugh Grant, Halle Berry and others did stop and sign for fans), though he did pose on the red carpet and gave several interviews… I'll bring you those as soon as the sources post 'em. 😉