Note: this is an archived entry. Some links might not still work, but I have tried to ensure scan and video embeds are still in place. If any linked material is unavailable, please let me know and I'll attempt to find a copy in my personal archives.
I know that online coverage for Cloud Atlas has been at a fever pitch ever since the Toronto International Film Festival last month… but now things are about to get even crazier… the actors are now in Los Angeles on a press junket for the film, and new interviews should begin to appear… well, any minute now. In addition, a flood of new behind the scenes material (including a brief but charming snippet of Hugo discussing The Notorious Nurse Noakes) has appeared on YouTube (via Celebs.com) and Trailer Addict. AND there's another new TV ad; Warner Bros is calling it TV Spot 6, not to be confused with the minute-long clip I embedded earlier this week which IndieWire and some other sites were calling TV Spot 6. Anyhow… there are now seven TV spots available online, and here's the new one:
TV Spot 6 (maybe):
Brief glimpses of Nurse Noakes and Old Georgie in there, along with something nice for the James D'Arcy fans, finally. 😉
Here's Hugo's little on-set piece; other comments from this interview appeared in the Yahoo (Multitude of Drops) and German press videos I posted in the previous entry, and with any luck we'll see more in the eventual DVD/Blu-Ray release. With a cast this large and intelligent, they could easily have a separate disc of interviews. I'd happily pay extra.
For the record, I could easily spot each actor under all the makeup, even Alistair Petrie, whom I'd never seen in a film before. (He plays Felix Finch, ie the guy Tom Hanks throws off the balcony, and a gallery of other cameos one could call "Assholes Through The Ages". 😉 The only 'roles' I missed were of actors in  photographic images displayed on some characters' walls, mainly in the Luisa Rey plot. But I agree with Hugo that one can interpret the transparency as intentional and thematic.
Here's a brand new interview with Lana and Andy Wachowski and Tom Tykwer from MCN's DP/30 (David Poland's series of in-depth interviews):
Below is one of the video reviews for Cloud Atlas that have started surfacing amid the recent preview screenings. I agree with Chris Stuckmann's feeling that the film is flawed, but not with his notion that one should downgrade any film because it's "hard" or challenging. Maybe I'm not being fair, because I did read the novel, but I didn't find either remotely difficult to follow. (My boyfriend, who attended last Saturday's screening with me, also was able to keep up, though he asked a lot of questions about what was going on in the Zachry plot because he, like Stuckmann, couldn't understand all the pidgin English. I didn't understand every line, mainly because each actor had a different idea of how it should be spoken. I understood everything Halle Berry and Hugo Weaving said because they enunciated well;  other actors tried to add accents (their own or an improvisation of a Valleysman accent… Um, Hanks, that's be you) and I lost lines here and there. But very few key plot points in that tale are revealed solely in dialogue.
I actually wish the film had challenged me more, to be honest… each plot is very genre-bound and follows a predictable course. None of the villains have any depth, though several are entertaining. But I don't see a substantial number of viewers arguing in favor of Haskell Moore's or Goose's point of view like they did Agent Smith's. 😉 Of course I agree with the film's thematic point (though not with its notion that we have multiple lives to sort out our problems)– but who wouldn't? If even one plot had more ambiguity or points of view, I'd have been more enraptured. I am still fascinated by a lot about the film, but wasn't particularly challenged by it. And I would probably have a lot of interesting arguments with Lana Wachowski about Kubrick's 2001.  The reason 2001 is such a brilliant movie is that neither of us would be wrong. 😉
Enough of my meanderings and let's get back to Hugo Content. Here's a smart new pic from writer/artist Kevin Chill Heard via Twitter: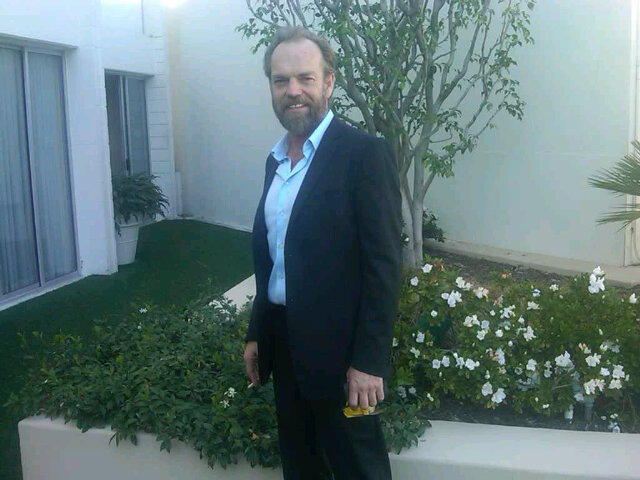 Hugo Weaving in Los Angeles, 14 October 2012
He interviewed Hugo and the rest of the cast, and of course I'll share links to/embeds of that as soon as it's live.
Next are three delectable Behind the Scenes/B-Roll compilations from Trailer Addict which are divided into chronological segments following the film's six plots; the first includes footage from the Adam Ewing and Letters from Zedelghem plots, the second Luisa Rey and Timothy Cavendish, and the third Sonmi and Zachry. Fans will want to devour this, but I'll warn you these are full of plot spoilers, including of moments I'm glad I first saw in the context of the film. Remember the Wolfman B-roll which completely gave away the fate of Hugo's character, including the film's final image of him? More of that here. So be warned, and I'd completely understand if you waited to watch these until you've seen the film. Note: screencaps I take will not include spoilers.
B-Roll I: (Hugo as Haskell Moore, Tadeusz Kesselring)
B-Roll II: (Hugo as Bill Smoke, Nurse Noakes– plus a glimpse of Katrina) 😉
(Note: I'm aware that this video abruptly freezes about halfway through its overall run-time, in the middle of the Nurse Noakes footage. A YouTube version simply ends at this point, suggesting damage to the original upload. If anyone has the intact clip, please let me know.)
B-Roll III: (Hugo as Boardman Mephi, Old Georgie)
You can find interviews with all of the film's actors and the directors, as well as all of the extant trailers and promo clips, at Trailer Addict.  There's also a nice, in-depth interview with Halle Berry at Flicks and Bits.
New Reviews:
Katherine McLaughlin, Starburst: "This is an extremely exciting, daring and sweeping undertaking that has been taken on by three capable and imaginative directors…. Just as the virtuoso in one strand of the story composes the sublime Cloud Atlas Sextet (a nostalgic and lingering tune) these directors have honed their skills to create an intricate tapestry of life looking at the grand adventure, the tying bonds of the human experience and the pursuit of love, art and freedom. Wandering through the many exquisite worlds proves to be confusing at first as all the stories and their characters are introduced but after an initial awkward getting to know you phase you can't help but be swept up in their stories….Each actor plays their serious roles well, with Doona Bae as Sonmi-451, parading her versatility and being brilliant as a Fabricant waitress who is persuaded to shed her shackles and life of servitude by a human. It's only right that Hugo Weaving gets the stand out malevolent characters; with a particularly menacing Nurse Ratchet inspired performance in one strand. Tom Hanks brings his usual earnest face to the proceedings but also takes a turn as an aggressive Irish gangster which is strangely entertaining. Ben Whishaw is utterly captivating and with the love story that plays out in his strand is sure to pluck on the old heart strings. Halle Berry, Jim Broadbent and Jim Sturgess are all equally wonderful in their roles and get to shine in some funny and strange appearances. The same mistakes and understandings play out through each story with each main character connected by a shooting star tattoo to represent their shared experiences…. Ambitious, dazzling, and moving, but also silly and cheesy with a sense of humour, this is a spectacular, symphonic ride through different time periods that connects the dots in a visually resplendent and wondrous way.:" (9 out of 10 Stars)
[I disagree that typecasting Hugo was a good idea, as he didn't get to do that much with his characters, and many were repetitive  I do agree Hugo did the best he could under the circumstances, and would love to have seen more of Nurse Noakes.]
Chihoe Ho, Rotten Tomatoes: "Sure to be this year's most epic production on screen, 'Cloud Atlas' is moviemaking magic on the grandest scale. Spanning various settings, existing and artificial; crossing lifetimes and generations, past and futuristic; and encompassing genres of storytelling, fictional forms and not; this cinematic version brings out the connections made in the novel that it is adapted from, covering the themes of life and death, love and loss, the society and the individual.'Cloud Atlas' is one of my favourite books and there were doubts as to whether the translation on such a magnitude would work, but it far exceeds expectations thanks to the vision of the Wachowski siblings. It could be hard for viewers who have not read the book to follow initially, but the stories fall into place quicker and easier than one would expect. It clocks in at almost 3 hours long, but it never felt drawn out. The sometimes-subpar prosthetics was a slight issue for me, but it pales in comparison to the scope of which the production, from the scores to the cinematography, has transcended to. While it has already been divisive in reviews, 'Cloud Atlas' definitely rates high in my book, and judging by the rousing applause from the audience, fans of the book or not, it received at the Toronto International Film Festival screenings, there are and will be a lot others who will appreciate it too. " (Four and a half out of 5 Stars)
More soon (I'll keep adding material as I find it… at least four different journalists have bragged (and who wouldn't?) about interviewing the cast today, so we'll see how soon their footage/articles makes it online. (I'm working on screencaps from the above videos too…) Should be a thrilling week. 😉