Note: this is an archived entry. Some links might not still work, but I have tried to ensure scan and video embeds are still in place. If any linked material is unavailable, please let me know and I'll attempt to find a copy in my personal archives.
I've had a bit of an epic quest of my own getting my video software up and running again, but I think I have everything set for the Red Carpet Replay. 😉 I'm not going to try and test my system by recording the whole thing again, so I have a few minutes to look for new pics before it's Hugo's turn… I actually don't mind watching the whole thing again, or at least listening. 😉

Mark Tantrum/WireImage (plus next 2)

Mia Lossen via Twitter

News.com.au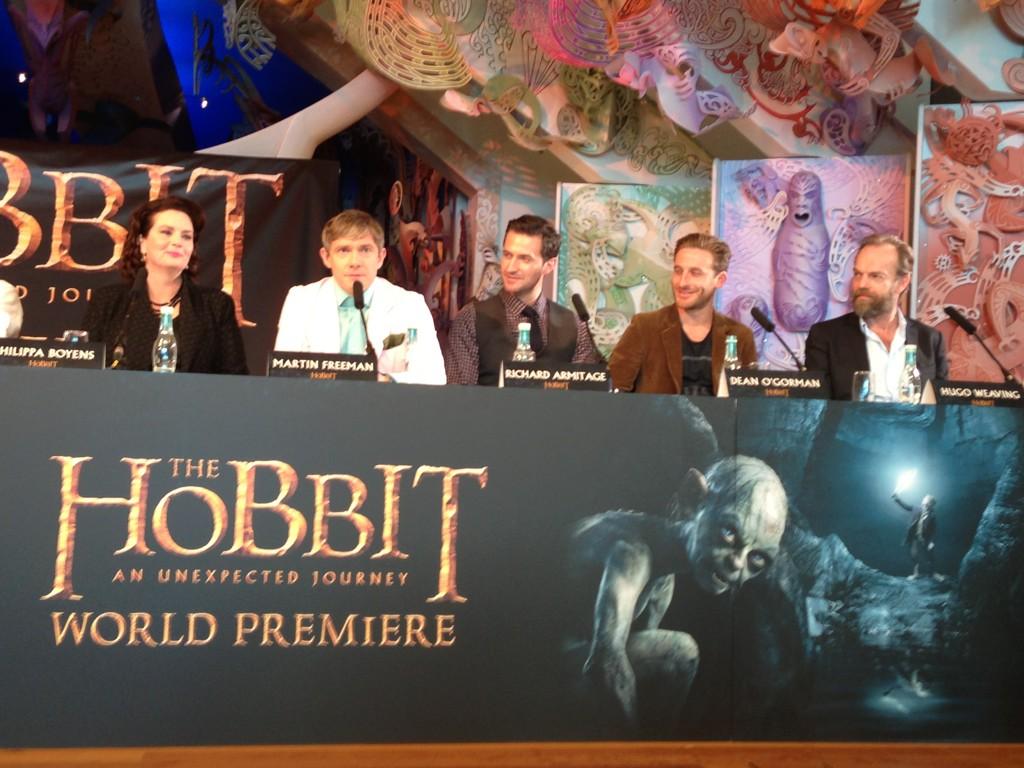 Hobbit Press Conference pic; Alice Tynan via Twitter

Dominion Post (MAARTEN HOLL/Fairfax NZ)

Gaporter via Tumblr

Perth Now

Mark Tantrum/WireImage (plus next photo)

Closeup/enlargement of one of the Mark Tantrum Getty pics, via Newsday
"It feels more like a national holiday today," said Weaving. "Maybe you should have this as a national day every year."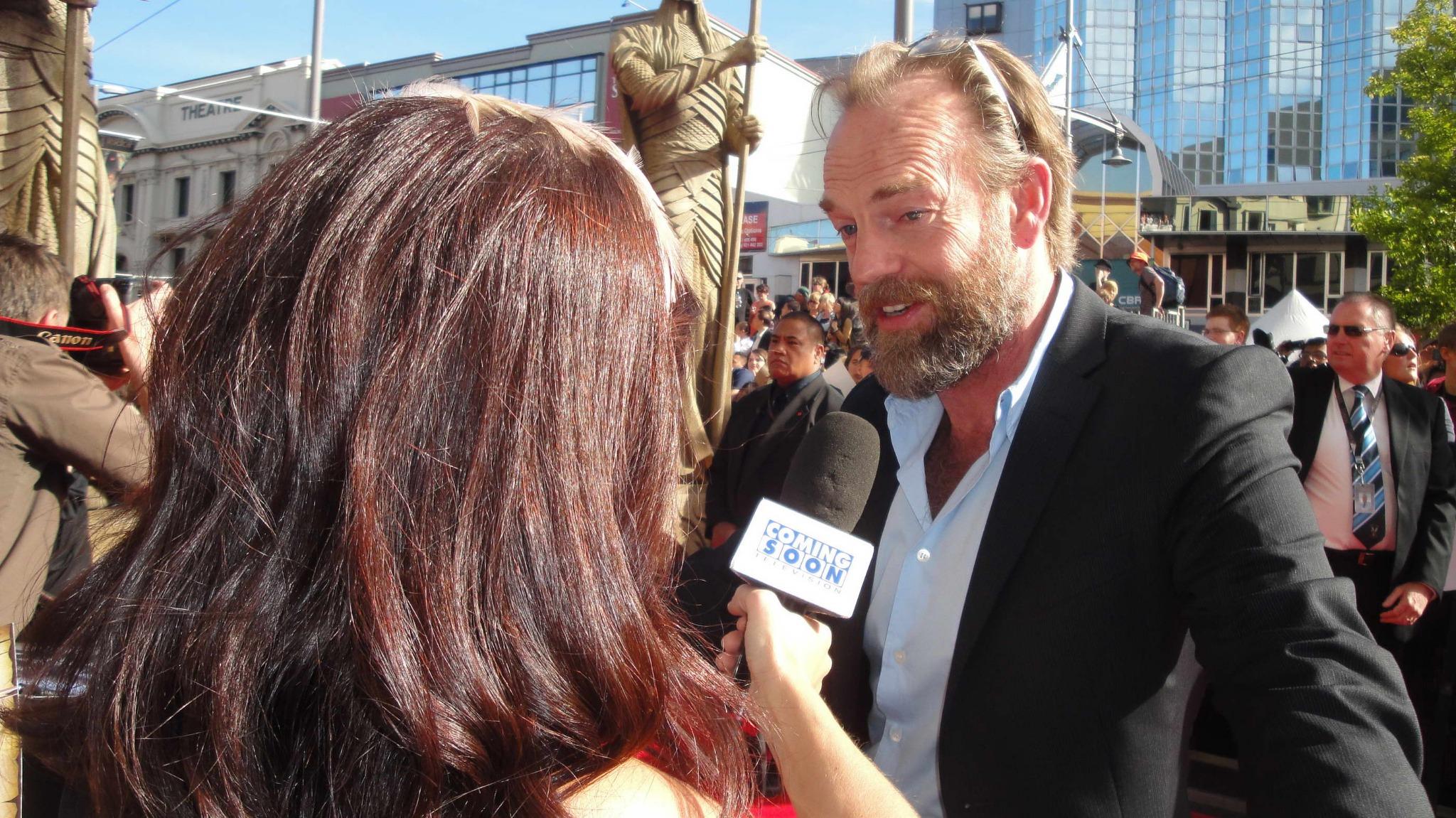 ComingSoonItaly

Hagen Hopkins, Getty Images

TV One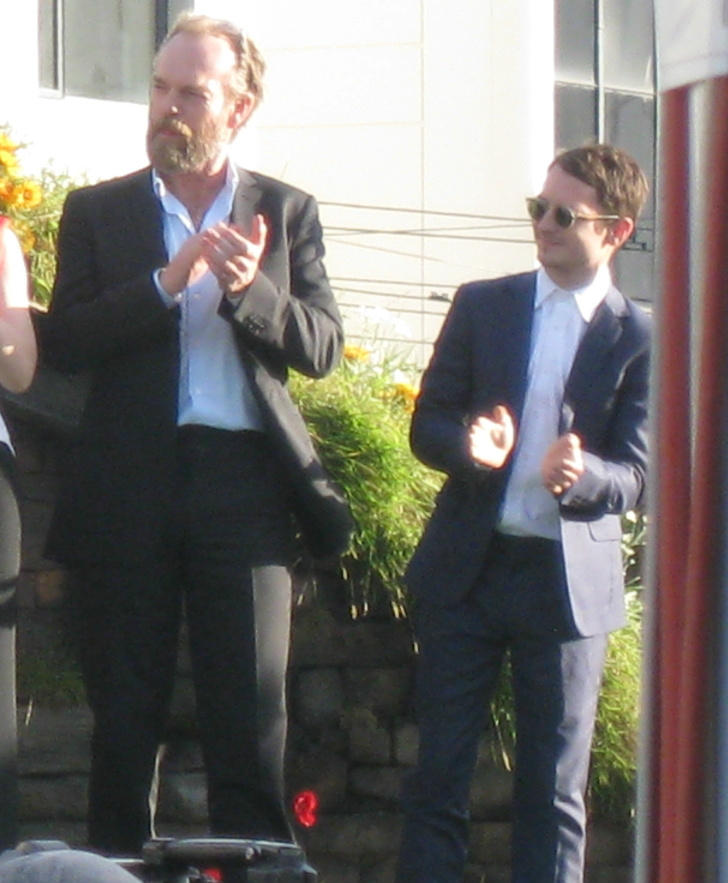 PeopleofNZ via Twitter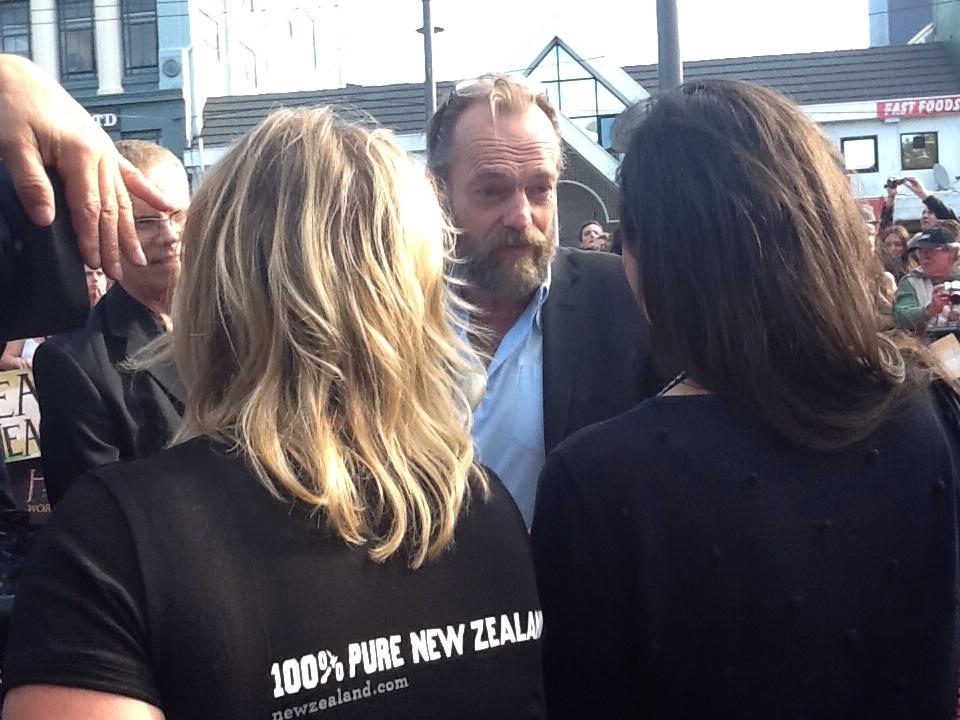 Pure New Zealand via Twitter

Seanna Cronin/Stanthorpe Border Post
Some of the official press photos are starting to roll in, so I'll keep the post open a bit longer… I'm a bit more relaxed now that I have a copy of Hugo's red carpet interview from the live feed… I continue to hope that a high def version (or any official, embed-able version) will be posted eventually. I taped Jed Brophy (Nori)'s full interview as well because he went directly before Hugo and Hgo could be seen mulling around in the background. So, obviously, I'm a bit overzealous. (Anyhow, it's about time Jed Brophy got some media attention .. he almost certainly has a larger role in the films than Hugo does.) 😉 And would it kill NZ News 3 to post their clips in higher resolution? No matter what I do, they look blurry. (The live feed, by contrast, was good quality with only a few minor audio glitches.)
Anyhow, it's been a lot of fun and the whole cast seems to be in good spirits (and I'm not talking about the sort Hugo and James Nesbitt were getting into on their nights off… oh to have been a fly on the wall for that!) 😉 Hugo was more relaxed than I've sometimes seen him at these sorts of events. He sounded slightly hoarse, but he'd probably been giving interviews for a couple of days nonstop. I'll keep looking for anything I can embed and will share links here and on my Twitter feed. I'm hoping that press conference makes YouTube soon. You can watch News NZ's clips of Hugo Weaving red carpet interview (different from the live feed's), and they have Peter Jackson's speech and cast introductions from the premiere. (Hugo doesn't speak in the clip, but you can see him taking panorama photos of the crowd.) Hugo's also briefly seen and quoted (though not interviewed) in this overview clip. Apologies for a mistake in an earlier version of this post: they do NOT have footage of the November 27 press conference, but of one from 2011 before filming began.
Collider (and some other sites) have posted high res versions of the new Hobbit stills that debuted earlier today (I posted the Elrond pics in an earlier entry) as well as the Gandalf/Bilbo preview scene. The Sydney Morning Herald posted an excerpt from the press conference featuring Peter Jackson discussing filming challenges. (None of the actors' comments are featured.)
Hey… Look what just turned up at Zimbio!

(Hagen Hopkins/Getty Images– larger version here)
Heh heh… guess I should be careful what I wish for? (Thinks a minute…) No. More please. 😉
(And then, ten minutes later, THIS happened!)


(Ross Stetford/AP via Jakarta Post); XL version here
This is probably just the tip of the iceberg… more as soon as I get some rest. 😉
But first… here's some of the Channel 7 Morning Show interview footage (of Hugo Weaving, Cate Blanchett, Elijah Wood, Martin Freeman, Richard Armitage and Andy Serkis) repackaged with behind the scenes footage and host tomfoolery:
My recording software died again when I tried to grab Peter Jackson's speech and cast intros from the rebroadcast (there is a third replay ongoing… but I'm beat) ;)… but Tolkien Brazil already has a copy on YouTube:
I wanted to get some sleep. Honestly. But more Hugo Weaving/James Nesbitt pics turned up!

(Rex Features, via Daily Mail Online)

Splash News via Daily Mail Online

Splash News via Daily Mail Online

AP Photo/SNPA, Ross Setford
Here's press conference footage, via New Zealand Herald… alas, embed code doesn't work in LJ. So go straight to the webpage… another one I hope makes it to YouTube soon. 😉