Note: this is an archived entry. Some links might not still work, but I have tried to ensure scan and video embeds are still in place. If any linked material is unavailable, please let me know and I'll attempt to find a copy in my personal archives.
While we're waiting for the live feed to start, here's a brief preview clip from The Hobbit: An Unexpected Journey featuring Martin Freeman as Bilbo and Ian McKellen as Gandalf:
There was press conference for the film earlier today featuring Hugo Weaving, Cate Blanchett, Martin Freeman, Richard Armitage, Andy Serkis, James Nesbit, Aidan Turner and others; you can see the full 40 minute video at 3 News NZ; here are a few still frames courtesy ByronNews.com:
(Much later) I've just suffered a major setback– was recording the full red carpet premiere when my browser and recording softeare crashed, taking all my footage with it. I was lucky enough to catch Hugo Weaving's NowLive red carpet interview before this happened, but will have to rely on replays or other media sources for the footage. The red carpet premiere is still ongoing and has been thoroughly entertaining, with all cast members (apart from the absent Ian McKellen), Peter Jackson and some folks from WETA chatting about the film. I'll post some fan screencaps of Hugo while we await the more formal stuff. I hope some of you have been able to enjoy the live stream.

Warner Bros SG via Twitter

(screencap: Fererico Filartiga via Twitter)

Vanessa/@gingerbatched via Twitter

Andreas Kruck via Twitter

Julia M Wetherell via Twitter

RipItUpNZ via Twitter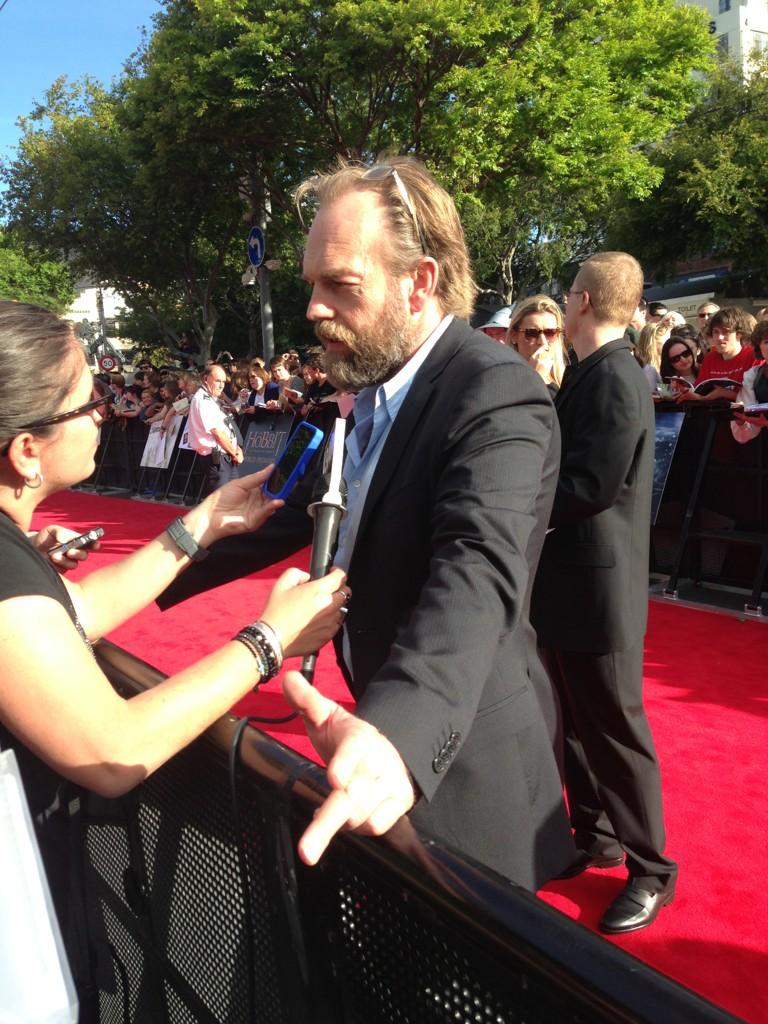 Alice Tynan via Twitter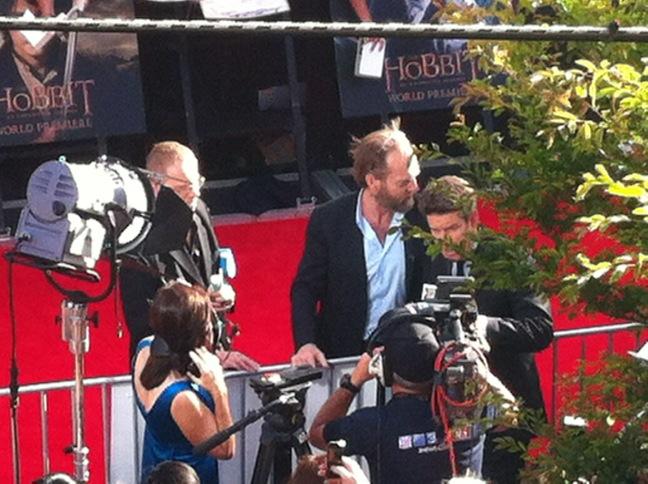 Patrick Gower via Twitter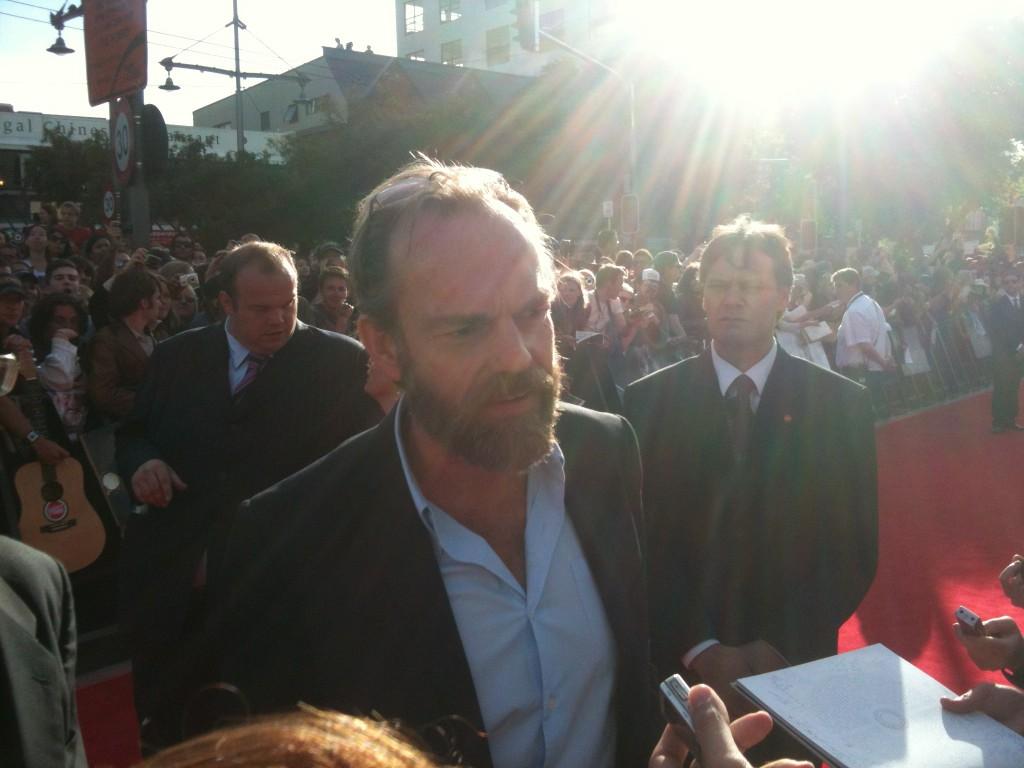 Adam Bray via Twitter (plus next one)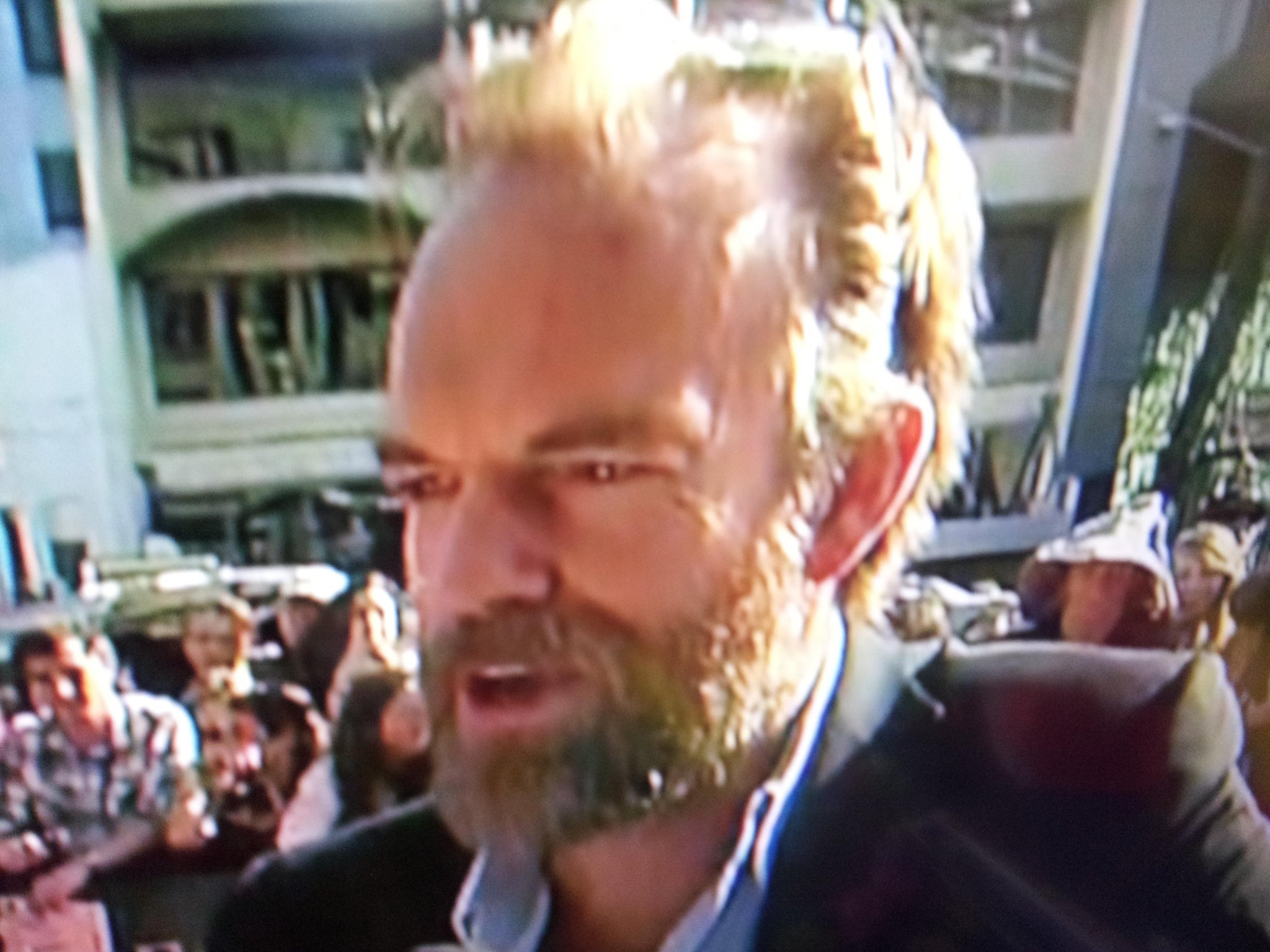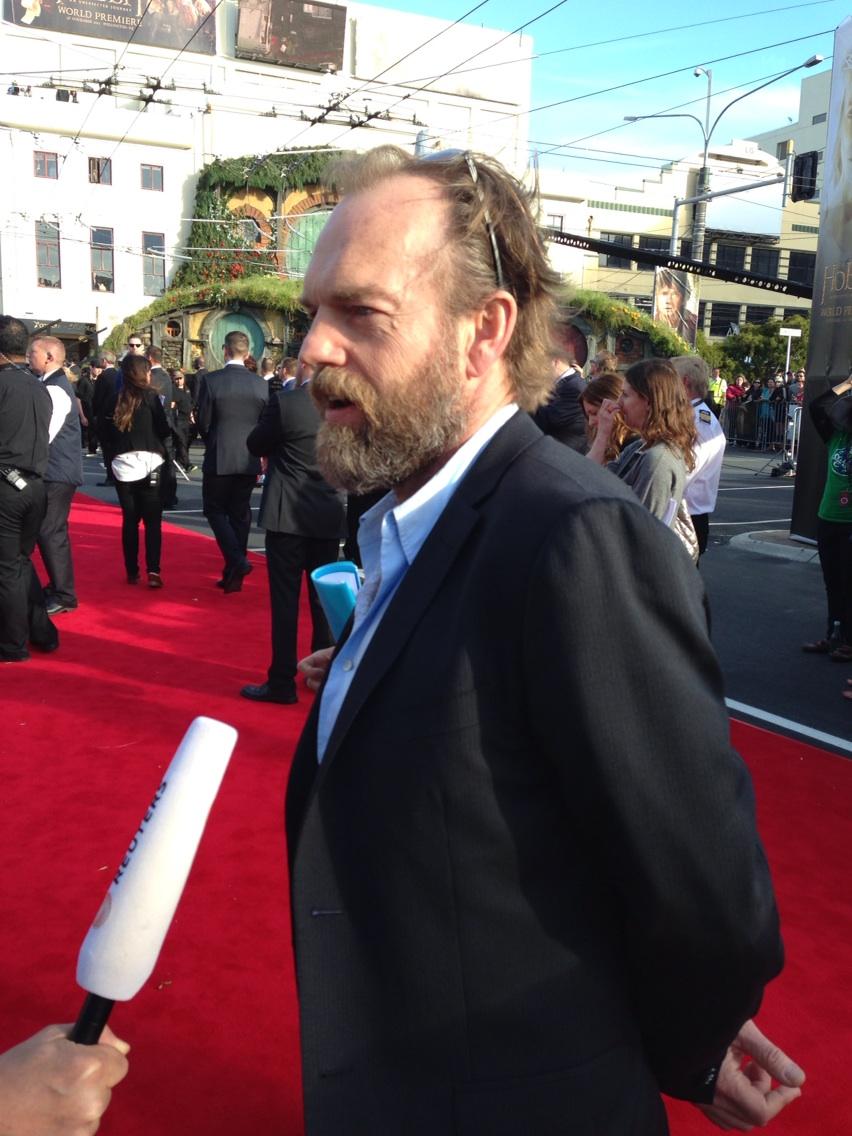 Talitha Cummins/7News via Twitter

Nupur Trivedi via Twitter
According to some sources, Hugo was briefly trending on Twitter; a lot of the tweets about him were about his beard. To which I say… where have you people been, exactly? 😉 He's had a beard for years now and has done most of his recent interviews/press junkets with one. Since V for Vendetta at least. In fact, he only shaves for roles. Most regular readers here know these things… I'm always a bit astonished that some fans think actors always go around looking/acting like their most famous characters 24/7. Much as I'm looking forward to seeing this film, and much as I think Hugo does a brilliant job portraying Elrond… he looks better without the tiaras and questionable braided hair. Over the years I've grown to accept that Hugo is more "himself" with a beard.
Hugo's interview comments were gracious and bemused; he discussed his kids briefly and his history reading Tolkien. (Interestingly, I had the opposite experience: I read The Hobbit first at 13 or 14 but only really got addicted with Lord of the Rings, which I compulsively re-read several times through my teens… I haven't read either in many years though. Perfectly content to go with Peter Jackson's version for now.) He also commented on the perception that the Dwarves had Celtic qualities while the Elves were more English, though the films didn't take that theme too literally.
We're still waiting for the Official Speeches; the Red Carpet portion is completed and I have to compliment NowLive (which streamed through MyMiddleEarth.com and TheOneRing.net) for a largely glitch-free three hours… wish I could say as much for my video software, which seems to be toast. Will run searches for additional photos and interview footage as I try to get things fixed here…since my live feed wasn't high-res, it was always a fail-safe; I hope somene somewhere (ideally the original site) provides HD footage. Pretty much every actor in the film got interviwed, some twice (Hugo only once, alas, but it was one of the longer ones.)
There's a new Red Carpet interview with Hugo Weaving at 3 News NZ here; alas, they don't allow embedding. I'll look for alternate sources but by all means click the link in the meantime. (They also have video interviews with many other cast members, so do check the site out thoroughly.) I'm still working on getting my screen recording software working, so I'll save the post in progress for now so you can enjoy the new pics and links. I have a feeling other Hugo/Hobbit fans all over the world have more than covered obtaining new video clips even if I can't restore my software in time… fortunately there's a rebroadcast of the full premiere right now. Click here to check it out… Neil Finn is singing at the moment. Yes, that does make me a bit nostalgic, I'm afraid. 😉