Note: this is an archived entry. Some links might not still work, but I have tried to ensure scan and video embeds are still in place. If any linked material is unavailable, please let me know and I'll attempt to find a copy in my personal archives.
Interestingly, a portrait of Hugo Weaving has been getting much more public and press attention this week than the genuine article. It's a state affairs Hugo is probably fine with (and possibly amused by) as he continues work on his new film Healing. That project hasn't completely gone unnoticed, fortunately; Hugo and his costar Don Hany were photographed filming scenes at Spencer St Station in Victoria a few days ago, and the cast then filmed at Healesville Sanctuary, which cast some 700 locals as extras. (You can read the casting call notice here.) I'll include those pics at the end of the entry,  but start off with coverage of the Archibald Prize, which has generated a lot of enthusiasm among fans and art lovers alike. And we finally have plenty of comments from the artist about the creation of and symbolism featured in her striking piece. (As anyone out there who owns a cat has probably guessed, Hugo didn't actually pose with a real cat. He is a cat lover and his family has kept many pet cats over the years, but no real feline would sit still for the multiple sittings this painting required.) 😉
Since a lot of fans have commented positively on the portrait (for good reason– it's one of the most original, intriguing artistic renderings of Hugo that I've ever seen), I'll re-post it under the cut, along with a few images of Barton posing with her work and speaking at the Archibald Prizes ceremony. These pics give one a better sense of the scale of the portrait, which required five months and four sittings with Hugo to complete.

Hugo by Del Kathryn Barton   Photo: Artgallery.nsw.gov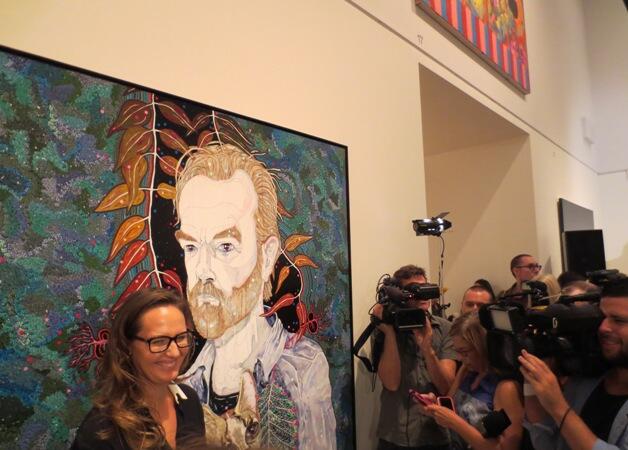 Barton with her portrait at The Archibald Prizes ceremony, 21 March   Photo: ArtAtrium via Twitter

Photo: Tamara Dean/Sydney Morning Herald

Photo: Stephen Cooper/Daily Telegraph

Barton accepts her award at the Archibald Prizes ceremony  Photo:Art Gallery of New South Wales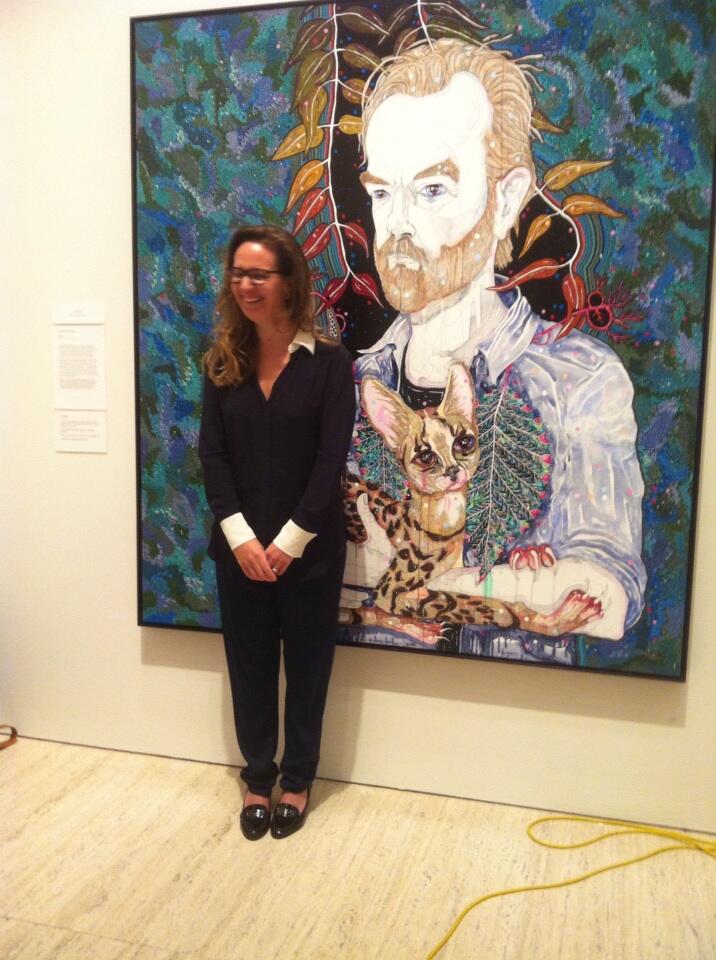 Photo: Elizabeth Fortescue via Twitter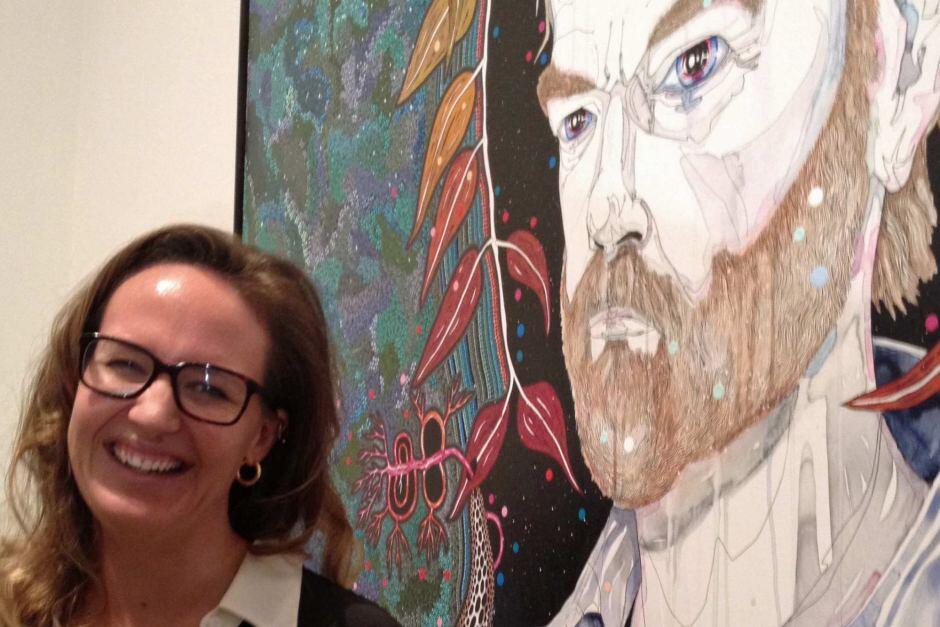 photo: ArtFido via Twitter
You can watch news videos of the ceremony at ABC.net.au, 7 News (Yahoo) and SBS. You can read additional reports (including comments from Barton, photos of the artist and ceremony, etc) at The Sydney Morning Herald, The Australian, The Daily Telegraph, News.com.au, PedestrianTV, Art Gallery NSW, Australian Financial Review, The Guardian, Adelaide Now, NorthernStar.com.au and Sky News. The most interesting, comprehensive commentary from the artist can be heard in an audio interview at 2Ser 107.3.
Here are a compilation of quotes from the sources cited above, in which Barton describes her conceptual and working process:
"'Hugo Weaving is an Australian cultural treasure, an artist in every sense of the word. For many years I have admired his work both on screen and stage. Initially I had considered a very simple pictorial approach for Hugo, a bearded man in a black suit. But when we sat down to discuss the portrait I was enchanted by the rich content in his stories and felt moved to interpret and assemble a kind of personalised symbology within his portrait. More than anything I hoped to portray a sincere, deep, generous and creative soul."
"The way I approach portraiture is I sit down and have a long conversation with my subject and try to tease out some symbology that might potentially give greater insight…
With Hugo there was so much content there and we talked about the green man in pagan history, we talked about the weeping lilli pilli, which is a tree that he's planted out at his property which is very close to his heart.
When he was talking about animals that he might potentially identify with there was the idea of the wildcat or the leopard or the wolf…
So in the end it was a kind of generic wildcat to represent other facets of his personality."
"I'm obsessed with film and I have been a fan of Hugo's for many years now, so I was very happy when he agreed to sit for me. He was very generous and very patient and luckily he doesn't live too far from where my studio is. [He is] an Australian cultural treasure, an artist in every sense of the word. There's no formula, there's no secret (to the Archibalds). You just make the very best picture you can make."
In other interviews, Barton mentioned the totemic significance of animals as "familiars" or protective spirits in folklore, and also noted the symbolic link to Hugo's partner Katrina ("Kat"). She describes the leaves decorating Hugo's chest in the painting as "almost like an armour of life" and a symbol of Weaving's connection to nature, through heritage and personal interest.
The portrait, simply entitled "hugo" (no caps, according to the Art Gallery of New South Wales listing) was rendered in watercolour, gouache and acrylic on canvas and measures an impressive  200 x 180 cm. If you're lucky enough to be in the Sydney area, the winning portrait and all of the other Archibald Prize winners and finalists will be on display at the aforementioned Art Gallery of NSW from 23 March to 2 June. As we already know, Hugo was unable to attend the ceremony himself, as he's busy filming Healing in Victoria, but he likely would have preferred that the artist being honored receive media attention anyhow. The last time a portrait of him was nominated in 2011 (Nicholas Harding's Hugo at Home) Hugo didn't attend any of the formal ceremonies but did visit the general exhibit, where he posed… with a portrait of Richard Roxburgh. 😉

Hugo Weaving at the Archibald Prize exhibit, April 2011  Photo: The Social Shuttle
As previously mentioned, the real Hugo Weaving was busy creating his own art over the past several days, filming scenes for Healing at Victoria's Spencer St. Station and, on March 20 and 21, at the Healesville Sanctuary, where the raptor exhibit provided a backdrop for the film's rehabilitation storyline, which teams prisoners with injured birds of prey and is based on real rehabilitation programs conducted at Healesville.  Between takes, Hugo hobnobbed with one of the sanctuary's local celebrities:

"It's been a busy two days at Healesville Sanctuary with the filming of a brand new Australian feature film, Healing. But actor, Hugo Weaving, managed to take some time out to meet one of our own stars, Wilson the Echidna!" Zoos Victoria Facebook Page

Hugo Weaving and costar Don Hany; "Bearded Hugo Weaving filming movie at Spencer St Station"
Photo: Brent Hodgson, via Twitter

"Hugo Weaving and Don Hany are filming something at Southern Cross!" Photo: EllieCK via Twitter/Instagram
Note: Apologies if anyone finds these too spoilery for any reason,as they imply that Hany's character eventually gets out of prison, at least temporarily.
Here's another photo of Hugo filming at Healesville Sanctuary, apparently observing some sort of surgery or examination on an anesthetized raptor (or his character doing so within the context of the film–no specifics were posted along with the photo):

Photo: Zoos Victoria, via Twitter
I'll add any additional photos of filming at Healesville that happen to turn up… this is turning into quite an animal-themed entry. 😉  Once this is posted I will be away for a couple of days without internet access, but will be back Monday should any exciting news break in the interim. In the meantime, congratulations to Del Kathryn Barton on her well-earned Archibald Prize, to the cast and crew of Healing on what looks like a fascinating film (and welcome change of pace for Hugo)… and to Cloud Atlas, which was nominated for nine German Film Academy ("Lola") Awards, including Best Film,  Director, Cinematography, Editing, Costume Design, Makeup, Production Design, Score and Sound Design. These awards will be handed out on April 26; more details at
BroadwayWorld.com
.