Despite some last-minute rumors to the contrary, Hugo Weaving did not take part in promotion of his film Mystery Road at the Toronto International Film Festival. (He has instead opted to remain in Sydney for the premiere of Tim Winton's The Turning in… oh, about 12 hours. 😉 I'll try to be on hand for coverage of that event, but a substantial amount of new material on both Mystery Road and The Turning has appeared since my last post, so I thought I'd share all of that in advance, and be able to focus on the premiere later.
Mystery Road at TIFF
Mystery Road was warmly received in its first two Toronto screenings. Though Hugo wasn't able to appear, director Ivan Sen and actors Aaron Pedersen and Tasma Walton attended the premiere and have done publicity for the film.  (Costar Ryan Kwanten has also appeared at a TIFF luncheon earlier today, though not at the premiere screening the 7th.) Mystery Road's Facebook page and Getty Images both have a selection of premiere photos.  Sen and Pedersen have done a number of post-screening and press Q & A's for the film; the most interesting is a 13-minute chat for Tribute.ca. (Unfortunately, it can't be embedded from the source page, and isn't (yet) on YouTube, but anyone curious about the film should definitely have a look. Sen and Pedersen did discuss Hugo's work on the film (starting at the 4.24 mark)… here is my transcript of that part of the conversation:
"Ivan Sen: [Hugo Weaving is] just extraordinary. He's an incredible man, so generous, an amazing heart. The difficulty with Hugo was actually just [the] timing issue, because he's such a busy guy, so we had to do our [initial] four-week shoot, and then delay. We went away for a few weeks and then came back when Hugo was available, and continued with Hugo..
Aaron Pedersen: …And then slotted him into the film
Sen: Yeah, and he's just such an amazing performer. He's got that factor that you can't quite pin down. His character… you're not quite sure exactly what his motives are
Interviewer: Yeah. [to Pedersen] And he doesn't treat you so great [laughs]
Pedersen:: Yeah… Look, the great thing about it is the great divide, the conflict in the conversations, but… genuinely, I suppose by the end of it, you find out who he really is. That's the most beautiful thing about it… without giving away too much of the ending, it's one of those characters that I think a lot of the actors, especially some of the actors [I talked to] when I read the script, were like, that Johnno character's amazing. So it was appealing to all the other actors, that actual role, and then to see Hugo just bring it to life took it to another place.
Sen: The interesting thing about Hugo is that [Johnno is] one of the rare characters who don't really talk about race. He doesn't really talk about race as an issue. He's more man on man with Jay, and that's what sets him apart. There's a depth to him which you don't quite understand, but you know that he's not… there's more dimension to him than the whole race issue."
Sen and Pedersen are also quoted in a feature on the film at MSN Canada. Pedersen says the following about Weaving: ""Hugo is such a humble man He'd have a laugh. But I mean it was a serious film. We didn't want it to bleed over into our personal lives. We were laughing out loud, but when the camera rolled we'd just go at it." Both interviews suggest that there's more to Hugo's role than the unpleasantness his character Johnno conveys in the two trailers. Here's a sampling of TIFF reviews, followed by some of the more interesting Twitter responses.
Jared Mobarak, The Film Stage: "Sen crafts an extremely slow burning crime thriller where a lingering thought of police corruption playing a role hovers above Jay's tireless work hunting for clues…
Playing out with a similar, methodical unraveling of answers—and more questions—like critical darlings The Killing and Top of the Lake, a slew of interesting characters come and go as Jay inches closer to the truth. He follows his leads onto an undercover sting operation led by the mysterious Johnno (Hugo Weaving), the one cop if any that could easily be a major player in his case. Subtle threats fly left and right as anger, laughter, and frustration surrounds the laconic, stone-faced Jay commendably taking in the racist jabs and lack of support he encounters with complete composure. You can feel the sense of dread mounting as the scope of what he's stumbled onto comes into focus, culminating in a final solitary stand that will show him he wasn't quite alone after all…
What it lacks in fast-paced action, however, it admirably tries to make up for in nuanced performances and gorgeously authentic aesthetic. Sen enlists a who's who of Australian actors to surround his lead and they're all up to the task with meaty roles requiring a lot of heavy lifting despite minimal screen time. They are the film's strength, carrying lengthy stretches with nothing more than silent scowls and knowing smiles juxtaposed against the barren, sweaty beauty of Queensland."
Nicholas Bell, Ion Cinema: "Celebrated Australian director Ivan Sen returns with his fourth feature, Mystery Road, a brooding murder mystery set in the menacing Outback. While Sen captures an engaging lead performance and has assembled a notable amount of supporting players to flesh out his down and out whodunit, an adherence to formula and genuine lack of surprise casts a deathly pallor over a soggy middle. An exploration of racial tensions through a radically placed protagonist, as well as a rousing finale compensate for the lack of narrative oomph …
Trevor Hogg, Flickering Myth: "Filmmaker Ivan Sen (Beneath Clouds) wrote, directed, edited, scored, and photographed the quiet mystery thriller so it is understandable as to why all of those elements blend so seamlessly together.  Aaron Pederson (Bad Karma) embodies a man who unassumingly goes about his business while absorbing every little detail.  Outside of the high look down shots that are used as scene transitions, the camera focuses on the protagonist of the tale thereby heightening the sense of his isolation…
Aaron Pederson takes on the persona of the sheriff determined that justice will rule the day as was the case with Gary Cooper in High Noon (1952).  There is a scene where Pederson has a table discussion with Hugo Weaving which echoes the one between Robert De Niro and Al Pacino in Heat (1995) and the conclusion is a stripped down version of the shootout finale featured in L.A. Confidential (1997)…
The meticulous craftsmanship cannot be denied but the addition of spontaneity to the proceedings would have elevated the cinematic experience."
"We hate cops, brah. We kill cops" #tiff13 "Mystery Road" Australian western murder mystery. Great pace 4/5 http://instagram.com/p/d-zlZto99u/
If I hadn't already seen The Square I would say that Mystery Road had the deepest Q&A ever. #TIFF13
#MysteryRoad is a very good modern western from Australia. Political. Atmospheric. Also: full of hunks. #justsaying #TIFF13
Started off #tiff13 with "Mystery Road" – and, well, this fest started off well! Great film!
#MysteryRoad was great. @Ryan_Kwanten plays a wicked bad guy!! #TIFF13
I rated Mystery Road 7/10 http://www.imdb.com/title/tt2236054 #TIFF13 A slow burn, maybe a touch too slow, but pays off. Great cast.
Last movie tonight #mysteryroad #tiff2013 great new Australian who-dun-it. #ivansen #aaronpedersen great Aussie talents!
Enjoyed MYSTERY ROAD. And somehow managed to get past the crowd gathered around Ron Howard's RUSH scrum without bodily injury. #TIFF13
Was quite impressed with Mystery Road. Great to see some Aussies pop up on a screen all the way in Toronto! #noescape #TIFF13
#TIFF13 Day 2 is over. Mystery Road and Unbeatable surprised me in very different ways. Also Lightbox is like an actual sauna.
Awesome Aussie film at #TIFF13 Mystery Road.
#TIFF13 Mystery Road – superb Aussie murder mystery. Outback locations incredible, surprise ending and huge showdown what's not to like.
Saw #MysteryRoad & @ATWRFilm over the last 2 days @ #TIFF13, throughly enjoyed both, particularly ATWR. Great display of talent this year 🎬
Some stupid woman asked why wasn't this Australian movie subtitled! 'Mystery Road' was incredible – Aaron Pederson is gorgeous!
MYSTERY ROAD: a meditation on systemic violence against aboriginal women wrapped in a compelling Aussie noir #TIFF13
Amazing Film at TIFF called Mystery Road written and directed by Ivan Sen. Great talk back afterwards. So happy to be at TIFF http://fb.me/UmVeh91U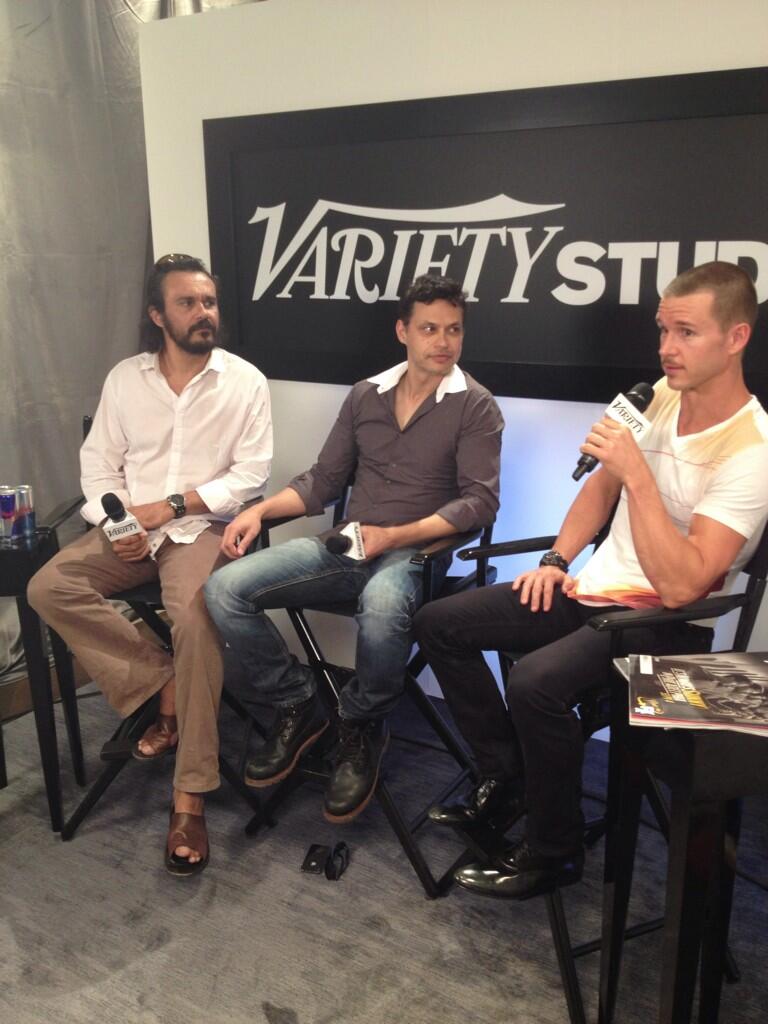 Aaron Pedersen, Ivan Sen and Ryan Kwanten promote Mystery Road in Toronto Photo: Variety via Twitter
The few quibbles with the film tend to be on the pacing issue, though I don't think Ivan Sen was focused on flashy plot mechanics so much as character development and storytelling (and, obviously, the underlying social themes.) I really hope the film isn't too much like Top of the Lake and especially The Killing… the deliberate pacing of those shows didn't bother me much (and the acting and atmospherics were often very good) but both over-relied on red herring delays and ludicrous (but all-too-predictable) last-minute rug-pulling twists that tended to undermine all of the thoughtful plot/character construction leading up to them. (I'm always automatically suspicious when a prominent actor is cast in what seems an underwritten supporting role for most of the duration. I know a "surprise twist" involving that actor is probably in the offing.) So… if Hugo's character turns out to be a corrupt cop or even the killer, I won't be shocked. I would be pleasantly surprised if he's cast against type, or if the character is realistically complicated. I also don't need overheated pacing or an ending that either too neatly resolves everything or tries to pull off a "shocking twist". I think some reviewers want or expect such things.
Anyhow, Mystery Road will next screen at its "hometown" premiere in Winton, Queensland on October 5, with Sen, Pedersen, Rpy Billing and producer David Jowsey in attendance. (Details at HushHushBiz.) After that the film will be featured at the London Film Festival's Thrill Gala on October 10 (tickets go on sale September 20) with two additional screenings that week. (More info at 24 Frames per Second and the LFF webpage). The film will be also be shown at the Busan Film Festival in early October, dates and times TBA.
The Turning
Tim Winton's The Turning has been receiving a lot of media attention in Australia in the days leading up to its special two-week release;  The Sydney Morning Herald and its affiliated papers started things off with a preview featuring the film's directors (including "Commission" director David Wenham) describing their process in approaching their particular segments, as well as the inspiration they found in Tim Winton's stories. I'll quote the section about "Commission" below, and the print version of the full piece under a cut, as it features larger versions of new film stills featuring Hugo and Cate Blanchett:
"For Wenham, another actor making his debut behind the camera, the adaptation had to be faithful. His story, Commission, is the tale of the adult Vic (Josh McConville) going on a journey to visit his father, Bob (Hugo Weaving), whom he has not seen for years.

Technically, this print article appeared in The Saturday Age, but The Age and Sydney Morning Herald are different local versions of the same paper, and all versions of this piece are identical. Sorry about any confusion. 😉