A second version of the theatrical trailer for Hugo Weaving's next film, Healing, premiered quietly online yesterday… in fact, the initial post (by Ross Munro) didn't clarify that this was, in fact, a new edit with new footage, so I accidentally delayed posting because I thought it was another re-post of the first version, which debuted 12 March (D'ooooh!) , until Healing's Facebook page clarified matters. To be fair, they do have identical intros and the same general structure, but this version is longer, includes new footage (and Hugo VO), and blurbs from preview screenings… there are a few shots in v1 that aren't in v2 also. So we now have three trailers for Healing: the introductory teaser and two versions of the theatrical trailer. Bonus: the new version is in higher definition than the first, so i was able to get some higher-quality caps. There are a few more hints about Hugo's character Officer Matt Perry this time too, including a suggestion of family tragedy. (I hope this doesn't mean Hugo's character ends up adopting Don Hany's at the end… though stranger things have happened in the real world…) 😉
Here's v1:
Teaser:
The Healing will have a preview screening at Cinema Nova in Melbourne on 30 April; director Craig Monahan and Don Hany will attend and participate in a post-screening Q & A. More details here. There's also an intriguing early review at The Spectator.
UPDATE: A new 4-star review by Margaret Pomeranz is up at Medical Observer: "In lesser hands this could have been quite schmaltzy, but Craig Monahan, working on a screenplay he wrote with Alison Nisselle, relies not just on a stellar human cast but on the ability to create distinctive personalities with his avian actors, for which Monahan gives due credit to bird handler Andrew Payne… Don Hany, who has established an enviable reputation for himself in television as a leading man, is grizzled and grey here as well as very impressive. There is not a weak link in performance, with Weaving, Samuel and Winter particularly convincing… This is the most accessible prison film of memory, certainly it's the one that aims for the emotional jugular, and actually hits the target."
Manny Gets Censored
I first heard about this short film last summer but couldn't confirm much beyond a few vague post-production tweets from the crew suggesting Hugo contributed a voiceover… now the full film is finally completed and has been successfully screened, winning Best Australian Short Film at The Mudgee Film Festival. The first two minutes of the film (which totals eight) have been posted online:
(Ticktock, via Vimeo)
Since the basic conceit of the film — the meta-joke that a character becomes aware his anatomy is suddenly censored with black bars or dots– is at least as old as Monty Python, I hope the rest of the piece does something inspired with the concept… and I don't mean just having the character also become conscious that his life is being narrated. That's been done many times too. (In fact, I see near-daily Tweets by people who wish Hugo would narrate their lives.) 😉 Also, I don't think I've seen this sort of censorship since the 90s… lately it's almost always done via digital blurring. (Granted, current technology tends to either obscure too much or too little, depending on one's perspective.  😉 In TV comedy bits, it's almost always obvious that an actor is really wearing flesh-colored underwear… which is to be expected, of course, but it often ruins the joke.)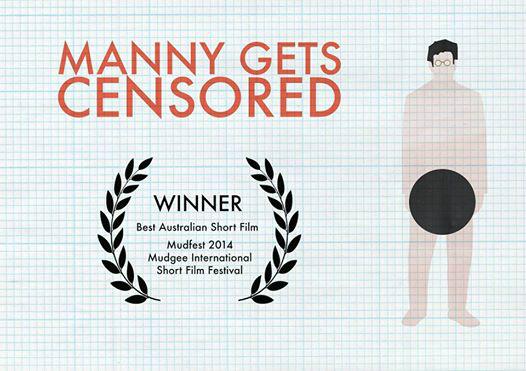 (Subhadra Young, via Twitter)
On a similar note, I was doing some "spring cleaning" of my Hugo photo archive and lingered on some caps from Bedrooms and Hallways (don't pretend you don't know which ones, or that you haven't done the same thing.) 😉 Anyhow, since I now have decent photo editing software and an HD monitor, I'm now fairly certain that flesh-colored briefs were worn during the swimming-pool sequence (just by Hugo, not by Tom Hollander). Flesh-colored briefs with some…uh…realistic embellishment in front to complete the illusion. This would explain why, despite 15 years of fan efforts, there's never been a "conclusive" screencap of that scene, and why the sex scenes featuring these characters tend to be edited away from or ended just when things are getting interesting. 😉 But enough of my rumination… and do feel free to prove me wrong about this. 😉 I'm still dealing with less than optimal technology, and so far as I know, B&H has never been released on Blu-Ray. (Probably because the actors are sick of reading fan freeze-frame chat about it online…)
Since short films (other than funny cat videos, music videos or celebrity hijinks) still get short shrift online despite it being the optimal place to see them, I'm going to put it out there that plenty of people ARE willing to pay a reasonable fee to stream or download short films if distributors would simply MAKE THEM AVAILABLE. Yes, I understand the appeal of showcasing them at festivals, but not everyone can make it to the large cities where short film fests happen. and only films lucky enough to receive Oscar nominations are guaranteed widespread VOD availability/DVD compilations/compilation screenings in cinemas. I've been a Hugo Weaving fan for ages now, and still haven't seen about half of his short films. I've only seen one (Everything Goes) in a cinema and so far as I know, only two (The Kiss (1998) and The Girl Who Swallowed Bees (2008)) have appeared on DVD compilations, which may now be out of print. (The Kiss, Bees, Little Echo Lost (1999), The Road To Alice (1993), and Everything Goes (2004) have appeared legally online at various times). I've never seen The Rose of Ba Ziz (2007), True Colours (1997), What's Going On Frank (1995) or No Budget (2013).  And don't get me started on Hugo's long list of obscure, long-unavailable TV documentaries. Or The Key Man. 😉
The Mule
Though SXSW has concluded, new reviews, podcasts and interviews for The Mule keep appearing, Reviews continue to be largely positive. You can read/hear the latest at Geek Scholars (The Mule is reviewed– receiving a B grade–  into the audio podcast), Crave Online, FearNet, the Sydney Morning Herald, Junkee.com,
Leigh Whannell and Angus Sampson's latest promo interviews, poo recipes, etc are up at Moveable Feast and We Got This Covered.  Alas, still no distribution info available… but the filmmakers MUST now know the film will play well in the US if they market it wisely.
In Other Hugo News:
The Turning will screen at the Hong Kong International Film Festival on 29 March and 5 April. Details and ticketing info here. You can read Bede Jermyn's review of the recent Australian DVD/Blu-Ray package here. The Limited Edition DVD includes a smaller version of the booklet handed out at Australian special screenings of the film last fall as well as an entire disc of extras. I also have a copy of the larger version of the booklet; since virtual versions of all the film and character pages are available online (at The Turning's official site) I haven't made scans of either, but would be happy to do so if there's a demand. But I do strongly urge fans of the author, actors or filmmakers to buy their own copy or rent/stream when it becomes available. Ideally there will be more international cinema distribution, which is why I haven't watched my DVD… yet. But I don't know how long I'll hold out.
New, well-written Mystery Road reviews are available at Jordan and Eddie (The Movie Guys) and Filmstalker. More pics of Aaron Pedersen, Ivan Sen and other cast and crew at the recent FCCA Awards are up at The Reel World.
Strangerland begins filming TODAY (according to On The Set); no detailed new information has been made available yet (including final confirmation on the roles) but there are brief updates in The Cowra Guardian and The Australian.