First, Sorry I've been slow to update, though I try to check in at least briefly via Twitter each day… I've had a chaotic schedule lately due to increased work hours to mitigate a lot of personal expenses I hadn't anticipated. (Friends can keep up with Carmelita updates on Twitter; I won't get into that here as it's not fandom-related.) I often feel my location and recent work hours leave me feeling perpetually out of the loop as far as Hugo News goes, but I'll try to catch up as much a possible now.
The Dressmaker
First up is a bit of casting news. Longtime fans will remember Proof (1991) as Hugo Weaving's cinematic breakthrough. It played a similar role in Russell Crowe's career. The film won both actors their first major awards (AFIs for Best Actor and Supporting actor, respectively) and international attention. The film was written and directed by Jocelyn Moorhouse, a talented newcomer whose career then hit a series of undeserved snags. At the time Proof was released she mentioned she was planning another Australian indie, but this never materialized. (Any fans of Australian film and directors out there will have heard this story before. Did I just hear Craig Monahan sigh sympathetically?) 😉 She tried her luck in Hollywood in the mid-90s with How to Make An American Quilt and A Thousand Acres, both projects beset by studio interference and poor marketing despite worthy casts and intentions. And some of you will remember the foundering of what was to be her Australian comeback, Eucalyptus in 2005.
Based on Murray Bail's novel, the film would have reunited Moorhouse with Weaving and Russell Crowe, who were to play suitors vying for the hand of Nicole Kidman's sheltered heroine. That film got as far as the production stage before Crowe essentially shut everything down (he also exec-produced) because he was unhappy with the script. There was controversy in the Australian press over the incident, as Hugo and Nicole sided with their director over Crowe, with Weaving taking the most heat for his directly critical assessment of the film's demise. (He told The Daily Telegraph: "I don't believe the script needed work at all, and it was my understanding that no one else [but Crowe] had major problems with the script. On the contrary, it was [Moorhouse's] script that drew all of us to it. It was an avoidable tragedy, so it's very sad for everybody." ) Weaving continued to express support for his director in subsequent interviews while downplaying any notion of rancor against Crowe, and has mentioned he'd readily work with Jocelyn Moorhouse several times since.

L to R: Lynda House, Hugo Weaving, Jocelyn moorhouse and Russell Crowe at the 1991 AFI Awards. Photo: George Porteous/Newspix
Moorhouse finally got a new Australian project off the ground this year with the announcement of The Dressmaker and the major casting coup of securing Kate Winslet and Judy Davis in the lead roles. Since then Liam Hemsworth, Barry Otto, Sacha Horler (fondly remembered from Russian Doll and many other Aussie films), Isla Fisher, Elizabeth Debicki (recently seen in STC's The Maids) and Caroline Goodall. About a week ago, Goodall posted the following tweet:
Off to OZ nxt wk 4 #TheDressmaker with #KateWinslet #judyDavis #HugoWeaving #liamhemsworth #KerryFox Director Joss Moorhouse! Can't wait!

— caroline goodall (@carogoodall) October 5, 2014
I decided not to run with the news at the time for a few reasons, though the notion of Hugo signing to work with Jocelyn Moorhouse was more than credible: I couldn't find any corroborating details or confirmation, my schedule was punishing, and I have had mixed feelings about the project itself since it was announced. I didn't want to get emotionally invested until I had something solid to go on, because I have reported false leads before, at least once because a cast-member on a project made an honest mistake about a film she'd only just been signed for. (That particular film, a hijack thriller which changed names several times, was never made, and Hugo was never attached.) Then there's the whole saga of The Myth, which is far too long and frustrating to go into. 😉 I did have a peek at the film's official website, which brought to mind Darren McGavin's old line from A Christmas Story: "It's a pink nightmare!") 😉 I tend to be allergic to "chick flicks" and anything that takes "couture fashion" seriously, though longer synopses for the film offer more appealing hints at satire, revenge and character complexity. It's possible the film's website and Facebook design are meant to be tongue-in-cheek, but they could also just be marketing that may or may not accurately reflect the film's tone. At any rate, this wasn't a film I was necessarily dying for Hugo to be a part of– I needed confirmation and more information.
Yesterday we did get plausible confirmation in the form of a brief item at The Tracking Board, which added some very intriguing character details:
"The drama centers on Tilly, a young woman who returns to the remote country town from which she fled as a child after being accused of murder in order to make amends with her eccentric mother. Jocelyn Moorhouse is directing from a script she adapted for Film Art Media. Earlier this year, Aussie stars Liam Hemsworth, Isla Fisher, and Elizabeth Debicki had joined the cast along with Caroline Goodall. Also recently cast are James Mackay (The Tomorrow People), Sacha Horler (Farscape), Kerry Fox (Bright Star), Alison Whyte (Frontline), Shane Bourne (Kokoda), Julia Blake (X-Men Origins: Wolverine), and Barry Otto (The Great Gatsby)…
Weaving's Sgt. Farrat is the town's police officer and confidant who has a secret passion for fine fabrics and cross dressing, a far cry from Weaving's most recognizable role playing Agent Smith in The Matrix franchise. Since the Matrix days, Weaving has played an elf in The Lord of the Rings franchise, an anarchist in V for Vendetta, and a Decepticon in the Transformers franchise but this role might be the one furthest from his wheelhouse… Personally, I'm always a fan of adaptations if they're done well and I certainly enjoy seeing actors come out of their shells a little bit, playing roles that I wouldn't normally associate them with. The thing about Weaving, though, is that he always seems to play characters with something to hide. I'm interested to see where this project goes, especially if I get to see Weaving in a dress."
A lot of you are probably cringing at some of those comments: has this person seriously NOT seen Priscilla, Queen of the Desert or Cloud Atlas? (Technically, Nurse Noakes is a woman, not a cross-dresser, but it is "Hugo Weaving in a dress"… some might even slot Elrond in this category, though long. flowing gowns are normal attire for both male AND female Elves.) 😉 Hugo has played gay characters at least five times too, none of whom were stereotypical or easily quantified. (Yes, I know not all cross-dressers are gay… this character's sexuality isn't mentioned. But, refreshingly he DOESN'T sound like the "gay best friend" character in too many rom-coms who's there for supportive chat with the heroine but has no discernible love life of his own.) As far as "characters with something to hide"… this pretty much describes every interesting character in every movie ever made. For me the draw is to see Hugo merge the two type-casting elements of his career (the obvious post-Jardine and, later-post Agent Smith conflicted authority figure with the "sensitive New Age guy" who dominated Hugo's mid-90s roles. For proof the latter was really a thing, read the first few sentences of this 1996 piece on The Bite, ) I'm more immediately intrigued by the "confidant" aspect than the "dress" aspect, as I already know Hugo looks smashing in a dress. But even that isn't something he's never done before (see also: Healing, in which Hugo's prison guard was also a confidant for Don Hany's troubled prisoner.) This would be an original admixture of quiet and flamboyant character traits, though, if the script delivers. And Hugo almost always chooses projects based on the scripts.

Hugo Weaving gets his Mitzi on, on the set of The Adventures of Priscilla, Queen of the Desert, 1994 (Photo: WHO Weekly)

Hugo Weaving as Nurse Noakes in Cloud Atlas, 2012 (with Goetz Otto)
I am a bit bothered by the presence of Liam Hemsworth, as I'm no great fan of any of the Acting Hemsworths, but if he's on this project to deviate from his standard, cliche-boyfriend Hollywood roles, he deserves the benefit of doubt.
According to Film Victoria, The Dressmaker begins filming in a couple of days, on October 17, in Dungatar, Victoria. You can track its progress via Twitter, Facebook, its Official Website and author Rosalie Ham's production blog. The film is set in the 1950s and will be shot in mainly rural locations; so far most of the production reports have been about local extras casting and Sophie Theallet's hiring for the all-important costume designs job. The shoot will continue through early December, with a tentative release date set for October (1 October, per the website) next year. There have so far been no additional news items on Hugo's casting, nor have the official sites/social networking hubs been updated to mention him, but that should change soon. Rosalie Ham's source novel is widely available and has gotten a volatile mix of reviews from various book club circles, which encourages me more than a unanimous batch of raves would. (I'm not exactly part of the Chardonnay and Jane Austen set, myself) 😉 but a lot of Australian readers from sort of rural town depicted have said it's realistic if "somewhat exaggerated". Another plus: it's called "gothic" and "quirky" more than "romantic". 😉 So I'm trying to set all initial reservation aside and hope that the film's website design is either ironic or meant to lure the unsuspecting. Ditto the casting of Liam Hemsworth. The latter has already led to "top secret" status for the specific filming locations to thwart flocks of eager young girls. This means we'll probably get most of our inside looks at the filming process from the film's official web presences rather than the media, which is probably for the best. No word on when Hugo will appear on set or how large his role is yet, but if this project has crossover appeal and the role is as juicy as it sounds, it might be the sort of project that finally gets Hugo major international awards consideration.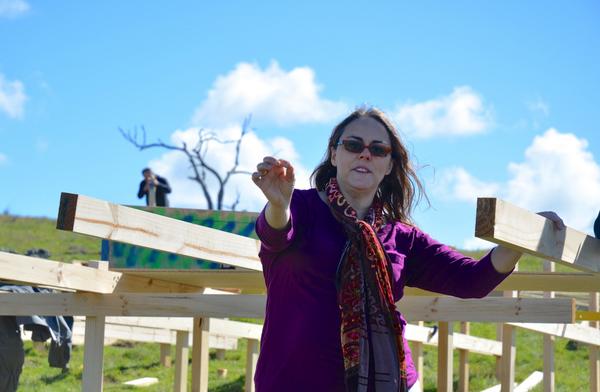 "Director Jocelyn Moorhouse presents the first peek of the Dungatar set" @DressmakerMovie via Twitter
ABC Radio features an audio interview with some of the creative team.
The Mule Plays BFI London Film Fest
Meanwhile, Hugo's current project The Mule has made a big splash (sorry about any unintentional bodily function puns in this next bit… they're sort of hard to avoid…) both online and at its first UK screenings at the BFI London Film Fest, where it has played to sold-out crowds and drawn near-unanimous raves, even from viewers who claim it made them dry-heave. 😉 The trailer for the film has gotten more re-posts and re-tweets than any of Hugo's independent films I've covered in the past dozen years. The filmmakers may wish they'd given the thing a proper cinematic wide release after all. The film's Twitter account is the best source of current info and viewer feedback; they've found a clever way around the 144-character limit which also enables the sharing of film stills. Here are a few such review-graphics, plus some of the more amusing review-tweets from the week's BFI screenings: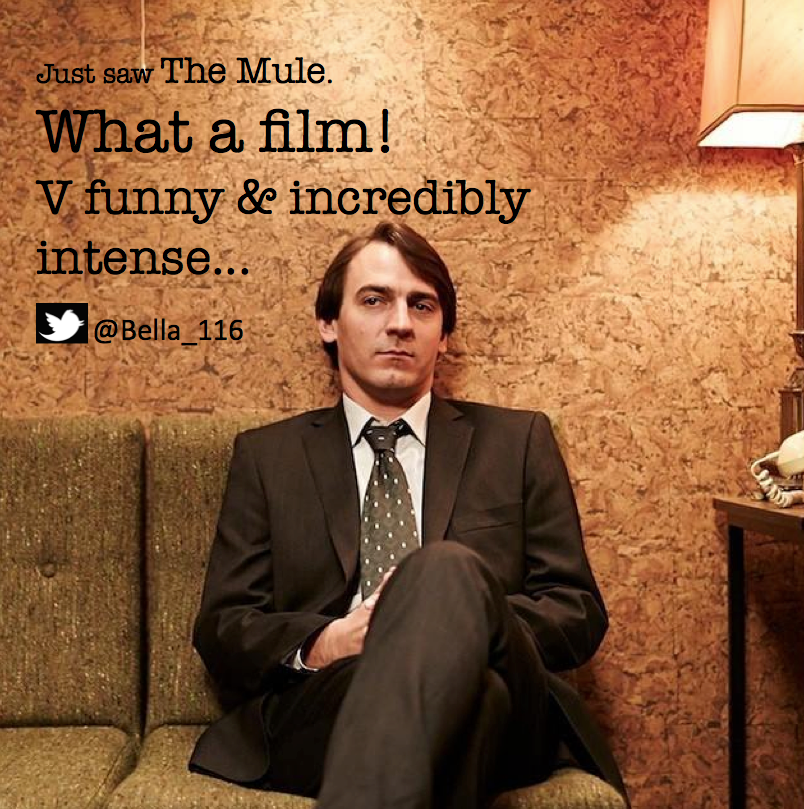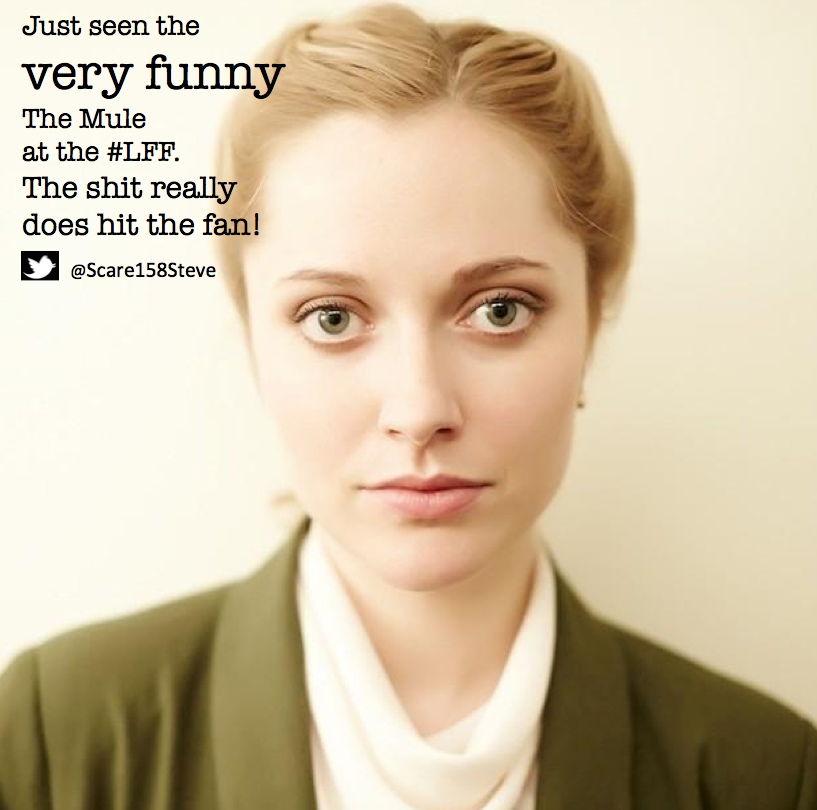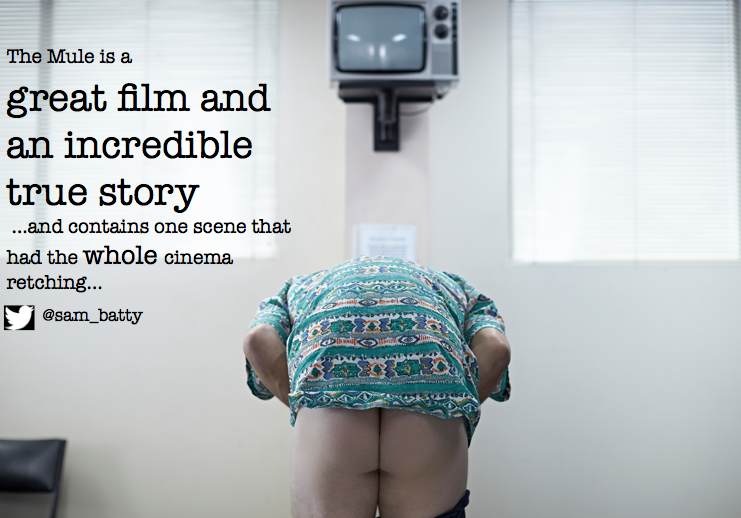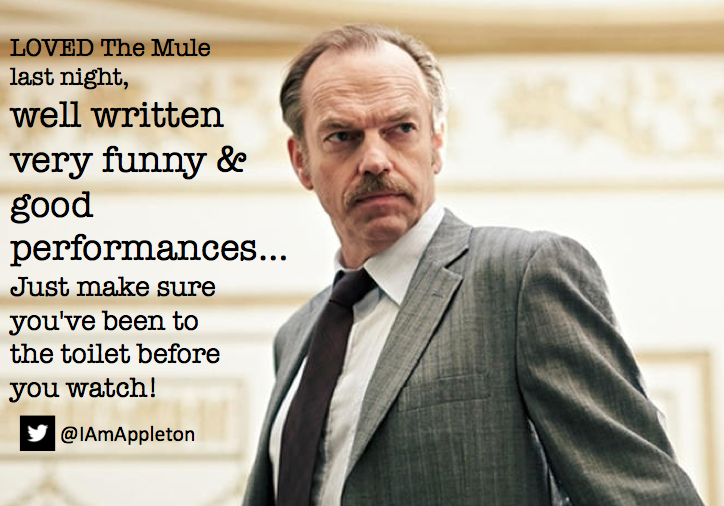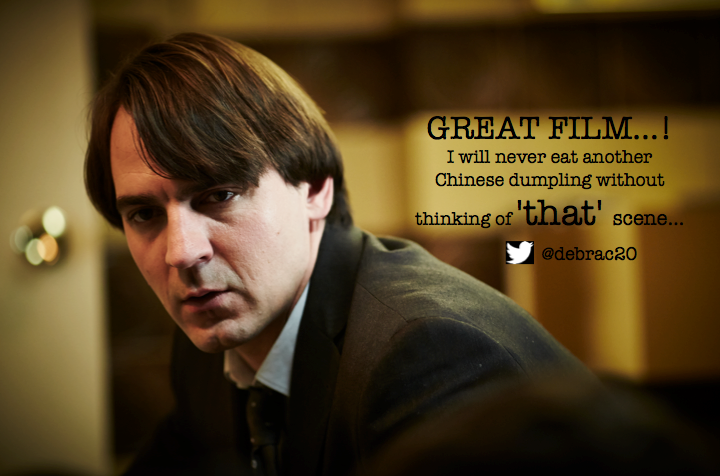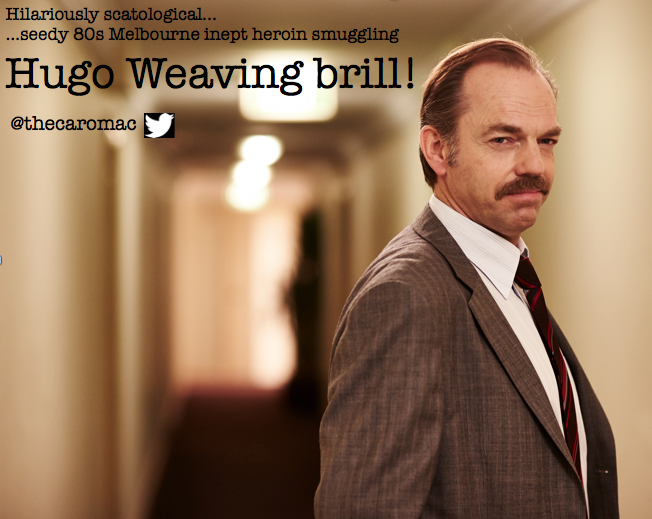 @themulemovie @AngusSampson I've seen a screener. I feel sick just thinking about it. Brilliant.

— Scott Keenan (@scottkeenan) October 12, 2014
THE MULE ★★★★☆ (18) Darkly comic pulp tale of heroin smuggling from the POV of your average Aussie. Sparky lead role by @AngusSampson

— Neil Ramjee (@NeilRamjee) October 12, 2014
Just went to see The Mule in the London Film Festival. Great film but that is the first time I have ever physically retched in a cinema.

— Jill Murphy (@notsonippy) October 12, 2014
Saw Australian film The Mule, part of #LFF. It is very funny but very dark. Definitely worth checking out when it is on general release.

— Scott Pack (@meandmybigmouth) October 12, 2014
Got a good dose of #lff action today with #TheMule & #DancingArabs both decent & worth seeing @BFI

— Emma Hartley (@ejhartley) October 12, 2014
#LFF Review: The best constipation comedy you'll see – The Mule http://t.co/UiFEOx0FBi

— RevStan (@revstan) October 12, 2014
6/19 #TheMule Sharp, dark Aussie drug com. Smart & funny. Loved it. #LFF

— Cloak+Dagger (@craigiefraser) October 12, 2014
Was privileged enough to see @themulemovie last night for #lff. Congrats to @angussampson and the team. Too many good lines (and songs).

— Kit Cockburn (@KitCockburn) October 10, 2014
I hope @AngusSampson will be using this shot for his 'For Your Consideration' campaign: pic.twitter.com/jX3m2GSZbO

— Tony Martin (@mrtonymartin) October 12, 2014
Another winner from down under @BFI London Film Fest: @AngusSampson's @themulemovie.
Review now up on
http://t.co/wXHP6bgELg
Enjoy…
#LFF

— MLK does Movies 2014 (@MLKster) October 12, 2014
Re that review linked to above: Hugo Weaving isn't a method actor whose characters are driven by deep-seated psychological issues. He's a pro who does his best to portray each character as written/directed by the filmmakers. 😉
Here's Angus Sampson's latest interview promoting the film, for the LFF, featuring scenes from the trailer:
BFI, via YouTube
Finally, this week saw the debut of individual "character posters" of most of the major cast members; here's Hugo's Det Croft:

(via Empire Online)
Yes, the posters mention a website, but as far as I can tell, it isn't live yet. Fortunately the film's Twitter feed, Facebook page and Instagram account are regulaly updated. To highlight the film's period soundtrack, the social networking outlets have been posting vintage YouTube clips from 1983, the film's setting. Guess whose personal theme song is The Police's "Every Breath You Take"? 😉 (About time somebody understood it's supposed to be creepy, not romantic!)
In Other Hugo Weaving News:
Season ticket's for STC's 2015 Season (including Hugo Weaving in Endgame, Geoffrey Rush in King Lear, and Richard Roxburgh and Cate Blanchett in The Present) go on general sale 15 October. More details, including synopses, at Sydney Arts Guide, which also gave us a never-unwelcome reprint of one of James Croucher's STC 2015 Season Launch pics from last month:
Manny Gets Censored will have a UK screening in York at the Aesthetica Short Film Festival (ASFF) November 6-9. More details at The Yorker.
There's no new Hugo-specific news on The Hobbit: Battle of Five Armies front, but fans will want to check out the latest series of character posters that have sprouted on most entertainment sites over the past week: TheOneRing.net has the full set. One character continues to be unceremoniously snubbed, however… let's hope this trend ends soon. 😉
Finally, Mystery Road will at long last be officially released on DVD/Blu-Ray in the US via Well Go USA. Unfortunately they've apparently decided to forgo any theatrical release whatsoever (apart from the film's handful of festival screenings over the past year)… which is a real shame. Netflix will have the physical DVD available for rental, but thusfar hasn't announced any streaming plans. The film will be available for rental/streaming via cable On Demand on 14 October.