I know updates have been too-infrequent of late… I've had to take on extra work hours due to recent medical expenses involving my cat (you can read about her progress here, but I'll otherwise keep personal news separate from Hugonuts).Also, backing up all my older entries and photos (at Hugonuts Photo Archive) has taken more time than expected, though it desperately needs doing. Then there's my ongoing posting of Hugo Weaving pics to Twitter, most of which require extensive "cleaning" of some sort. 😉 Photo sites might be less obstinate on this issue if fans made a habit of properly crediting source sites and photographers when reposting, something I always take pains to do .. I was as lax in this department as any "newbie" fan for the first few years, and in consequence my earliest archived photos are in a shambles and I'm spending hours tracking down credit info I should have been including all along.
Anyhow, though Hugo hasn't made many public appearances of late, he has been busy working on The Dressmaker (in and around Melbourne– the Victoria set is in a "secret location" to deter fan disruption, though most Hugo fans I know would never be so gauche as to crash one of his film sets.) 😉 He has been spotted at Sydney-area events (and photographed at least once) so his presence hasn't been constantly required on the set– after those strenuous months of performing Macbeth every night, he is owed a more relaxed schedule. He's also scheduled to attend at least two promotional screenings and Q&A events for The Mule, which is released 21 November in both the US and Australia, mostly via streaming platforms, though a DVD should follow soon.
The Mule
The film's social media outlets on Twitter and Facebook have kept up a steady output of new info and links to new stills and articles as the release date draws nearer. The most fun of these is the newly-released 1983 promotional clip (featuring some amusing comments from Hugo on the set) which was "unlocked" for fans via Twitter a couple of nights ago:
Via
eOne ANZ
YouTube
One can also have a great deal of perverse fun with the "Sweary Supercut" promo, neatly demonstrating why the film secured an R/MA rating (well, ONE reason…)
IGN
, via YouTube
I'll post the film's trailer again, because it's well worth repeat viewings, and because eOne ANZ has a peculiar, annoying habit of removing content then reposting it in different locations, ie breaking embed links.  They already took down the 1983 clip from its original YouTube location after I went through the trouble of cross-posting it (and links to it) in several locations, which I THOUGHT was the point. If fans are just trying to help promote the film via social media and blogs, it helps to have promotional content consistently in place. Just sayin'.
Movieclips Trailers
via YouTube
Twitch Film debuted a nice batch of new stills and caps from the film, including a large portrait of Hugo Weaving's Tom Croft, and the new (and, in my view, improved) US poster for the film, which I'll add below. I'll warn you the site also includes a closeup of Angus Sampson's character having to… erm… reingest some escaped cargo, which I'll spare you here. 😉

(Larger version here— click on the magnifying lens.)

Hugo Weaving confronts Georgina Haig

Screencap of Hugo Weaving and Georgina Haig

The new poster
And here are some of my screencaps from the two most recent video promos; apologies for some being lo-res; the 1983 promo clip is so far only available in grainy standard def. I hope the film's marketers will share an HD version as the film nears release.

(more caps from the 1983 promo here)

More film stills, posters and screencaps from The Mule here.)
Angus Sampson and the film's creative team have already done a batch of recent press interviews to promote the film's general release, as well as attending festival screenings at the Philadelphia Film Festival on Oct 21 and 25. (I would definitely have gone if not in such dire straits financially, though people lucky enough to attend have been very generous with info about the Mule's screenings and the rest of the PFF, which featured a lot of my favorite directors and actors.) At any rate most interviews are very encouraging, suggesting the film is much smarter than the average bodily function comedy or shocker. Perhaps the best (apart from the 1983 clip) can be read at Vice UK, featuring Sampson's comments about the film's less bathroom-oriented cultural and class themes. The fact that Hugo seems more enthusiastic-bordering-on-gleeful than I've seen him in behind the scenes interviews on any project should also give fans confidence that there's more going on here than Adam Sandler-level poo jokes highlighting the distinct difference between being genuinely subversive and merely a crass gross-out.  Sampson was also interviewed–over lunch!– about the film by The Sydney Morning Herald.
Angus Sampson gave a video interview at another recent screening, this time for the Australian Film Institue's AACTA Awards screenings in Sydney. You can also stream their interview with Noni Hazelhurst.
Australian Film Institute
, via YouTube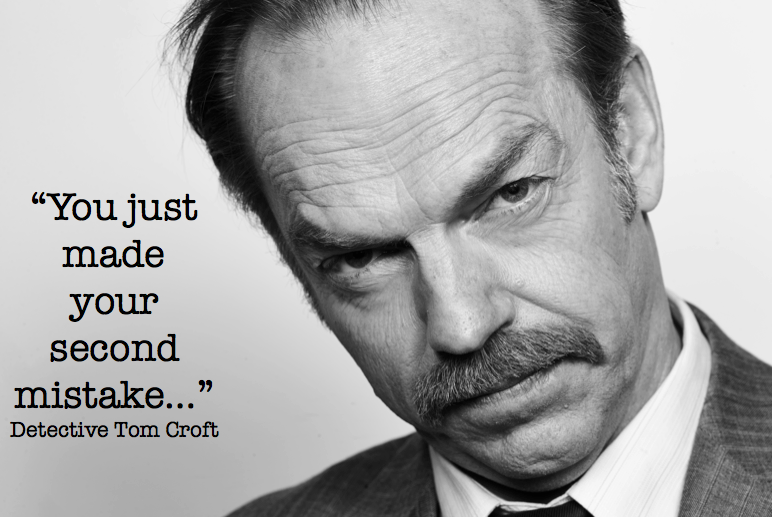 Another brilliant quote/illustration via the film's Twitter feed… keep 'em coming!
The Guardian included The Mule and its cinema-skirting, direct-to-consumer release strategy amid an otherwise-grim assessment of the Australian film industry. (An unfortunate, bordering on cliched treatise echoing perhaps EVERY assssment of said film industry SINCE the much vaunted Priscilla-and-Muriel heyday of 1994. Never mind that Australian films remain excellent and frequently deserve cinema screens more often than the juvenile US trash replacing them.
The Dendy Cinemas Newtown/Sydney screening and Q&A is scheduled for 19 November at 6.30. Tickets are available here.  The Melbourne Cinema Nova screening and Q&A is scheduled for 18 November at 6.30, and you can buy tickets here. Hugo Weaving and Angus Sampson will be present at both events along with other guests to be announced.
So far only iTunes is taking pre-orders for The Mule, which one may purchase in both HD and standard versions. Both the US and Australian versions of iTunes are accepting orders, but they won't let you order outside of your own country (why, exactly, if we're paying?) So be sure you have the correct link. I'll update with additional streaming/purchase options as soon as they're announced. Most of Hugo's recent Australian films have played cable On Demand in the US, so I'd guess The Mule will to, with both rental and purchase options. Australian fans should try to mak,e one of the cinema screenings, though, especially since Hugo will be there with Whannell and Sampson, and other to-be-named cast members.
You can read recent reviews for The Mule at The Digital Fix and filmgarmott.
The Dressmaker
The filmmakers released their first newsletter from the set (written by producer Sue Maslin) on 16 October as production kicked off. (you can sign up via the official website or just follow them on Twitter for online links). You can read the full entry here, but here are some highlights: "The past few weeks have been filled with cast rehearsals, costume fittings, makeup trials, and camera tests. Twenty-five gowns and outfits have been designed by Marion Boyce for Tilly alone and have all been hand-sewn by her exceptional team….
We spent years in search of the mythical town familiar to those of you who have read Rosalie Ham's book – a town in the shadow of a hill – Molly's Hill – on the edge of a vast wheat plain. Having travelled to towns all over Australia, I can assure you that there is NO town like Dungatar!… For that reason, we will build the main street of Dungatar at Mt. Rothwell on the edge of the You Yangs about an hour out of Melbourne. It looks west over the plains and is the perfect place to build the main street of Dungatar in the shadow of Molly's house on the hill…
Rehearsals with our cast began last week and it is wonderful having Kate (Tilly), Judy (Molly) and Hugo (Sgt. Farrat) now bringing their characters alive together with a stellar ensemble of supporting cast…Jocelyn and I really appreciate all of you who have already joined us on this journey. Our production team are looking forward to sharing it with you. "
Several images on/from the set have appeared on the film's Facebook page, though none feature cast members. You can read variations on the press release announcing the start of filming (and recasting of two roles– Isla Fisher and Elizabeth Debicki were replaced by Sacha Horler and Sarah Snook, respectively) at Screen Daily, Inside Film, FilmInk, OzEmag, Urban Cinefile, The Australian, The Herald Sun and SBS. David Hirschfelder was announced as the film's composer.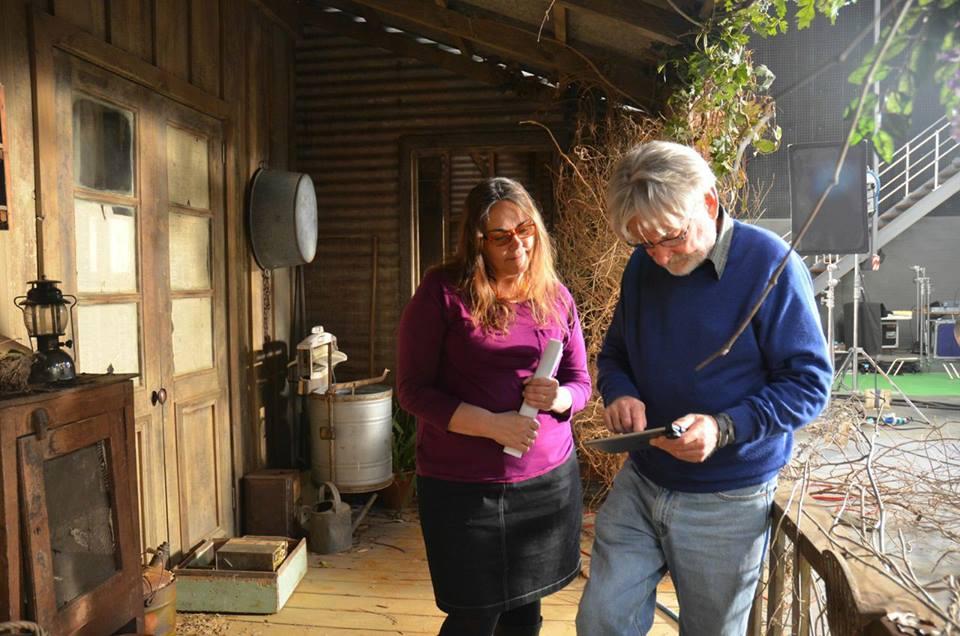 Director Jocelyn Moorhouse and Cinematographer Don McAlpine on The Dressmaker's set. Via the film's Facebook page
Since then things have been fairly quiet (as I assume they're busy filming), with only a few unauthorized paparazzi shots of Kate Winslet and Judy Davis emerging.   The official website and Facebook banner have updated to include Hugo, though, so I'm not complaining. I sort of prefer NOT knowing too much about a film this early, and have somehow held off on ordering Rosalie Ham's novel… mostly because international shipping prices are exorbitant and it seems to be out of print in the US. I know I won't be able to resist the book forever, but maybe… just maybe… this'll be the Hugo film with a literary tie-in I  haven't read before seeing the film.
Hugo Weaving has been photographed by fans twice since filming began (note he's shaved for the role– not unexpected given its twists and turns). Once was in Melbourne, more recently in Sydney at a concert:

"I'm pretty stoked with my celebrity sighting tonight! #hugoweaving #matrix" The Commitment Company via Instagram

"In the Green Room waiting for Elbow. Hugo Weaving is here. Just an average Sat night #operahouse #elbow" Melissa Gardner via Twitter/Instagram
In Other Hugo Weaving News
Tim Winton's The Turning will have a month of screenings at the Danske Filminstituten through November. It was politely received at the BFI London Film Fest earlier this month, though it didn't get the attention The Mule did.
Mystery Road has been generally well-reviewed in its US/UK DVD/Blu-Ray/Streamin/On Demand release. You can read recent reviews at High Def Standard, Buddies In The Saddle, Cine-Vue, Rob Smith/Letterbox DVD, BoxOfficeBuz,  The film continues to receive arthouse screenings throughout the UK, which I'll repost to my Twitter account (sidebar if you're reading WP) as they're announced. Unfortunately, the film's US distributor has been a real let-down on offering any cinema distribution even to arthouses and second run/indie/college venues. This is a film that really deserves a big-screen presentation, and not all of us can afford 80″ surround-sound HD set-ups. Also… I'm old fashioned in that I actually enjoy chatting about and sitting there in the dark with other film fans. 😉 Also: Film3Sixty's interview with director Ivan Sen has been re-posted and remains worth a read if you missed it earlier.
The Guardian interviewed the much-in-demand Luke Mullins in advance of his reprisal of Lucky in Sydney Theatre Co's acclaimed production of Waiting For Godot, which will be restaged at London's Barbican next year. (Another of Hugo and Richard's costars in Godot, Philip Quast, recently appeared in a Lincoln Center revival of Stephen Sodheim's Sweeney Todd, which was nationally broadcast in the US on PBS. He portrayed the lecherous Judge Turpin).
I'll also embed Axiom Film's wonderful little promo short released in conjunction with the UK release (and subsequent DVD issue) which I know I've shared before, but c'mon. Can you say no to this smile?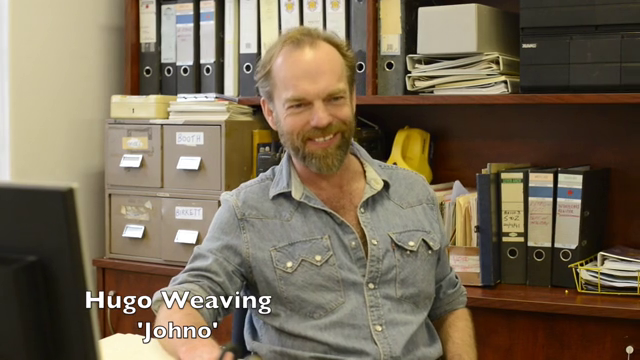 (more interview screencaps here)
via
Axiom Films/Vimeo
The Hollywood Reporter recently re-posted their original 1999 review of The Matrix, featuring the following comments about a then-unsung Australian character:  "[T]he big scene stealer is [Hugo] Weaving as the relentless opponent and embodiment of the Matrix's creators. His deadpan delivery and ultra-serious demeanor is chipped away with growing frustration, and the Australian contributes much of the film's nervous humor."
We finally have a few stills/illustrations of Hugo Weaving's Elrond in The Hobbit: The Battle of Five Armies, though they aren't official promotional images. (In at least one case, Warmer Bros threatened TheOneRing.net (!) over scanned images from a forthcoming book on the film.) They are very similar; the first is taken from a 2015 calendar, the second is a film still first seen in Brian Sibley's book The Battle of the Five Armies Visual Companion and Official Movie Guide, but which has been disseminated all over the internet in various versions, which makes me feel a little less nervous about posting it. Frankly, the way Warner's has repeatedly snubbed Hugo fans (even freakin' Azog The Defiler got a promo poster) they owe us one.

From the 2015 Hobbit calendar, apparently cropped from this larger illustration:

via Danilo, selling the UK version of the calendar.

via TheOneRing.Net Twitter, As seen in Brian Sibley's forthcoming book The Battle of the Five Armies Visual Companion and Official Movie Guide
In non-Hugo (but welcome) news, it's been announced that LOTR favorite Bily Boyd (whose character Pippin isn't born yet in The Hobbit) will compose and sing the end-credits song for the film. More about that in Paste. Flicks and Bits shared some conceptual images and one of Peter Jackson's sketches of the titular battle, taken from the current issue of Entertainment Weekly.  No word yet on an official trailer or any additional Production Diary videos with only a couple of months to go before the film's release.
Healing will have its first US screenings in awhile at the Fort Lauderdale International Film Fest on November 14, 15 and 19, tickets are available at the festival's website. Another festival I'll have to miss, alas.
And that rarest of rare items, "a watch worn by Hugo Weaving" was said to be among them items up for sale at the Garage Sale Trail, an Oct 25 auction of Sydney theatre props and costumes organized by Finoa Reilly, NIDA's head costume designer. Details in The Australian. Given Hugo's repeated professed loathing of wearing watches, that would be a colector's item indeed, even if it's a play prop. 😉