Ideally this will be shorter than some of my recent entries because I haven't waited so long to post this time. 😉
The Mule's marketing strategy continues to impress me. They've put out several brief promo clips in the past week which let you know exactly what you're in for with the film, yet don't give too much plot detail away. Today saw the release of two short, establishing scenes from the film to different websites. Collider featured a clip depicting how Ray (Angus Sampson) and Gavin (Leigh Whannell) obtained the drugs which later land Ray in the predicament the film details; the second, from Twitch Film, shows Det Paris (Ewen Leslie) establishing the ground rules for Ray's detainment in the hotel, including the use of a colander I sincerely hope never finds its way back to the hotel kitchen. The second clip briefly shows Hugo Weaving's Tom Croft and includes his great line about the hotel wine list. (Also featured in the hilarious "Eat Drink Man Mule" clip from the film's website, which I'll embed below.
Note: I have mixed success at best embedding videos directly from websites, even those offering embed code. LJ used to be much more user-friendly in this respect but lately only readily takes YouTube, Vimeo and DailyMotion videos. But I'll do my best. If any embeds fail, do click on the website links. The Collider and Twitch clips are not yet up at the film website, but they probably will be soon.
Via
Collider
Via
TwitchFilm
Meanwhile The Mule's official website and Twitter feed showcased these new clips, which feature a bit more Hugo Weaving content:
Eat Drink Man Mule

The expurgated version of the Sweary Supercut (though the unedited version should neatly separate out people not up to the film itself) 😉

This Is Ziggy

I'll effusively thank The Mule's marketing team for featuring these clips via Vimeo, which my blog sites don't choke on. Not sure why LJ had no problem whatsoever with embeds from other sites until last year (non-Youtube/vimeo embeds in my older entries still work, too) but now only embeds from a tiny handful of sites. I'm not trying to breach anyone's copyrights and I'm crediting my sources lavishly. These videos are MEANT to be promotional and are offered with embed code. Thus they should freakin' EMBED ON MY BLOG SITES. If anyone can give me a plausible explanation as to why LJ and WordPress are so obstinate and unhelpful on this score, I'd love to hear it. (Or, more than that, I'd love to know how to simply make the codes WORK on the two sites…)

(Via The Mule's Tumblr/Official Website)
Angus Sampson continues performing the bulk of early promotional duties; his latest interview is with Time Out Sydney. While I respect the rationale for the film's direct-to-VOD distribution strategy, I really hope the film has more than two Australian cinema screenings. In the US, most indie films are released simultaneously to arthouses (where the market exists) AND On Demand/streaming. The four month wait period no longer really exists. I hope this becomes the model for Australian film marketing at home, too, because it would be a pity if only SFX-driven escapist fare received a proper cinema showing. I have driven into NYC to see Hugo's Australian films before (Last Ride, Little Fish) and would certainly do so again for this one. Have a feeling The Mule won't play MoMA, but would love to be wrong on that score. Sampson also sat in for a Halloween-themed radio interview at Triple J.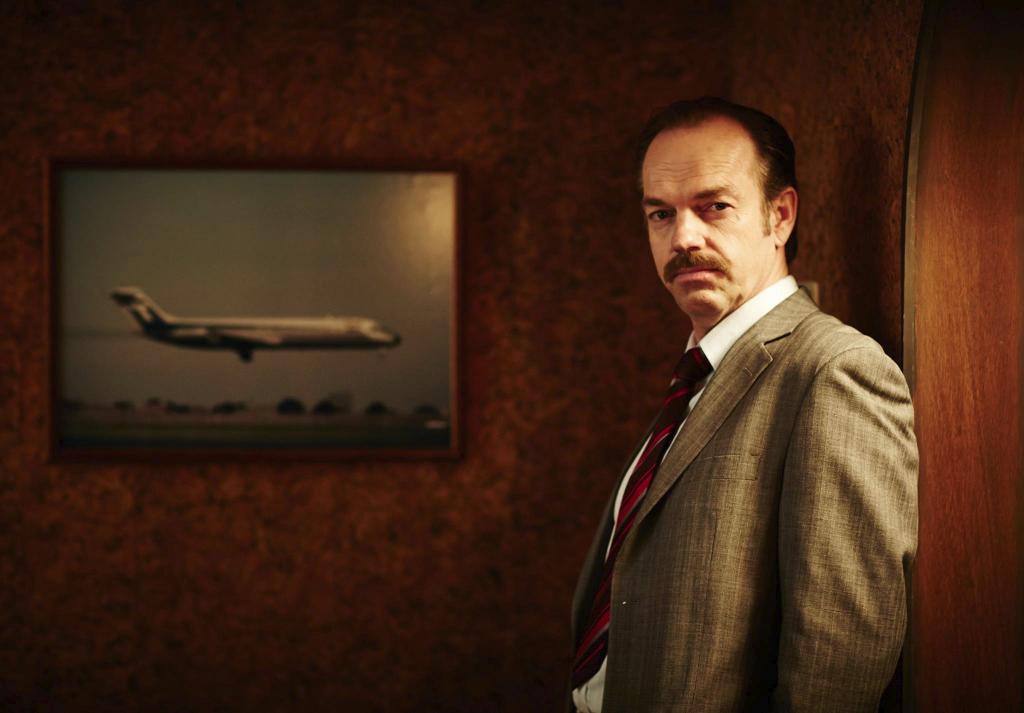 Hugo Weaving as Tom Croft (via The Mule's Facebook page) Dig that abysmal hotel room art! 😉
One encouraging tidbit: the film made the New York Times' Holiday Releases insert. Funny how they go out of their way to avoid any hint of what the film is actually about. 😉 Though this doesn't mention cinema vs VOD specifics, most of Hugo's recent indie films (even a few that did receive NY-area cinema screenings) failed to make this list at all. The film also made LA Times' equivalent rundown… so there's hope of at least a few US cinema screenings beyond the festival circuit.
'
Photo of that NY Times Holiday Movies mention. Love how coy they are about the film's actual content. 😉
I'll re-post the links for the Sydney and Melbourne preview screenings to be attended by Hugo Weaving, Angus Sampson and other cast/crew to be named: Cinema Nova (Melbourne 18 Nov), Dendy Cinemas (Sydney 19 Nov). Both events begin at 6.30pm and tickets are still available.
Other Mule previews are available at Movie Pilot, Horror Movies Uncut, and Shockya.com.
You can pre-order the iTunes version here.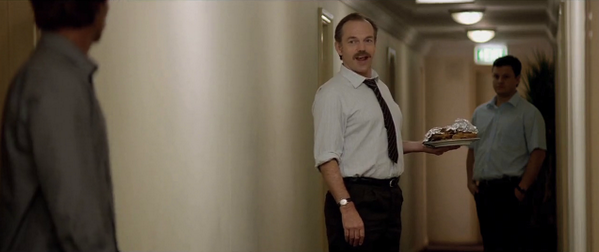 (My screencap from the EatDrinkManMule clip. More here.)
The Dressmaker
Things have been fairly quiet from The Dressmaker's Victoria set since production began, with no major cast sightings or new photos since my previous entry. Hugo Weaving hasn't been on set the full time, but has been spotted in both Melbourne and Sydney since production began, indicating that as a supporting player, his presence isn't always required. (This is nothing new; his role in Oranges and Sunshine only required about six days of filming, his role in Mystery Road about two weeks, and he more than made an impression in each.) Author Rosalie Ham did update her Production Blog a few days ago with a description of costume fittings and extras selection.. She hints that she may be a featured player in the film herself.
The Hobbit
As most fans are already aware, the final installment in Peter Jackson's Hobbit trilogy will have its World premiere in London on December 1. It's unknown if Hugo Weaving will be on hand; ordinarily I'd say it depends completely on his availability pending The Dressmaker's shooting schedule, but Warner Bros has stirred up a hornet's nest by playing cheap with some supporting cast members, ie not paying to fly the New Zealand-based actors to London, even though some play characters crucial to the plot (TORN has the sorry details.). It's hard to know how essential they would find Hugo's presence given this controversy. They must know he's a fan favorite, but he's appeared minimally in the film's promotion (whereas Cate Blanchett, who presumably has a similar amount of screentime, is all over the posters and teaser.) So there are those two factors plus Hugo's well-known reluctance to attend big Hollywood-style premieres. He said he enjoyed events like An Unexpected Journey's Welington premiere in 2012 because it was as much a celebration of the films' location and of local fans as it was a promotional event. Many cast members are London/UK based, but this event wouldn't quite be the same, though obviously the fans in London/Europe are as fervent and eager to see the actors as anyone.
We can be pretty certain the actors featured in the announcement video have been invited, though. 😉
Warner Bros UK
, via YouTube
Peter Jackson dropped some hints about the final film's themes, tone and plot in an interview with The Los Angeles Times. Interestingly, he says it should be the "shortest" of his six Tolkien-inspired films. So… no dozen false endings as in Return of the King? I can't imagine they won't do the obvious bookend with Elijah Wood and Ian Holm. There are rumors that we'll finally see the film's official trailer in a few days, and you can view the latest banner and poster at Comic Book Movie (emphasizing Thorin, Fili and Kili… which to people who've read the book may seem a bit… obvious in the foreshadowing department.) 😉
Mystery Road
Ivan Sen's film will screen at the Vancouver International Film Festival on 23 November. Though it's now out on DVD/VOD in most markets, I urge fans who have a chance to see Mystery Road on the big screen to do so. The latest rave reviews are available at Nerve Reviews, The Independent and The Upcoming.