The Mule
Several new promo videos, pics and interviews promoting The Mule have appeared since my last entry. These include FilmInk piece featuring a new Hugo Weaving interview (mostly his comments on the Australian film industry, which– no surpriose– he defends vigorously amid the usual, cynical media reports of its demise.) I'll post the full text of Hugo's comments below, but first, the latest batch of promo videos for The Mule. (I have to say this film's online marketing team is doing a splendid job, keeping the new promos coming (yet not-too-spoilery) and actually keeping in touch with interested fans, something I've yet to see from, say, Warner Bros despite by decade-plus of promoting various films of theirs. 😉 A lot of indie distributors could learn from this model too. Too many of Hugo's smaller Australian indies haven't gotten the audiences they deserved, and scattershot marketing has sometimes been part of the problem. (I should add here that Mystery Road is another film that got this aspect right,  though they released to cinemas and didn't have the "cult appeal" that The Mule already has in its favor.)
Anyhow, the videos: the first, which was debuted by Inside Film, is another behind-the-scenes preview featuring comments from Hugo Weaving and an overview of the film itself (oh, and Leigh Whannell getting grabbed by the nads):
eOneANZ
via YouTube
Here's the second trailer for the film, which is really a re-edited, PG-rated shorter version of the first, from the film's US distributor XLRator:
Festivals and Indie Films
via YouTube
Angus Sampson has handled the bulk of international promo interviews for TheMule thusfar, including several radio and podcast interviews he spoke with Charles  for over an hour on Center Stage With Mark Gordon on KXLU. Here's the Soundcloud embed:
He also sat down for interviews with Crave Online and Schmoes Know Movies for extended chats which touched on both The Mule and his more Hollywood-friendly projects (the Insidious films, the forthcoming Mad Max sequel.)
Crave Online
via YouTube.
SK Podcast
via YouTube; Sampson interview begins at 30.20
Sampson also explained the genesis of Hugo's infamous "ballooon scene" (in the film and trailer) in a Reddit exchange earlier today:
"[In researching real-life incidents while writing the script] we interviewed customs officials. We interviewed lawyers and police officers. All on the condition of anonymity. We would ask the police we interviewed questions like: If you had to pressure someone you have in custody without physically bruising them or hitting them with a telephone book, The reply 'I would let the air out of a balloon slowly and repeatedly' was 100 per cent fact. And you'll see in the trailer it made the final cut!"
Here are the latest character posters (and a behind the scenes shot) featuring Hugo Weaving's Tom Croft:

Croft character poster #2. Photo: Moviehole

L to R: Angus Sampson, Hugo Weaving, Ewen Leslie and two others on the set. Photo: The Mule Movie Twitter feed

Promo still of Hugo as Tom Croft being tom Croft 😉  Photo: The Mule Movie Twitter feed

Passport-style poster  Photo: The Mule Movie official website
Most of the above video/radio interviews don't feature an overabundance of Hugo content, though the Schmoes Know podcast reveals Hugo took a while to get back to the production team about signing on, probably because his infrequent contact with "the business side" of the industry, ie his agents, delayed him receiving the script. (Hugo's enthusiasm in all interviews about the film, including those before shooting began, suggest he was always interested in the project; costar John Noble was leery of the subject matter until Sampson and Whannell persuaded him in person to give them a shot.) Hugo's 2005 AFI acceptance sppech comes to mind here. 😉 Hugo Weaving will appear with Sampson and Whannell (and probably some other special guests) at the Melbourne (Nov 18) and Sydney (Nov 19) preview screenings next week, so we'll probably see his role in promoting the film expand very soon.  The Melbourne preview is sold out, but free tickets are up for grabs for both venues if one tweets #TheMuleMovie then a description of one's own most embarrassing predicament. (That contest closes soon– 16 Sept at 9pm AEDT–  so act quickly)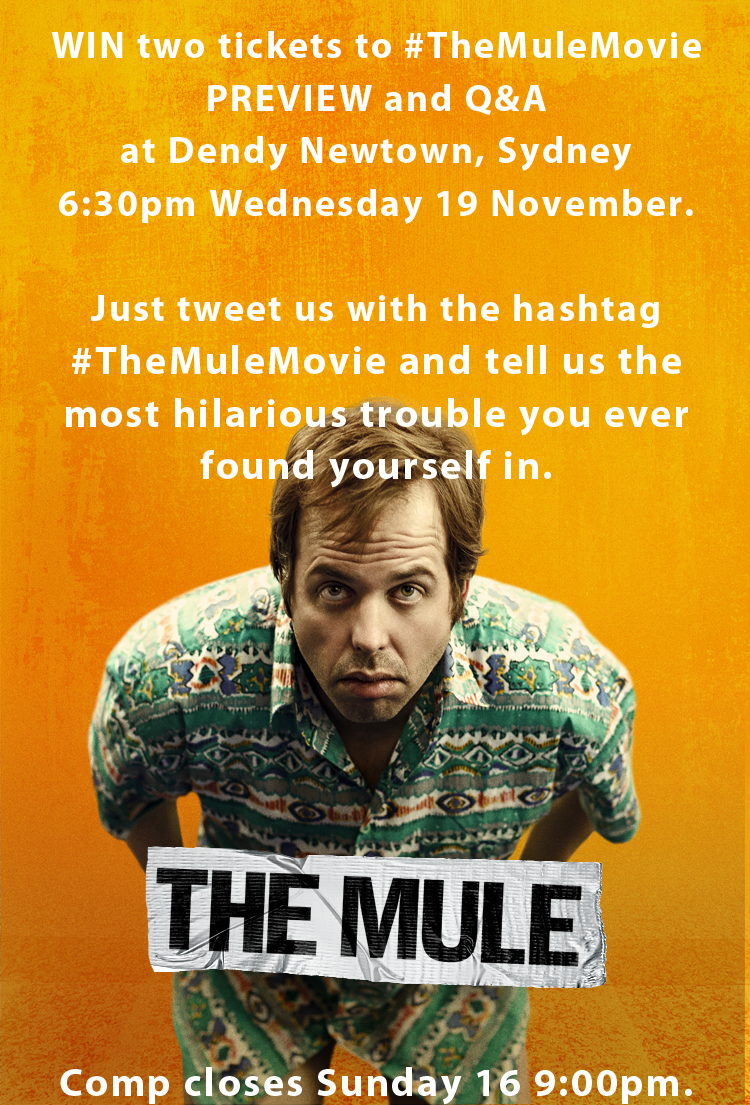 (Melbourne promo identical but venue)
Sorry to kep you in suspense about that Hugo Weaving interview; it's part of a larger FilmInk piece highlighting the current pessimism in the media about the local film industry, and how The Mule is trying to reverse the trend of dismal box-office for homegrown Australian films by bypassing cinemas screenings and releasing direct to PPV/VOD/DVD-Blu-Ray. Here's what Hugo had to say:
"There are much, much better films being made now than back in the heyday of Australian filmmaking," Hugo Weaving – the star of recent Aussie crackers like Mystery Road, The Turning, Healing, and this month's The Mule – tells FilmInk. "There really are, but the perceived wisdom is that that's not the case. Well, I beg to differ. There are good films being made in this country, and the apparent fact that people are turning away from Australian film is something that I don't necessarily buy. They're turning away from films all over the world, apart from the biggest blockbusters. There are lots of arguments. But in terms of the quality of the films being made, there are finer films being made than there were back in the seventies. There were great films made back then, but the landscape is shifting enormously and rapidly, and everything – the way in which we view films, the marketing of films, the distribution – has changed…
"There are so many good films," Weaving continues, "but it's almost like they're disappearing into this great big swamp, and no one can see what to do with them once they're there. It's very hard, and it doesn't mean that those films are bad because they're not seen. I see those films, and some of them are fantastic. Success at the box office isn't the marker of a quality film. It's a shame that they can't coincide, and it's a shame that we can't find better ways of doing it. I still feel very engaged when I read a great script and have the opportunity to work with terrific directors. It's the script and the people that you work with that keep you going. There are great people on the landscape, so I'm hopeful about where that all goes."
Hugo's position on this subject has remained remarkably consistent over the years… and the Australian media's premature death knell for their film industry has been sounding at least since vthe late 90s, so he's had plenty of opportunities to state his opinion. 😉 It's sort of ridiculousd to hold up one unusual year (most often 1994) as a standard every other year needs to meet; it is deeply frustrating that so few Australian films are properly distributed overseas, which certainly wasn't the case in the 90s, when Proof, Priscilla and other notable Australian films (Muriel's Wedding, The Castle, Chopper) got decent arthouse releases abroad. These days, as Hugo notes, most indie films don't get cinema screenings at all, anywhere in the world apart from a few cosmopolitain hubs (New York, London, LA, Paris, etc) unless they attract substantial awards buzz or feature major Hollywood stars. At least in the US films can be released to cinemas and PPV/VOD simultaneously, so patrons outside the arthouse market can at least see them. This apparently isn't the case in Australia, where there's a mandatory months-long wait between any substantial cinema release and the option of home-screening of any kind. If The Mule is successful, this may change, but not all films will have The Mule's unique combination of wit, "midnight movie"/cult appeal and adroit mix of serious tension with potentially-dicey subject matter.
Anyhow, reviews for The Mule continue to be very positive. You can sample the latest at Dark Matter, Adrian Edwards, AltMedia.net and Movie Nation.  Additional promotion and info about the film and its unque release strategy at InDaily, The Daily Review and The Otto Empire. The film can boast of having the 3rd-most-viewed trailer at Apple and (currently) a 100% Fresh Rotten Tomatoes rating. And an extra who worked on the film tells her story at The Daily Telegraph.
The Mule will have a free preview screening in New York on 24 November courtesy the folks at Fangoria; you can read up on how to apply for tickets here. Supposedly they'll RSVP confirmation before the screening date. (I'm still waiting to hear from them… this would be my best chance for seeing the film in a proper cinema, so I hope it works out.) An LA preview screening featuring Sampson and Whannell was already held last night at Cinefamily, but  there will be additional LA-area screenings through the end of the month at Arena Cinema.
Finally, whether you'e lucky enough to make it to one of the Australian or US preview screenings or whether you stream/download/order it on On Demand, you'll want to tune in for the 7 Dec Live Tweeting event which will feature Sampson and Whannell, Georgina Haig and more. Unknown if Hugo Weaving will participate, as he doesn't have a Twitter account, but I've seen actors participate by proxy on more than one occasion. John Noble DOES tweet, but it's unknow if he'll be available given his demanding schedule, which includes a recurring role on US TV's Sleepy Hollow.
Streaming options for the film will include iTunes, which is featured heavily in most promotion, but the latest version of iTunes is incompatible with many non-Apple computers (including mine), so I feel obliged to post other streaming options, which will include: "AT&T, Cablevision, Comcast, Cox, DirecTV, Dish, Time Warner and Verizon as well as various digital platforms" yet TBA, I'll keep you posted.
Finally, the DVD of the film will be available 3 Dec in Australia and 20 Jan in the US. Amazon is taking pre-orders for the latter.
First Contact
A surprise addition to Hugo Weaving's audio resue popped up about a week ago, as promotion for the SBS documentary series First Contact debuted online. Hugo narrates this three-episode series about a group of six white Australians who hold very jaundiced views of the indigenous population who spent a month immersed in a culture they'd never been exposed to before, and how this changes their perspective. Hugo is heard briefly in the extended trailer below. The series begins airing on 18 November in Australia with the remaining episodes following immediately on the 19th and 20th. You can read more about it at SBS, The Sydney Morning Herald, TV Tonight, and Yahoo News.
There will be a DVD available later this year, in case international viewers are curious; Australian viewers will be able to stream current episodes at SBS once the episodes have aired.
The Dressmaker
Things have been fairly quiet from The Dressmaker's "Dungatar set" in Victoria, apart from a few intriguing behin the scenes images shared via the film's Facebook page. Presumably Hugo is currently at work on this particular project, though he'll obviously be taking a few days off to promote The Mule.

"Our camera operator David 'Daisy' Williamson films Tilly's train arriving in Dungatar (in Muckleford, VIC)"  Photo: The Dressmaker Facebook page

"Production Designer, Roger Ford, shows our director around the interior of the Pettyman's house." The Dressmaker Facebook page
Mystery Road
The film continues to receive positive notices in its US and UK home-format releases. The latest reviews may be read at Blu-Ray.com, Rock!Shock!Pop!, VODZilla, EveryFilmBlog.
The Hobbit: The Battle of The Five Armies
First, apologies for inadvertently leaving the second "the" out of the film's new(ish) subtitle in previous entries. Since fans have universally used the shorthand BOFA, I hadn't actually noticed it was there until recently. (Frankly, I still think There And Back Again was better. So freakin' sue me.) 😉 Still no info on whether Hugo Weaving will be on hand in London when the film premieres.
But several new goodies have nonetheless recently debuted, including a growing cache of TV ads. I'll embed the most impressive (a collection of several international spots back-to-back) followed by the first official two US TV ads.
CBM Trailers
via YouTube (Elrond's sword-brandishing cameo from this month's full-length trailer appears i the first 30 seconds).
TV Spot 2 (
Warner Bros
via YouTube)
Tickets are now on sale for marathon screenings of all three Hobbit films (shown in order) December 15 at various IMAX locations. The official site only seems to have times for The Battle of the Five Armies, so check local listings.
And you can hear Billy Boyd's ending theme "The Last Goodbye in its entirety over at Billboard.com. And there are amusing reactions to the recently released trailer at GQ and Entertainment Tonight Online, including the rather obvious statement: "Hugo Weaving is amazing."
Healing
In advance of the film's Australian television debut (November 23) ABC TV shared Hugo Weaving's behind the scenes interview clip. Some of you may remember seeing this back when the film had its theatrical release in May, but it's definitely worth multiple viewings.

ABC
, via YouTube
Also, Healing has two cinema screenings left in its Fort Lauderdale International Film Fest schedule in Florida this week.