A lot of new Hugo News to report; I'll try to fit most of it in a single entry, but can't promise anything as I'm on call for work tonight. I will definitely be avoiding certain items that unfairly overshadowed all the positive news online, though I plan to write a separate entry on that subject later. (That'd be Hugo's interviews with The Hollywood Reporter and I Am Rogue, which were given to support The Mule, but got more attention for reigniting rumors Hugo might appear in a franchise he's repeatedly says he finished with, and mostly reiterated he has little interest in returning to. For now I'll just say that if Marvel wanted Hugo for the third Cap go-round, they'd most certainly have gotten in touch with him by now. He says no one has, and I believe him. Also, Hugo will be starring in Endgame for the STC when production on that film begins, which none of the over-eager rumor-mongers seems to have checked. So I'm fairly certain this closes the door regarding that particular film. I hope Hugo never goes back on his word and is done with lame franchise villain roles. And I'l reserve extended comment for another entry.)
Strangerland
First, some genuinely exciting news: Hugo Weaving's film Strangerland, costarring Nicole Kidman and Joseph Fiennes, will indeed have its world premiere at next February's Sundance Film Festival in Utah. Some Italian Nicole Kidman fansites first hinted this might happen last month, and now the major trades have confirmed the news. Not only that, but the film will be featured on Sundance's Opening Day program, and will be included in the World  Dramatic Cinematic Features competition with eleven other films. You can read the announcement at Screen Australia, Variety, Screen Daily, IndieWire and Sundance Institute's blog. ; most reports feature only these details, the film's official synopsis (below) and the familiar post-dust storm image of Kidman and Fiennes. Unfortunately the teaser I shared a few weeks ago turned out to be an unofficial leak (which would explain the Cyrillic in the YouTube title) 😉 so it's been taken down. The film's marketers promise an "official" trailer soon… frankly the leaked teaser was pretty damn good in my opinion, so they should just use that, then debut an official longer trailer closer to the opening.
Official Synopsis: Strangerland (Australia-Ireland) (Director: Kim Farrant, Screenwriters: Fiona Seres, Michael Kinirons) — When Catherine and Matthew Parker's two teenage kids disappear into the remote Australian desert, the couple's relationship is pushed to the brink as they confront the mystery of their children's fate. Cast: Nicole Kidman, Joseph Fiennes, Hugo Weaving, Lisa Flanagan, Meyne Wyatt, Maddison Brown."
Director Kim Farrant's reaction (as quoted by Screen Australia): "We are thrilled that Strangerland will have its world premiere at one of the top festivals in the world. It's such an honour to be in (World Dramatic) competition with such a fabulous line up of films and I'm especially excited to be going to Sundance (as I've always wanted to go) with my debut dramatic feature. Buying my snow boots now!" Farrant told Inside Film, "Sundance is where everything started with my shorts, so to be able to go back there with my first feature is very exciting. So many of my filmmaking heroes have come through the festival and to be included amongst that history is such an honour. Also, I really like snow."

Hugo Weaving and Nicole Kidman, as seen in the "unofficial" teaser
The Mule
Though Hugo Weaving has returned to the Melbourne, Victoria area to continue filming The Dressmaker (which I'll cover later this entry) his promotional interviews for The Mule continue to appear. I'll re-post the relevant sections of the Hollywood Reporter and I Am Rogue interviews below, as a sort of corrective to all those entertainment sites which ONLY posted the Hollywood franchise bits which were a minor postscript to those interviews.
Hollywood Reporter Hugo Weaving Interview Excerpts:
What struck you about The Mule?
I really loved the script, and I laughed a lot. I thought it was a very smart, intelligent piece. It's a terrific character. It presents him one way, but like all the characters in the film, he's not black and white. They are all pretty gray. They are all harboring secrets and are a little compromised.
What preparation did you do for this role?
I jumped back into 1983 [when the film is set]. There were a number of little things I watched. There was a great TV series at the time in Australia called The Scales of Justice, which was a look at — for want of a better word — the whole justice industry, from a young cop graduating and becoming a policeman, right up until major corruption in the high court. It was made in 1983, and even though it wasn't a documentary, it sort of took me back to the creative world of the day.
There was a cop both [costar] Ewen (Leslie) and I met up with, and we had a couple of hours to talk about various legalities and various interview transgressions and things you could or couldn't do with a witness and holding them for a certain amount of time.
The Matrix has one of the all-time great interrogation scenes. Did that work affect your work here?
I didn't draw a parallel with Smith, but it's true. They both want something from somebody else. But I guess that's true of a lot of relationships, really. If you look at any relationship on film, there's often one dominant and one slightly recessive character, and then perhaps the tables turn. But we all want something from other people from time to time.
What do you like best about playing Croft?
I think the interesting thing about this film is that Croft presents as an old school cop with a pretty questionable interview technique, and he's obviously a sexist pig, but you enjoy watching him, and I certainly enjoyed playing him. He's very prepared to bend the rules, but ultimately he ends up at least having a line he doesn't cross, unlike the majority of the other characters.
CJ: Yes, the interviewer can't even stay on topic when discussing the film Hugo is promoting. Only someone with the mind of a two-year-old would possibly think Agent Smith somehow informs all of Hugo's other films. 😉  The Interview (1998) would be a closer parallel, but I doubt anyone working for the Hollywood Reporter has seen it.
I Am Rogue Hugo Weaving Interview Excerpts
IAR: To begin with, how did you get involved with The Mule? Did you previously know actor/co-director/co-writer Angus Sampson, or were you just sent the script and then decided that you wanted you be part of the project?
Hugo Weaving: I had not met Angus before. I had the script sent to me. I read it, loved it and responded very quickly. I first met Angus when we had a read-through for part of the rehearsals. I knew a number of the other actors before. I had worked with Noni Hazlehurst, Geoff Morrell, John Noble and Ewen Leslie. Most of the actors I had worked with. I had never met Leigh (Whannell), Angus or Tony Mahony, the other co-director. I just responded to what I thought was a very smart and funny script. I loved the character. I thought he was great. It presented a type, but actually there was room for a specific person or character in there. I thought I would enjoy it enormously, and I did.
At first, it's not really clear if your character has any morals, but then it becomes very apparent that he does have his own specific moral code. Can you talk about that?
Weaving: He is what I would call an old-school cop. If you think about 1983, the actual federal police force had just been set up at the time. So it would have been largely a state police force. There was a lot of corruption in Australian police around the time. But having said all of that, if you think about the circumstances as we are watching them in the film, we know that this guy has heroin in his stomach. The federal police pick him up and they are pretty sure he has it as well. He refuses an examination and they then take him. They are by law allowed to hold him for a short period of time. They do keep going down the legal avenues to extend that period of time because they are pretty sure he will not be able to hold on very long and have to produce the evidence. He is lying to them. They know he has got it in him. Croft bends the rules at all times in order to catch his man. That is definitely not considered the sort of thing you should do anymore. There are many more protections for suspects, which is a good thing. But back then this would have been absolutely standard procedure in a way. My character used a more physical interrogation technique, which does not necessarily happen anymore. But at the same time Croft, although he bends the rules, he will not break the rules. He will not break the law. The Australian police had a history of bending rules and maybe even breaking them to get someone because they know he is guilty. Croft would do anything to secure what he thinks is justice for the situation. But he would not go as far as killing someone. At the end of the film, he actually forms this unspoken alliance with someone who is the last person you would expect him to do that with. Croft has an old-school attitude and actually possesses old-school virtues. I always liked that about him.
Obviously you are no stranger to working with co-directors after collaborating with the Wachowskis on The Matrix trilogy. But what was it like working with two directors on The Mule, when one of them is acting in scenes opposite you?
Weaving: It was great actually, a situation that could have been full of major problems. You've got Tony, who was employed by Angus earlier to be the director on a set while he is acting. That could have been an incredible imposition of someone when you are trying to direct but that did not happen. Tony is very smart and has a great eye. He is very calm and a very easy-going, intelligent man. Angus did not push their weight around at all. There was a good open discussion about seeing any difference of opinion, which is talked about in a very easy way. It was an incredibly relaxed set I was incredibly impressed by the way in which they managed that. Tony was very much the director on the floor. Angus was just one of the actors, and so was Leigh, who was also a co-writer and executive producer. They both managed to say what they wanted, as did all of the other actors. It was a set full of permission at the time and camaraderie. It was very well managed.
Again with the freakin' Matrix questions! Hugo completed work on those films twelve YEARS ago! As for rumors of possible Matrix sequels (which the I Am Rogue interviewer gullbly brought up) I've heard such rumors since 2005. There's never been an ounce of truth to any of them. I do think Hugo will probably work with the Wachowskis again, but hope this time they give him a character of more complexity than they did in Cloud Atlas. They are a large part of the reason Hugo is so relentlessly stereotyped in the US media, and it would be nice if they helped remedy that. Tarantino gave Christoph Waltz a  complex non-villain to play in Django Unchained, after all. It CAN be done. 😉
But my favorite new interview was posted at The Dallas Examiner, which managed to stay on-topic and get some in-depth answers. Here's their full transcript:
"Interview with 'The Mule' star Hugo Weaving
November 29, 2014
8:47 AM MST by Bobby Blakey
Few actors have had the impact of Hugo Weaving, who has been tearing his way through the film industry for years. When he made his memorable turn as Agent Smith in the Matrix films he was forever cemented as one of the greatest villains in film history, but that was just the beginning. Since he has not only been a part of numerous block buster franchises like The Lord of the Rings, Transformers and Captain America, but continues to deliver plenty of powerful smaller performances as well. His latest, The Mule is one of those films, but he turns in yet another brilliant performance as expected. I had the chance to sit down with Mr. Weaving to discuss this great film and how they brought this story to life.

Hugo Weaving at the Sydney Theatre Co prepping for Macbeth this past July   Photo: Tim Hunter
Bobby: How did you first get involved with The Mule?
Hugo: They sent me the script; I read it, loved it and said yes. That was the beginning of it and it wasn't that much longer before I met up with Angus Sampson and Tony Mahony and just started talking about it a little bit, then we were in rehearsal and then shooting it. It was a pretty seamless sort of intro to it. I just responded to the script which I thought was a very smart take on something that we know in Australia very well that has an interesting mix of comedy and there was some thriller aspects to it as well I suppose. I just thought it was a really smart script that made me laugh a lot and I didn't necessarily know what was going to happen in the next scene so I kept turning the pages and thought it was just a very good piece of writing.
Bobby: At this point in your career you have created so many iconic characters, how much input to you get to create these characters?
Hugo: I just ran with the script really and they were very excited to have all of the actors and it was a very collaborative filmmaking experience. I felt like I had absolute license to go with it, but I was just responding to what I saw on the page. I certainly wasn't held back at all and felt very free to do what felt right. There was a lot of give and take and a hugely enjoyable experience. We were doing improv scenes every now and then with people just throwing in ideas and we had the flexibility to do just that. There are a number of little grabs in scenes that we came up with while we were shooting so it was very good.
Bobby: Mentioning improve, one of my favorite scenes to the film is the balloon scene. Between the balloon itself and the look on your face was that written that way or did you develop that yourself?
Hugo: I don't actually remember if that scene was written or not, but I think the balloon might have been and then we just did it, but there were a lot of things like that such as the people playing golf, there were a lot of things that we just rolled with on that day. We got into a groove quite quickly in day 1 and 2 in the way we were filming. We enjoyed each other's company and there was a lot of permission granted to people and didn't seem to be a lot of obstruction besides the obvious one with the character of Angus. It was very enjoyable.

Ewen Leslie, Angus Sampson and Hugo Weaving in The Mule    Photo: The Mule Twitter feed
Bobby: As an actor a lot of time you feed off the sets you are working on as well. In this film the majority of the film is in this hotel room. Is there a different approach as an actor that you have to take when you only have limited space to feed off of?
Hugo: That's the premise of the film in that these two cops take this guy who refuses to have an x-ray or examination so they just take him to this room. The great thing was that on day one of the shoot we were on this set that was a slightly enlarged hotel room set to get the camera in there, but it was a beautiful piece of art direction and production design. Being in that room for the first couple of weeks was great because we were able to really concentrate on what was at the heart of this film and jump straight in there and get on with the business of it. The confines of the room sort of set the tone for the whole piece because essentially that is what the film is about. The hero is inactive and there is nothing they can do but to hold on and everyone else is inactive and all they can do is wait and that is the whole film. The entire thing is character based and who is going to outwit who, everyone thinks they are smarter than everyone else, everyone is concealing something from everyone else and it all has something to do with the machinations of character and that is the strength of the film.
Bobby: There is a fairly violent shower scene that you are involved in, is that something that is choreographed out or was it more of a guideline and they just let you guys loose?
Hugo: We definitely had a stunt coordinator that day. Angus did injure himself when he first fell in the shower, but that is another story. In terms of the interaction between him and me, you have a naked body in a slippery shower so you have got to be careful. If you just work through the logical sequence of what happens to that person after they turn the hot taps on and they fall to the floor and then the other person how does the other person get them out? Then you just go through it step by step, he picks him up and then let's go of him and they fall. So we just walked through the sequence just from one move to the next and then did it a few times without doing it a hundred percent so by the time you come to do it you know the sequence. Then you can jump in and do the whole thing in one and then know you will be going back to do other sections of it and as long as you have got each section of the grab. Once you have that it can be cut together in such a way and indeed it is because you are jumping from one character to the other. If you doing everything properly and communicate well you can actual shoot these things very quickly and effectively.

Photo: The Mule Twitter feed
Bobby: The tone of this film is a real dark comedy, but there are a lot of scenes that involve Angus' butt. I know it is a professional set, but how hard is it that to deal with and stay in character?
Hugo: I think we all enjoyed the script and laughed a lot. There was always a really great mix and that is why we were interested in doing it. I remember talking a lot about the scene where he has produced the evidence and re-swallowed it, how much do you want to see, how do you shoot, how do you cover a scene like that? That audience needs to see something to know there are no condoms full of heroin there, so there were some real interesting and amusing discussions on how to shoot something like that. Less is more in some instances but on the other hand you do need to see it to some extent. The shooting of that scene there were lots of gags and laughs but essentially there didn't seem to be a problem with character because each of them is very driven with what they are trying to get so by the time you talk through the shoot on how you are going to shoot it and then doing it, it just seemed true to the character. It was a very easy set to work on.
Bobby: It's a great movie and that is probably one of the grossest scenes that show almost nothing.
Hugo: Yeah, I love when he is re-swallowing them that it is literally gag making. When you see it with a big audience it is really funny, because the audible reaction of people gagging is fabulous. At the same time you are thrilled for the hapless hero character because he has hit upon this brilliant way of beating the cops, but it involves the most repulsive concept imaginable. So it's a great scene.
Bobby: Exactly, I really appreciate you taking the time to speak with me and wish you all the best.
Hugo: My pleasure."
Here, again, are a few previously-shared videos in You-Tube/embed-friendly formats:
Hugo Weaving/Angus Sampson
Big Pond Movies
video interview (via YouTube)
Hugo Weaving & Angus Sampson Triple M Grill Radio interview (video is static shot seen of Wea\bving and Sampson w/the Triple M Grill Team.)
Brenden Wood
via YouTube
You can read the latest reviews of The Mule at Under The Gun, Concrete Playground and Weekend Notes. The film also made Buzzfeed's list of the Top Australian Films of 2014. Unfortunately, due to some asinine rules about theatrical screening, The Mule wasn't eligible for the AACTAS. (Hugo's other 2014 film Healing was also snubbed in all but the Sore category.) Which sort of makes the AACTAs irrelevant this year. 😉
Angus Sampson spoke to The Saturday Paper and SYS Podcast. Leigh Whannell discussed the film with Movies.com and Fangoria. Speaking of Fangoria, anyone seen any photos that were taken of the New York Fangoria screening of The Mule? I saw several people taking pics, including some of the Australian Delegation, but haven't found any pics online yet. No, wasn't able to take my own. The curse of not having a cellphone that takes pictures. 😉
And I'll again remind you that there will be a live-tweet event for the film on Twitter this Sunday (Saturday night for US fans) This handy graphic from the Mule's always-entertaining Twitter feed includes all of the relevant time zone info:
No, unfortunately it doesn't look like Hugo will be available (though I'd love there to be a last-minute surprise announcement– he'd have to guest on someone else's Twitter account.)
And here are a few more of The MuleMovie's Twitter feed's recent Croft-centric virtual ads: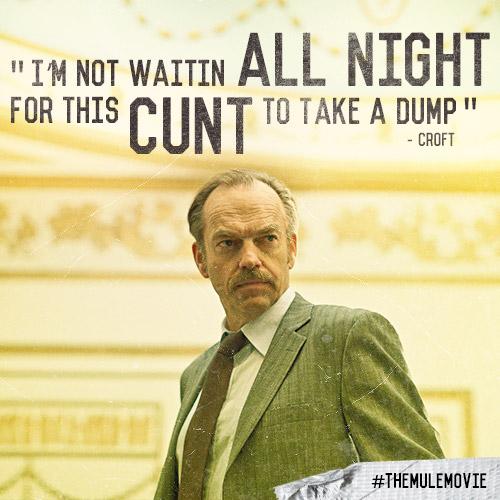 The infamous Croft Vs Ziggy Buffet Incident 😉
The Dressmaker
Though we've yet to see any official film stills or images of the main cast (apart from old head shots on The Dressmaker's Pinterest), several interesting fan photos from the set and Melbourne have appeared over the past several days.
Here's a first glimpse of Hugo in character on the film's dance hall set. (according to an eyewitness, his Sargeant Farrat and Kate Winslet's Tilly share a dance)

Photo: Heidi Dee via Twitter/Instagram

Here's another photo from the set, this time with a fan.   Photo: Monty Fan via Twitter (she posts set photos regularly)

Hugo Weaving with fan Ginny at a Melbourne art gallery (He still wears that Nature Theater of Oklahoma T-shirt!)  Photo: Ginny (@virginiaarhh) via Twitter/Instagram
The Hobbit: the Battle of the Five Armies
A few important new previews from Peter Jackson's final Tolkien opus have appeared as we enter "the final stretch" before the film's mid-December wide opening. I'm a bit reluctant to share the first, as it probably consists of about half of Hugo Weaving's footage from the film, if his interview comments are any indication. At least it mostly focuses on Elrond's dramatic entrance (and Christopher Lee's Saruman's) rather than the meat of the action sequence sure to follow. This and the glimpses of Cate Blanchett seen in TV ads probably ARE the bulk of her role, as she only spent 8 days total on set. (Weaving spent three weeks, but a lot of that was for Elrond's scenes in the first film, the only part of his story that's in Tolkien's book.)
So– this is definitely spoiler territory, but a lot of fans are eating it up anyhow. You can read a frame-by-frame discussion of the scene at Movie Pilot. And there are three other preview clips featuring Gandalf (Ian McKellen), Bilbo (Martin Freeman), Thranduil (Lee Pace) and Bard (Luke Evans)– and some gnarly Goblin Catapults– at Flickering Myth.
Comic Book Movie.com
via YouTube
Less spoilery, but just as much fun, is this Hugo Weaving behind the scenes interview about the Hobbit films. Though it's explicitly labeled promotion for The Battle of The Five Armies, it's suspiciously similar to Hugo's set interview for An Unexpected Journey two years ago, and doesn't divulge any intel about the current film. Hugo does discuss what it's like to work with Peter Jackson, and the basics about "creating the world" of the films.
Screen Slam
via YouTube
Unfortunately, Hugo was unable to appear at the film's London premiere on December 1 due to his work commitment on The Dressmaker. (His fellow White Council members were also absent.) I suspect Hugo won't be heavily involved in promotion of this film, as he only has a small role in it. As he told I Am Rogue:  "It was just another return to middle earth. We went over there [in April, 2011] to do The Hobbit: An Unexpected Journey. It had just been announced that the one film was now going to be two. We got over there to do one, and they gave us the script for the second one. I really only had a couple of scenes to be perfectly honest. The shooting for me was over in a relatively short period of time. Now it seems like a while ago. When I left, I was told that it would again be a trilogy. I then did not know whether my scenes, which were originally in the second film, would be in the third Hobbit film. I assumed they would be once I saw the second movie and noticed I wasn't in it. So that is what I have pent up in me to be honest. I am looking forward very much to seeing the final film."
Peter Jackson HAS confirmed this will be his final Tolkien film (to The Independent.ie), which is probably for the best. (Some fans are salivating over the notion of seeing The Silmarillion filmed, but it's an exttremely dry read that defies easy screen translation. Though PJ and co could probably do it justice, Tolkien's heirs remain obstinate about not allowing him access to the rights.) The Dallas Observer posted an early review which was mixed but, in my opinion, very fair. I see a lot of the same virtues and flaws in these films. Here's what critic Alan Scherstuhl said about The White Council's scene: "A haunted-city showdown between shivery ghost knights and the staff-and-hair-whipping superteam of Galadriel (Cate Blanchett), Elrond (Hugo Weaving), and Saruman (Christopher Lee) proves almost as grand [as Smaug's opening shot]. It's sad that Hollywood filmmaking is so often about attempting to put the dreams of children onto our screens, but shouldn't it still be notable when someone actually manages it?"

Hugo Weaving with Peter Jackson on the BOFA set