Before I update I want to apologise for the recent technical difficulties experienced by the Hugonuts blog at both locations, but particularly LiveJournal. Some recent photos have failed to load or erroneously displayed "This photo has been moved or deleted" graphics. I have NOT moved any photos, and am not such an idiot I can't figure out that moving photos severs the links to blog posts. But I've had a host of problems with both LJ and PhotoBucket with this error. I've used PB for ten years with no issues until this past couple of weeks, but it's now a recurring headache. I have fixed all the links (though again, no pics were EVER moved; PB just had errors connecting to the correct photos). And none of my pre-January entries seem affected, though please notify me if this changes. I have experimented with disabling AdBlock, which can disrupt PhotoBucket, though it's otherwise essential for computer use without being driven insane by an ad-barrage. (In the future I may have to disable it when using PB, but re-enable it afterward… if this fails to correct the problem, I may have to consider moving my photo collection elsewhere.) Support requests to PB have thusfar been ignored. So far as I can tell, all photos are now displaying correctly after several days or painstakingly re-inserting each link and other trouble-shooting, but please notify me if the problem recurs. Obviously there's no point doing this if I can't share photos reliably. 😉
Strangerland at Sundance: New Videos
In my last entry I mentioned that Hugo Weaving and Joseph Fiennes gave video entries to three different entertainment media sites: IMDb/Amazon Instant Video (which I posted in the prior entry and features the deploying Hugo's inimitable "Donald Duck voice" to dodge the inevitable "movie trivia" questions.) 😉 A few days later, possibly after pestering by myself and other fans, The Wrap posted their interview… well.. MOST of it. The full segment on Strangerland remains, but several minutes at the end were edited out, so I'll transcribe that from the audio I recorded live.
The Wrap
Somewhat irritatingly, only Joseph Fiennes was noted in the headline and tags for the clip, so some Hugo fans might not've spotted it on cursory searches. I was monitoring The Wrap's full Sundance feed and it eventually appeared there several days after the live airing. I am thrilled they finally shared the high-quality video, been in truncated form.  I suspect the edits were due to Hugo's usual reluctance to play along with Hollywood trivia questions, which now seem de rigeur even at festivals allegedly about independent films. 😉 They might also have been trying to avoid divulging some slight plot spoilers, thorough it's now an open secret that the film isn't "about" the solution of its central mystery. So, those warnings in mind…
Here's my transcript of the rest of the interview (immediately following end of video's final question/answer) :
The Wrap: Did you do a lot of takes or did you get it right away?
Joseph Fiennes: No, it was one or two takes and pretty straightforward and quick… but then on ALL the scenes it was one or two takes and pretty straightforward and quick. (laughs.)
TW: What were the biggest challenges for both of you on this [film]? Hugo, you said there was limited time? Was it that [limitation] or was it psychological… what was the toughest part of this movie?
HW:  Um… yeah. I don't know. That's a good question. I mean, the time constraints are always there so I wouldn't include that, or hoping that you get certain scenes. Probably for me, on this one, trying to increasingly find a breathing space for a human being that you're putting onto film, trying to embody someone who's as complex and dimensional as he can possibly be, even when the framework within which you're working is relatively minor.  This man has a past, has troubles, has secrets, but he presents as a kind of sensitive, calm, capable cop most of the time, and for me that was kind of an interesting framework for me to exist within, and occasionally reveal something about the deeper side of his nature. so.. finding that right tone, I suppose.
TW: Joseph, for you what was the toughest part?
JF: I echo Hugo. On any independent movie, it's a miracle we're even there filming, but then there are enormous constraints. I think we had quite a few scenes that we just couldn't complete, because we didn't have the money or the time, and that's hugely disappointing. But, that aside, which is just part of what we have to handle, I think the hardest for me just doing enough work [on] the backstory… It takes place over a very short period of time. as well. I kind of felt that… at the end it's got to.. not necessarily have to be redemptive from his point of view, but some tiny, tiny [glimmer] of hope that there may be, ironically, within the horror of the disappearance.  a glimmer of potential light that this relationship might just survive… and going and taking it to the real max of the breakdown and with Nicole, and seeing that and his restraint and needing to control because of his inertia and shame. He's a man that has a public persona and finds it very difficult to sort of let that fall, so it's taking that to the max and then trying to find his humanity again, and the potential of that relationship, which just could pull through.
TW: Your characters are very much at odds for most of the movie. I mean, did you stay away from each other on the set, or were you palling around… ?
[Joseph Fiennes hugs Hugo]
HW: (laughs) We did lots of stuff together! We went ballooning…
JF: (overlapping) Ballooning was the highlight!
HW: We had a great balloon trip one morning. We got up before the dawn, and  went, met in town, jumped in a car and drove out to this field… We practically blew up the balloon ourselves…
LF: Well, we DID!
HW… And we sailed away for about an hour and a half and then had breakfast. So we did. Yeah, we did lots of good things.
JF:  And we drove out to the Blue Mountains together…
HW: Big drive…
JF: Big tour
HW: A few trips
TW: Well now we're going to do our rapid-fire round here, [in which] we're asking all [our interviewees] these same questions… Pick one film from your body of work that best represents you. I know this is a very tough question for you guys, but let's…
HW: (interrupting, immediately) Little Fish.
TW: Pardon me?
HW: Little Fish.
TW: (surprised) Little Fish? (Hugo nods) Joseph?
JF: BIG Fish! Oh, sorry. I thought this was word association. Um… I don't know… As Montaigne once said, a wonderful French Philosopher, that the serious in art is of no avail, that joy is the only guide… so apart from working with Hugo, which was immensely joyous, on this–which was a gnarly piece– but the most joy I've had is Shakespeare in Love. So I pick that one.
TW:  If North Korea hacked your computer, who would your first call be to apologise?
HW: I'm such a computer idiot that I probably wouldn't even know that they'd hacked my computer. (laughs)
TW: Joseph?
JF: I'm sorry, Hugo (mock melodrama) I'm so sorry!  (laughs)
TW: I don't know how closely you follow the Oscars, but do you have a "biggest snub" for this year's Oscars, and who are you rooting for the most?
HW:  I honestly do not follow the Oscars. I have absolutely no idea who is  up for any Oscar at all, what film, what actors, anything. Know nothing about it, so I apologise.
TW: You're no help at all!
JF: I wouldn't snub, but, because it was Sundance, Boyhood. I would love to see that succeed.
TW: The producer of Boyhood was sitting in front of me when I saw your movie.
JF: Oh, okay
TW: I know this is an impossible question, but name an actor, director or producer– just one– that you haven't worked with yet that you want to work with.
HW: (Long pause)… Werner Herzog… Oh no!  Nuri Bilge Ceylan, a Turkish film director. Definitely. Him. I don't speak Turkish, but please, Nuri, put me in one of your films.
TW: Joseph?
JF: Um…God, there's a whole host… I'm gonna leave here going, 'Why didn't i say THAT person?', Um… right now I'm blanking, but I think I would have to go for a foreign director where I could be subtitled. And look immensely intelligent. (Laughs)
TW: OK, last question: If you could crowd-fund one passion project, what would it be?
HW: Um… Maybe something to do with reforestation.
TW: Joseph?
JF: God, I want to talk about projects that I HAVE… but (Hugo whispers in his ear)…Yeah! Okay, yes yes yes. Thank you. He didn't help me on this one! (Laughs) Um… Bees. A project on bees. We need more bees. And we're into bees and honey, so that's what we spend a lot of time talking about, organic cold-pressing olive oil, honey and bees. So bees, yeah. Fundraising for bees.
TW: Well, thank you both for coming, and congratulations on the film.
HW, JF: (Simultaneously) Thank you.
*****
Here's the IMDb "Duck" interview again, for anyone who missed it. (And coz I wanted to watch it again) 😉
IMDb/Amazon Instant Video
THIS JUST IN: Hugo Weaving and Joseph Fiennes discuss the theme of "walkabout" and their favorite walks in this brief but GREAT new AP interview, which also includes footage from the film premiere 23 January:
AP
via YouTube
AP also has a longer clip of the premiere with interviews of Nicole Kidman and Joseph Fiennes, though none of Hugo. (It's possible he didn't speak to reporters on the red carpet, as absolutely no interview footage of him from that night has surfaced, and he seems to step into cast photos only at the last minute.) The Daily Mail posted an abbreviated version of this footage with their coverage of the premiere. I'd love to see any additional footage AP recorded of the "walkabout" interview, as they clearly asked more creative questions than some others. I will on the whole give all the Sundance interviewers credit for going into depth about Strangerland and staying on topic. I'm still looking for HuffPost Live's ten-minute interview of Weaving and Fiennes. Transcribing that would be a bear (and not as pleasing as watching the video), so I hope they humor us and post their footage SOON.
Photos
I'm fairly certain Hugo Weaving has gone home, due to the lack of recent photos (though he could just be lying low and enjoying films as a viewer). He was definitely there through 25 January and several new photos have surfaced of both the premiere and other events, including some great new fan photos. A lot of these events included convoluted names citing corporate sponsorship… since no one is paying ME, and I'm pretty sure Hugo wasn't there for that reason, I'm not going to use those names.

Photo: MastaCord via Twitter, 25 Jan

The Strangerland cast (minus Nicole Kidman) 23 January
L to R top: Meyne Wyatt, Joseph Fiennes, Hugo Weaving; bottom: Lisa Flanagan, Sean Keenan, Maddison Brown

Both above photos: Victoria Will/Invision/AP

Photo: adeline_sky via Instagram

Hugo Weaving out & about in Park City, 25 Jan

All four above photos:  Ray Tamarra/GC Images/Getty Images

Hugo Weaving with onscreen paramour Lisa Flanagan at a dinner event at Sundance Film Festival, 25 Jan

Letting the paparazzi know they're services will no longer be required 😉 Both photos: Tiffany Rose/Getty Images

Photo: Kyungmin Rachel Lee via Instagram

Hugo Weaving at a Sundance event, 25 Jan 2015. Photo: Todd Williamson/Invision for TAO Group/AP Images

The Strangerland cast at the Grey Goose Lounge pre-screening party 23 Jan

Hugo Weaving with talent manager Paul Clifford Escoll
Both above photos: Liz Kelly via Examiner.com

Nicole Kidman, Joseph Fiennes and Hugo Weaving onstage at the film's 23 Jan Sundance premiere.  Photo: clotureclub.com

Fan photo: Lisa Herrera, via  St Louis Post-Dispatch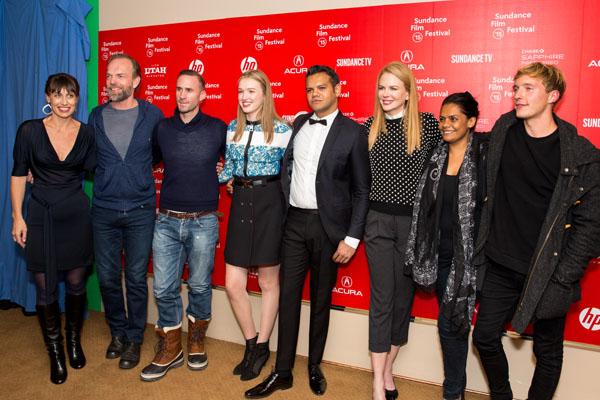 The cast at the 23 Jan Sundane premiere. L to R: Kim Farrant, Hugo Weaving, Joseph Fiennes, Maddison Brown, Meyne Wyatt, Nicole Kidman, Lisa Flanagan, Sean Keenan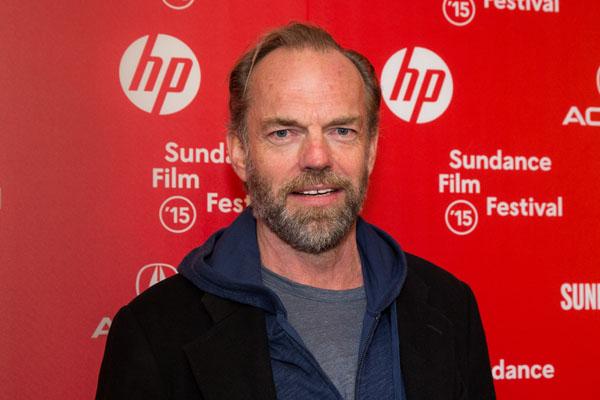 Both above photos: Carla Boecklin/Salt Lake Magazine

"True privilege meeting #HugoWeaving at #Sundance after the #PartisanMovie premiere. What else do we have in common? He was born in #Nigeria. #Livinglegend #Matrix #AgentSmith #LordoftheRings #Hobbit #Sundance2015 #Strangerland #SeedlessMovie" temiojo via Instagram
And EW Online posted a huge enlarged version of the now-notorious Weaving-Fiennes smooch in their coverage of the premiere.
Reviews
We finally do have some positive or leaning-positive reviews of Strangerland, which I'll excerpt below (do check out the original sites for full reviews.) I'll start off with CineFix's video review because it includes some good quality footage from the film itself, and delves into why the glib hipsters at Sundance didn't get into the movie:
Cinefix via YouTube
Bears Fonte, AMFM Magazine: "STRANGERLAND works because all the parts seem selected to have the greatest impact. The depth of the relationship between Fiennes and Kidman gives then plenty of great moments, and when Weaving makes it a triangle, the film soars. It is a true honor to watch such phenomenal actors work their craft and the film is filled with more buried drama than a Sam Shepard play…
If that wasn't enough, the setting provides a landscape of despair to torture the characters… It is so effective then to see it in a contemporary piece, where it can represent the apocalypse of all hope.The town plays as a border town, one last stop before entering the unknown, as the children disappear into the empty beyond… The cinematography is great, but always in service of telling the story, even when the vistas get overwhelming.
Each performance shines, and it especially nice to see a film that could have just been a simple end of a marriage kitchen sink drama layered with a mystery and some great action moments. In fact, it is the most complete film I've seen at Sundance so far."
Culture Collide: "Set in the dusty outback (way outback) of Australia, the story follows a family whose two teenage children disappear into the desert. But rather than concentrate the drama on the unfolding missing-persons' investigation, Farrant pays special attention to her characters and how they act out in times of crisis, and their primal compulsions both sexual and violent. Strangerland pushes its boundaries and its actors: Kidman's character bares more (way more) than her soul, and the entire cast stays committed throughout. Though the film itself never ends up being as committed as its actors are, it absolutely opens a glimpse into the suffocating heartache of a grieving parent."
Heath Jones, The Film Stage: "Kidman gives one of her best performances in recent years. Displaying a vulnerability and depth that has not been seen since her appearance in The Paperboy, Kidman's Catherine is engaging and heartbreaking as she begins to unravel at the loss of her children. Fiennes' Matthew is just as broken as his wife, displaying equal parts of affection and cruelty… Weaving does an expert job at playing one of the few truly honorable men in Strangerland's fictional town of Nathgari. Rae simply wishes to follow the leads and get the children back home safe…
While the plot can feel over-extended at points, often suffering from melodrama that seems to go from zero to one hundred in a second, it is Kidman and Fiennes' expert balance of their characters' noble and deplorable acts that keep the viewer wanting more. Strangerland is made complete by an eerie score from Keefus Ciancia (True Detective) and cinematography from P.J. Dillon (Game of Thrones, Vikings), making suitable use out of its vast landscape. While many moments of Strangerland can be hard to watch, one certainly does not want to look away."
Other Strangerland Press
Liz quoted several cast members in her summary of the Strangerland premiere for The Examiner, which included the two photos embedded in the Photos section.
AJPlus posted a brief Joseph Fiennes tutorial (taped at the premiere) on how to master the Australian accent.
Inside Film and Variety reported on Strangerland's now-confirmed distribution deal with Alchemy. Alas, no release date has yet been announced.
In Other Hugo Weaving News
Mystery Road received a sold-out showcase at a film festival in Pyongyang, North Korea, of all places. Director Ivan Sen attended the screening and gives his thoughts about the experience and describes the audience's hunger for a variety of films in SBS.
Positive reviews for the Blu-Ray release of The Mule keep appearing; you can read the latest in Nuke the Fridge.