I'll be composing this entry as new material pours in, so apologies if it seems a bit scattershot. Hugo Weaving arrived in Park City, Utah to promote his film Strangerland. He was apparently kind to fans both on the plane over and at the airport, though I'm never sympathetic to professional autograph sellers who ambush him, as their hounding makes it less likely Hugo will sign for ordinary fans, some of whom have waited a lifetime for the opportunity. (There's always a marked change in Hugo's demeanor when the "professionals" show up with stacks of Agent Smith glossies; he's usually more than generous when approached by individual fans and will stop and talk, but when the autograph hawkers show up. This was a common pattern during the NYC run of Uncle Vanya, meaning a lot of fans who turned up to see the play and waited at the stage door were denied their chance to meet him.)
Sorry, had to get my two cents in on that front. 😉 Hugo wasn't at a lot of events or parties the first day of Sundance– I imagine he was probably just going to movies. But he did pose for a photo with the cast of Strangerland (minus Nicole Kidman, who arrived later in the day) and there's also a nice "out & about" photo"

Hugo Weaving out & about at Sundance, 23 January 2015. Photo: George Pimentel/Getty Images

The Strangerland cast, minus Nicole Kidman: L to R Meyne Wyatt, Hugo Weaving, Lisa Flanagan (seated), Maddison Brown, Kim Farrant(seated), Sean Keenan, and Joseph Fiennes
Photo: Jeff Vespa/WireImage
More pics are sure to appear during Strangerland's premiere, starting 6.15 (MST) PM. As always, I'll keep looking for high-res versions and swap those into the entry when they become available.
Hugo's young costar Meyne Wyatt was able to coax Hugo into reprising a familar character:
"My sister wanted some Agent Smith. Here it is @zaaron_wyatt #hugoweaving #thematrix" Meyne Wyatt via Instagram
More to come soon!
OK, here we go: the full cast is now participating in a Strangerland photo op at the "Grey Goose Lounge" in advance of the film screening: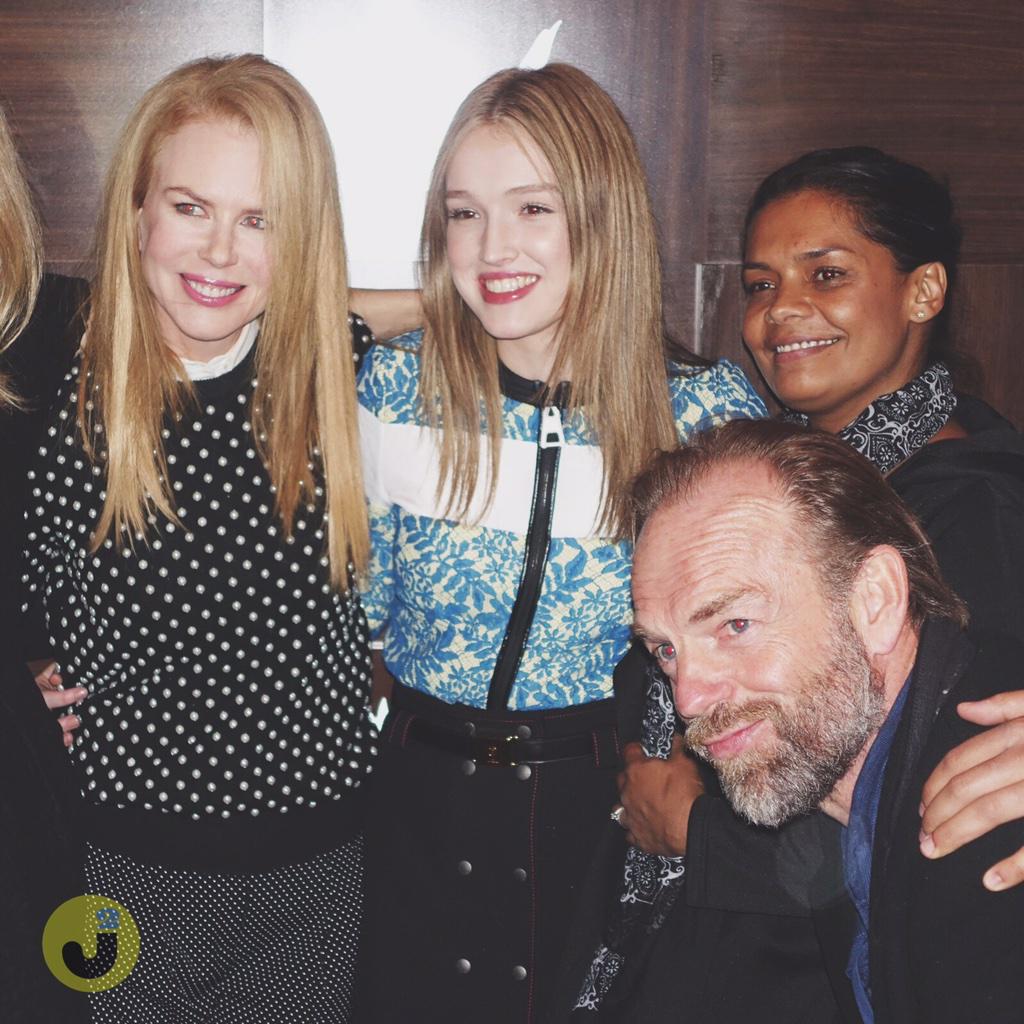 Nicole Kidman, Maddison Brown, Lisa Flanagan & Hugo Weaving  Photo: Just Jared via Twitter
Here's another photo from the Grey Goose Lounge:

L to R: Hugo Weaving, Alicia Ni Ghrainne, Camille McCurry and Michael Kinirons. Photo:  Michael Loccisano/Getty Images
Here are eight photos from the red carpet for Strangerland:

L to R: Director Kim Farrant, Hugo Weaving, Joseph Fiennes, Maddison Brown, Meyne Wyatt, Nicole Kidman, Lisa Flanagan and Sean Keenan  Photo: Jason Merritt/Getty Images (plus next 3)

(Sundance Film Festival Director of Programming Trevor Groth to far left)

"Red carpet photo shoots don't make me feel like a deer in the headlights! No, really!" 😉
Three pics of Hugo solo, all taken by George Pimentel/Getty:

Hugo Weaving at Sundance. Photo: Chris Pizzello/Invision/AP
Here are a few fan photos from inside the Egyptian theatre for Strangerland's premiere (quotes from original tweets):

"World premiere of #Strangerland at #Sundance" Camille McCurry via Twitter

"Wow. #strangerland was powerful. The acting was amazing. Amazing. #Sundance2015 @sundancefest @sundancefestnow" Coreen K via Twitter
And here's a lovely festival portrait of Hugo by Jeff Vespa:
"Hugo Weaving in the studio for Strangerland." Jeff Vespa via Twitter/Instagram
So far no video or interview footage has surfaced, but that's sure to change as we get further into the festival. One hopes, anyhow. I'm a bit disappointed in how little coverage Strangerland has gotten in contrast with a lot of substantially less interesting films, but Strangerland isn't really courting the hipster crowd. 😉 That said, it's early yet, so watch this space for more updates as they come in. For additional Strangerland cast pics are reviews as they come in, check my Twitter feed.