A few quick items to report while we wait for Hugo's next big project, his role in Sydney Theatre Co's Endgame (now in rehearsal) to appear in the online media.
First, my suspicion that photographers may have been olding back some of their best images from Sundance continues to be proved right: these stunning portraits by LA Times photographer  Jay L. Clendenin (posted to Contour by Getty Images) were just posted recently, though they were taken on 24 January. They've already become very popular in the fandom for good reason.

All five photos:  Jay L. Clendenin/Contour/Getty Images
Victoria Will's tintype-style portrait has also been widely posted, now in larger formats without the watermark:

Victoria Will, via Yahoo News
The Key Man Finally Available On DVD
Longtime Hugo fans were excited when the DVD/VOD release of Hugo's long-stalled US indie film The Key Man (costarring Brian Cox, Jack Davenport and Judy Greer) was finally announced. The project was filmed on location in North Carolina and Virginia in late 2006 (though it's set in Massachusetts) and was in post-production limbo for many years before finally screening to mixed reviews at SXSW in February 2011. Then fans had to wait still longer for a proper distribution deal to take place; Screen Media finally acquired the rights last year. The DVD popped up unheralded on Amazon this week; US viewers can stream the or purchase the VOD version of the film in Standard or High Definition. VUDU also has the film available. So far Netflix is only offering the eventual DVD rental; the DVD comes out 17 March, with Amazon and other sites taking pre-orders.
We also finally have a trailer for the film, which I'll embed below, followed by a few still images.
PopcornFlix Too
via YouTube
You can also watch the film's opening credits free on VUDU.

All screencaps are mine, from the film's trailer.
i may take additional screencaps once I've had time to watch the film, but I probably won't post an abundance of those out of context until the DVD is officially out and fans have had a chance to watch it. I do get annoyed when people post screencaps (especially those containing spoilers or salacious content) from a film I haven't had as chance to see yet or that isn't widely available to fans, so I won't be a hypocrite. I know a lot of fans watched this film in bootleg form, but I've held out for a proper release.  I have no idea yet whether it was worth the wait, but I do think I owe Hugo and the other actors involved and the filmmakers they chose to work with that amount of respect. I'm not an absolutist on this front: I am resigned to the fact that some of Hugo's early TV work will never be properly released on home-viewing formats, particularly since even a landmark miniseries like Bodyline couldn't get a DVD release without chainsaw editing that removed most of the nuances from Hugo's character. 😉  So I do own a "unofficial" release of the unedited Bodyline (I bought the official version too) and a few other 90s TV rarities. I don't blame other fans for doing so, or even for despairing that The Key Man would ever see the light of day in a proper global release. But I do hope fans always purchase the legal versions of Hugo's films (or rent them, or– best of all– see them in cinemas) when they do become available, because the independent filmmakers Hugo prefers to work with need and deserve this support.

The Key Man's US DVD box art
If I do elect to take screencaps I'll post them to the Photobucket archive, so fans who've already seejn the film can have a look. Again, I'm only stating my own policies and opinions here… if you happen to like ogling revealing screencaps out of context, I'm not about to stop you. 😉 In some cases (The Right Hand springs to mind) it beats sitting through the film. I'm hoping The Key Man defies expectation and is a lost gem. And that as a Red Sox fan I don't have to post a lot of corrections after viewing it. (Yes, you probably could've sold the Sox cheap circa 1975. But even then, Fenway was much more majestic than that puny ballpark in the trailer.) 😉
Endgame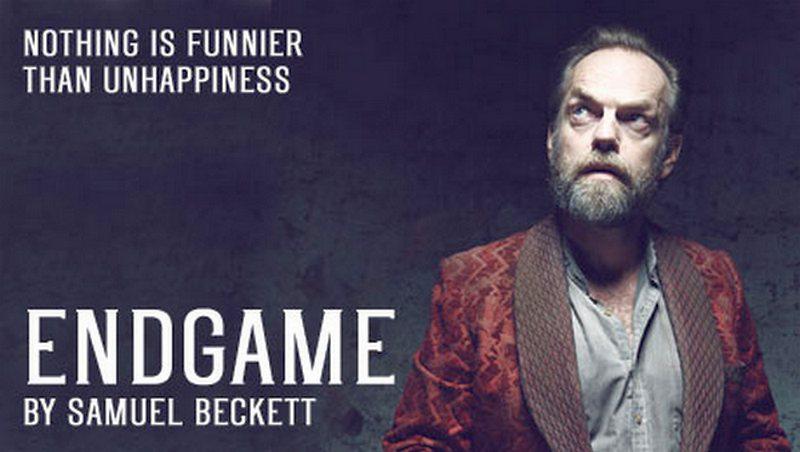 STC promo banner for Endgame, including Hugo Weaving portrait by James Green
As I mentioned at the top of the update, Hugo Weaving is now in rehearsals for Samuel Beckett's Endgame, which will debut at STC at the end of March. (They'll almost certainly share rehearsal photos and other promo material before then.)  According to Broadway World, Tom Budge has replaced Robert Menzies in the role of Clov (the son of Hugo's character Hamm). Menzies costarred with Hugo in last season's Macbeth, and had to drop out due to illness. We wish him a speedy recovery.
The Guardian previewed STC's production alongside a rival version being mounted by Melbourne Theatre Co.this year. Ironically,  MTC's staging costars Luke Mullins, who played Lucky in STC's 2013 adaptation of Waiting For Godot starring Hugo Weaving and Richard Roxburgh, which will be revived at London's Barbican this June. (Tickets are still available for both Endgame and Godot.) STC News confirmed that Artistic Director Andrew Upton (who's directing STC's Endgame as well) will step down at the end of his current term. News reports (including those in the Sydney Morning Herald, The Australian, Daily Review and Variety) include Hugo's name among fantasy successors, but last time this issue came up in 2011, Hugo said he absolutely wasn't interested. Most insiders suggest the post will go to a director rather than an actor. Upton and his family (including his wife, whom you may have heard of) are supposedly moving to the US, though I hope Cate will still focus on theatre and decent indie roles, as Hollywood has no clue about what to do with her and most other actresses over 40. (No, "wicked stepmother" roles don't cut it.) Upton apparently wants to direct TV… since US TV is often far superior to US moviemaking, this might prove interesting providing he steers clear of the "reality" genre. Also good news: he's writing a play for the Mrs. 😉
You can read factoids about playwright Samuel Beckett at STC's blog. You can read Upton's thoughts on Endgame at Real Time Arts. Upton's STC is highlighted (with photos from many productions Hugo Weaving and Cate Blanchett costarred in) at STC's blog.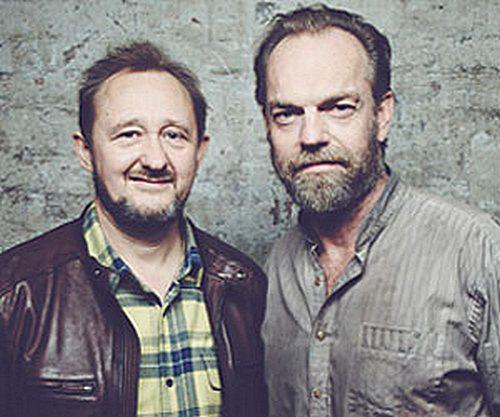 Andrew Upton and Hugo Weaving portrait by James Green (via STC News)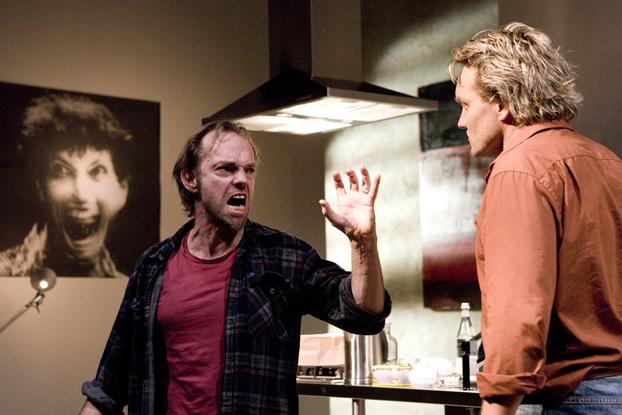 Hugo Weaving and Jeremy Sims in Andrew Upton's 2007 play Riflemind, directed by Philip Seymour Hoffman. Photo: Brett Boardman/STC Blog
Technical Difficulties
Finally, I apologise for continued technical issues I'm having with Twitter and Photobucket. In the case of the former, I haven't been able to access more than a few hours of timeline for weeks, and at times am not being notified by the site about DMs and other messages I'd prefer to answer quickly. As of today the latter problem seems mostly resolved, but the former does not. And I continue to find photos not showing properly in archived entries, a problem caused by Photobucket, where I archive most of my Hugo photos. I had though the site finally corrected the problem a few weeks ago, but still find some entries with incorrect notifications that I've moved or deleted photos, which I NEVER do upon completion of Hugonuts posts. I'm trying to correct these issues as I find them, but do let me know if you find these errors in old posts. I've about had it with Photobucket technical issues but have so many years of photos stored there, it would take months to relocate, and months more to re-embed photos in all my Hugonuts posts from a new location. 😉 So apologies again, and I hope you'll bear with me as I continue making corrections and moving my archived Hugonuts posts to the "new" WordPress and Hugonuts News sites. My current plan is to eventually have the complete archive 2011-present with a selection of important older posts.