Hugo Weaving as Hamm in STC's Endgame   Photo: Lisa Tomasetti
Now that Sydney Theatre Company's production of Endgame has officially opened, we're getting a veritable onslaught of new reviews and performance pics. The reviews have been almost 100% ecstatic… the only quibbles (from one Stage Whispers review) were about Samuel Beckett's restrictions on how the play may be performed; they praised the acting. (The actors in both Australian productions of Endgame have said that the limitations are part of the point, not something they feel overly confined by. In fact, Hugo and others have expressed that one's true creativity often comes out under such limitations.)
So far over 20 performance images by Lisa Tomasetti have appeared in conjunction with the reviews. (So far STC has only shared one via Facebook/Instagram, but this may change soon.) I'll post a compilation of review excerpts interspersed with these amazing photos, with the recommendation readers click on the links and read each review in full at the site of origin, as most are very thoughtfully written, and I haven't seen such unanimous praise for such a notoriously challenging, bleak play. But first I gotta embed Hugo's new video interview promoting the production on ABC's 7.30, given from the STC set (even using Hamm's ratty armchair).  It's about 7 minutes long and delightful. Naturally people are grabbing hold of Hugo's hedging comments about giving up acting and retreating to Dungog to raise vegetables and taking them out of context… but fans will remember Hugo has often said such things before when working through a particularly tough schedule of projects and immediately acknowledges he'd probably be itching to work again soon if he did take an extended break. (And he is DUE an extended break.) 😉
Also: some lovely observations on the challenges of Endgame, the benefits of acting, and how acting differs from "pulling faces", a distinction many people in the business have yet to figure out. And the truth behind the Agent Smith vocal performance which, for the 800th time, was NOT inspired by Carl Sagan. (Please stop repeating this nonsense, Twitter trolls. I mean it.) 😉
ABC 7.30
ABC has helpfully provided a full transript of this interview both on 7.30's website and at their Radio National site.
A few of my screencaps:
Here are those review quotes along with Lisa Tomasetti's splendid performance photos (which appeared via STC Facebook, Suzy Goes See, The Guardian, STC's Endgame supplemental materials and Time Out.)
Richard Parkin, The Guardian: "More than just a formal experiment Endgame is also a searing examination of the human condition, and it is here that this production earns its plaudits. At the heart of Hugo Weaving's commanding performance as Vladimir in STC's 2013 production of Waiting for Godot was the human affection he and Richard Roxburgh conjured from Beckett's infamous tramps. Beckett and love are not two words lightly thrown together, and yet it is the nuanced subtlety and deep emotional energy shared between Weaving as Hamm, and Tom Budge's Clov that give this production its frisson…
An even darker and more constricted world than Vladimir and Estragon's, in Endgame Weaving's Hamm sits front and centre – an ailing tyrant – reminiscent of an ancient world Eastern potentate with toque and gaff for crown and sceptre, clinging to his vanity and worth as the world around him declines… Weaving shines. Despite Hamm's brutality towards his parents, he still inspires pathos through his flights of grandeur, his lugubrious grasp of loss and his fleeting moments of tenderness for Clov…
Yet it is Budge's performance that ties this production together. The sheer pain of existence is etched deep into this physical performance, while his resilience and gallows humour provides the perfect foil to Hamm, redeeming him with his love, and allowing Weaving the full gamut of expression…
With Weaving also wearing the assistant director's hat, it's apparent the sensibility that he and director Andrew Upton brought to Waiting for Godot is back. And the very humanity of Beckett's crippled characters is put at the forefront, inviting us all to reflect on the love, power and hurt that binds us together."

Tom Budge as Clov and Hugo Weaving as Hamm in STC's Endgame.  All performance photos: Lisa Tomasetti  
Maxim Boon, Limelight: "Fortunately Sydney Theatre Company Artistic Director Andrew Upton and his deftly assembled cast, led by Hugo Weaving, have achieved an account of Endgame that is wrought with an albeit subtle, yet palpably insightful originality…
Very little here to laugh about, it may seem. However, Beckett's dialogue, which mixes short, superficially mundane, perfunctory exchanges with bizarre anecdotes, sudden outbursts, incongruously silly gags and simple questions drenched in horrid significance, is full of comic potential. The shear strangeness of Beckett's surreal scenario yields up humour, sometimes subtle, sometimes pitched at the level of a pantomime. The tangibility of this hinges on the chemistry between this darkly funny play's two central protagonists, and Upton has happened upon a very successful alchemy in the pairing of Budge and Weaving…
Weaving's Hamm is erratic, vicious, spiteful and crazed, but also saccharine, flamboyant, sentimental and heartbreakingly frail. When certain lines are repeated, they are deliberately delivered as a verbatim replica of the original, as if these words have been uttered this way, over and over, time and time again like a record stuck in a groove. Despite Beckett bestowing paralysis and blindness on this character, Weaving is a colossal presence extracting an astonishingly rich spectrum of emotional extremities to the point of bathos. While Budge's Clov doesn't cover anywhere near the same emotional ground, his simpering, knock-kneed, part-jester-part-Caliban delivery is deeply endearing and makes an ideal foil for Weaving's more shaded and dominate performance."
Jason Blake, The Sydney Morning Herald: "Andrew Upton's grandly scaled production finds that balance more often than not: the humour is accessible, yet the cruelty in it stings; the pace is brisk without feeling pushed; it is bang-for-your-buck visually impressive (for $115 a seat, you deserve some eye candy, even if it's of the bleakest stripe), and Hugo Weaving, the production's drawcard, is in masterful form…
Beckett denies the actor of his Hamm the use of his eyes as well as legs, which makes the voice of vital importance. Weaving responds to the challenge magnificently with an impeccably enunciated repertoire of stagey growls, tempestuous barks, velvety grandiloquence and wheezy resignation. There's plenty of salty old ham in this Hamm (at one point, his tongue makes a showstopping appearance and it's all you can do not to give it a round of applause) but there's humanity, too…
Tom Budge's shaved-headed, mechanically jerky Clov operates in a fraction of that vocal range, but makes up for it with his agility (despite being bent into a question mark) and the finesse in his clowning. His powdering of an unwelcome flea in his pants is slapstick at its finest…
Playing decrepit parents Nell and Nagg Hamm, Sarah Peirse and Bruce Spence rear up from their rubbish bins like bewildered undead. Peirse's voice is exquisite. Spence's face, caked in cracked white, is priceless. Together, they strike the most touching notes in a production that walks you securely to the edge of the Beckettian abyss but never quite leans you over it."
John McCallum, The Australian: "You can play this apocalyptic drama, with its slow slide towards death and finality, for the unhappiness and yearning for an end that the characters keep expressing, and the result can be a very bleak experience. What makes this production so successful is that it is played with a kind of luscious exuberance. We are watching the enthusiastic childlike games of old people trapped in an impossibly grim situation…
The playing style here is full of relish and is often very funny. Weaving's acting has seldom been better, as he throws himself with apparent delight into each new futile game, joke or story. His hands, arms and face, the only means of expression Hamm has left, move constantly, flailing and grimacing desperately against the dying of the light…
Upton's production, with Weaving as associate director, does brilliant work with this rich, multi-layered script. It is a myth that nothing happens in Beckett's plays. Here there is not a line that is not pointed, not a reference that is not hinted at, not an action that does not move us forward…
Forward towards nothingness, of course: that is the point. But as in all of Beckett's writing nothingness never quite comes. There is just that infinitesimal dwindling. If nothingness ever did arrive then we, or the characters, would be dead. And we can never experience that. That is the final spark of optimism in all his work."

Hugo Weaving and Tom Budge with Sarah Peirse (as Nell)
Martin Portus, Stage Whispers: "This is truly the endgame of life and Weaving plays out the repeated stories, word games and deadpan humour like a real fruity-voiced thespian, a connoisseur of impending mortality working away his busy fingers like a mad Steptoe…
Director Andrew Upton though has elicited fine performances, including from Bruce Spence and Sarah Peirse as the parents.  Here is some relief. Caked in clay, zombie-like but with dark ringed eyes flashing, their Nagg and Nell still share a demented humanity – even if it is now legless and binned."

Hugo Weaving, Sarah Peirse and Bruce Spence (as Nagg)
Ashley Walker, Australian Stage Online: "Endgame is a brooding and unsentimental meditation on the nature of death. I've never heard so much silence in a theatre production. Beckett, who was Irish, wrote all his plays in French forcing himself to concentrate on every word in order to achieve economy of language. It is ten to fifteen minutes, before the first words are spoken. The silence in a jam packed the Roslyn Packer Theatre on opening night, adds to the absurd atmosphere of the production…
Hugo Weaving gives an enchanting performance as Hamm. It is worth closing your eyes for ten minutes just to let his voice wash over you. Voice plays a bigger part in conveying character than usual in the role of Hamm. Hamm sits in his wheelchair the entire time, so it is credit to weaving that he can still command a stage presence while sitting down. Budge remains stooped, as he moves about the stage, speaking in a nervous high pitched tone… Watching a Beckett play is an act of gradual immersion into a lonely and off kilter world."
Suzy Wrong, Suzy Goes See: "The play is both accessible and inaccessible. It challenges the way we read, and how we make sense, in the theatrical space, of language and signs, but it does not intend to alienate. Director Andrew Upton retains the integrity of Beckett's words, sometimes impenetrable but always marvellous, and creates around them an intoxicating live experience that fascinates at every moment. Unreservedly intellectual, it is no surprise that one can be made to feel out of their depth at times, but the work's density constantly morphs so that a switch in tone or subject inevitably occurs, and we become engaged again, only more thoroughly than ever, as our capacities gradually grow in their level of receptiveness. Upton's voice increases in clarity over time, and the piece gains power accordingly…
Hugo Weaving is mesmeric as the hideous and hateful Hamm. Even in a wheelchair with legs bound and eyes obscured behind opaque spectacles, the star is irresistibly charismatic, and completely enthralling. Edith Piaf was said to have declared that she could sing the phone book and make it sound great. Similarly, Weaving captivates us with every word, even when we find our minds struggling to match the depth of what is being expounded. The extreme meticulousness of his approach seizes our attention, and the wild and unpredictable flourishes he builds into every scene and stanza is truly magnificent to witness. Endgame discusses the distinctions between meaninglessness and meaningfulness. Under Weaving's spell, all that unfolds feels meaningful, and we are encouraged to seek a cerebral equivalent to the emotional sensations delivered to our gut. Also turning in a stunning performance is Tom Budge in the role of Clov, the voluntary slave who waits on Hamm for no straightforward reason. The actor opens the play in a wordless sequence, impressing us with his extraordinary physical expression. Part mime and part dance, the beauty of his execution shines in spite of the depressively ominous context he helps set up. Budge goes on to prove himself sensitive to the needs of black comedy, constantly toying with the delicate balance between morbidity and humour, much to our twisted delight. His dynamic range is quite exceptional, and the character he creates is fascinating from every perspective…
Difficult texts must exist, or our artistic landscape is worth nothing. If everything is within one's grasp, one ceases to evolve. Endgame is about two hours long, but it contains wisdom from entire lifetimes by several outstanding minds. This production seduces with entertaining touches and intriguing elements, then presents life's big questions in rarely articulated ways. If its propositions are unfamiliar, revisiting them seems necessary, like a good book that engages and bewilders, it tempts you at its end, to return to the start for another bout."
Jason Catlett, Time Out Sydney: "You're unlikely ever to find a more enjoyable production of Samuel Beckett's bleak absurdist drama than this one directed by Andrew Upton for the Sydney Theatre Company. As in Beckett's earlier and far more celebrated Waiting for Godot, almost nothing happens, repeatedly. Like his later underrated Happy Days, the non-action takes place in some vaguely post-apocalyptic world inhabited by a few bored and bewildered weirdos. They reminisce incoherently, bicker and talk rubbish, doing nothing more significant than putting a handkerchief over someone's head, or moving a ladder pointlessly from window to window. Beckett's astonishing achievement was to write challenging and truly revolutionary plays within these apparently disqualifying constraints. The wonderful achievement of Upton and his crew here is to make that horrendous landscape of human worthlessness a delight to watch…
Clov's wheelchair-bound master is Hamm, here played with transformative originality by Hugo Weaving. In a famous but arguably futile attempt to understand the play, the great German sociologist Theodor Adorno compared Hamm to Hamlet, even though the only obvious resemblance is in the name. On paper Hamm is an utter bastard who constantly torments not only the hapless Clov but also his parents Nagg and Nell, who dwell in the same room in matching his-and-hers garbage bins. Any resemblance to the palace at Elsinore, Horatio, Gertrude and her first husband, or to Shakespeare's noble and flowery language, or the Prince of Denmark's heroic dramatic situation, is strictly by stark contrast. Hamm has almost nothing to react to but the void in which he finds himself confined…
Weaving's achievement is to animate this severely impaired non-hero as a vivacious, almost endearing master of his own universe: king of a nutshell. Fuelled by a bonfire of charisma, Weaving turns Happ's insufferably tedious monologues into joyful entertainment… Beckett's trick of having Hamm bribe Nagg with a lolly to listen to his stories comes off a treat thanks to the priceless spectacle of the elastic face of Bruce Spence in pancake makeup reacting to his son's repetitive diatribes…
Beckett's vision of human existence is so absurd that both the audience and actors are constantly tempted to throw up their hands and dismiss it as, well, absurd, but Upton's crew manage to stick with it faithfully—almost lovingly if that's possible—at every moment. Weaving seems to be thriving on the grimness, shrouded in his hellish armchair on casters, despite the constant fear that Clov will leave him helpless. Beckett's carefully constructed machine runs smooth and clear, notwithstanding its outward appearance of a rickety contraption. The STC has done a great service to a masterpiece that is at risk of being overlooked or dismissed as a second rate specimen from a period of theatre that has lost relevance to today. They have made it fresh, stylish, and even fun."
Theatrebloggers, Dinner And A Show: "This could well be one of Andrew Upton's finest productions. Nick Schlieper's confined set design, equipped with dripping and reflected water keeps to Beckett's original intention without falling into the overly familiar. Together the two have created some striking imagery. Endgame is not a play for the lighthearted, though, and without a strong cast the piece would be unbearably tedious. But Hugo Weaving has successfully made this one of the 'not to be missed' productions of the year…
Weaving is simply masterful in the role of Hamm; he is cruel and selfish, bound to a chair, unable to stand. Hamm has lost the use of his eyes and for the actor, it is a hard slog. However, you wouldn't know this with Mr Weaving at the helm. Aided by only voice and gesture, Weaving commands the stage from his immobile position, no small feat. In a word, his performance is faultless as he weaves through the dialogue with effortless musicality, each syllable ringing in our ears, bringing the lyricism of Beckett to life. This is Shakespeare for the existentialist, and Weaving is in fine if not perfect form…
If there was ever a moment to get acquainted with Beckett then it would be now, when a seasoned cast is able to do justice to this challenging piece. This isn't easy viewing, Beckett demands a lot of his audience, but this is an occasion where the rewards are well worth the effort."
Chris Hook, The Daily Telegraph: "About 18 months ago, Sydney Theatre Company artistic director Andrew Upton helmed a production of Samuel Beckett's Waiting For Godot starring Hugo Weaving with Richard Roxburgh…  To say it was a success is something of an understatement — the piece attracted international attention and was invited to a Beckett festival in London later this year. But the production also marked a period of extensive investigation of Beckett's work by Weaving, which has now born more theatrical fruit in a production of Beckett's 1957 play Endgame, again with Upton directing. And what a rich harvest it is…
Beckett was understood to have been a fan of vaudeville and this influence underlines much of what is said and the way it is delivered. Each conversation (and actions, such as they are) unfolds as a "bit" in the comedic sense of the word, the sentences flying back and forth until the jousting is done and we move on to the next exchange. Routine is how the characters pass the time, and also what they deliver…
'What is there to keep me here?' asks Clov at one point. 'The dialogue of course,' Hamm replies. It's what keeps all of us there, because Endgame is strangely, discomfortingly, hugely funny. The performances are extraordinary, even by this cast's own somewhat elevated standards…
The heavy lifting is really done by Clov and Hamm and their dynamic is sublime, Budge's Clov the ideal foil to Weaving's pompous cruelty as Hamm, who doesn't miss a beat as he regally dispatches orders and insults, between carrying on with his myriad monologues about what we're never quite sure. Even sitting in rags, dirty with an unkempt beard and unbecoming head and eyewear, Weaving's presence is imposing; so regal; his decrepit chair is akin to a throne…
It's not an easy journey at almost two hours without a break, but Endgame is such a complete theatrical experience that there is a huge sense of having been through something and come out the other side — and being all the more illuminated for it."
Ben Neutze, Daily Review: "Beckett is relentless in his focus and detail, creating epic dramatic worlds out of the most restricted elements. Endgame takes much of what Beckett explored in Waiting for Godot and ruthlessly strips the drama and comedy back to its core. For my money, Endgame is the more accomplished work… There's still plenty of currency in the tiny glimpses of humanity which emerge as his all-too recognisable characters are staring into an abyss of destruction. Even amongst Beckett's work, Endgame stands out for how well it encapsulates the human experience of boredom and purposelessness..
But the thing about Endgame is that it's hysterically funny if it's done well, to the point that it never feels like too hard a slog despite its almost two hour running time. This production gets plenty of hearty laughter, and there didn't seem to be much restlessness in the opening night audience. It's not because there's a particular comedic approach taken by anybody on or offstage, or any attempt to dumb the material down or inject it with crowd-pleasing action, but because it's all played for truth, and played damn well. One of the most well-known quotes from the play (and the one adorning STC's publicity material for this production) is 'nothing is funnier than unhappiness', and this production dwells in the darkest possible darkness, and feels more energetic and alive for it…
Hugo Weaving is brilliantly cast as Hamm, delivering a performance which is at once technical and detailed, focusing on the minutiae of his character's experience, while embracing the broad emotional sweep of the play. The vocal lines he draws through Beckett's words are engrossing and musical enough that you could simply shut your eyes and listen…
Over the course of his artistic directorship at STC, Andrew Upton, who directs this production, has proven himself to be particularly adept at drawing nuanced and passionate performances from actors (or at least creating a space that allows those performances to develop and grow) and creating "faithful", but lively productions of fine plays. His Endgame is no exception, with just a few personal touches which create new resonances… Endgame is actually not staged all that often in Australia, probably due to its reputation as being an impenetrable work. Upton's production proves how profound, fresh and, dare I say, accessible the play can still be within the restrictions which the Beckett enforces."
STC has compiled an impressive batch of
educational resources
in conjunction with this production, and made all of it available in PDF form via their website. In addition to exclusive photos of the production and rehearsals (including the Nicholas Harding sketch below), you'll find scholarly background on the playwright (and an explanation of his copyright controls), production posters and study questions. You can find the lot
here
. You can read STC's compilaton of fan feedback from social media on
Storify
.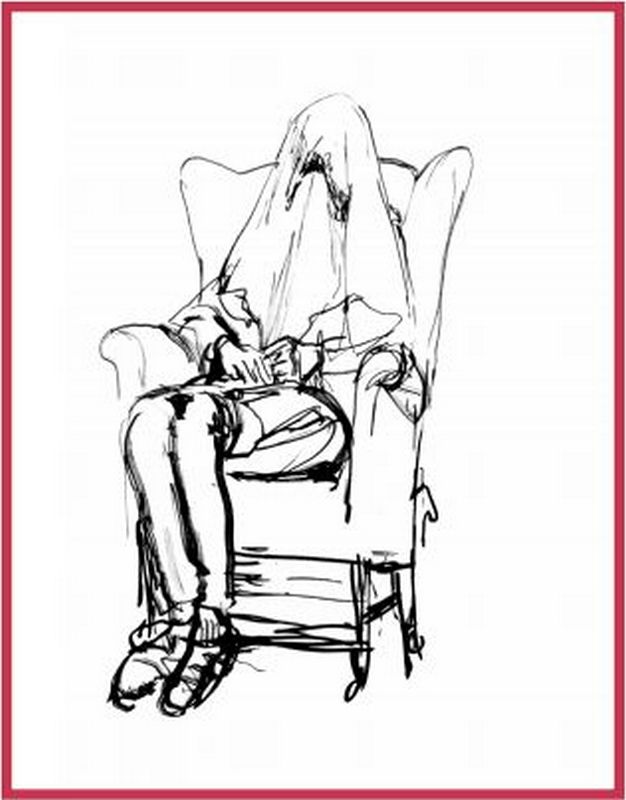 Hugo Weaving as Hamm in a rehearsal sketch by Nicholas Harding; from STC's resource materials

All performance photos: Lisa Tomasetti/Sydney Theatre Co
STC shared this amusing Gif animation of Hugo as Hamm, taken from James Green's promo photos:
STC Instagram
In Other Hugo Weaving News
Healing will be screened at Le Festival du Bout du Monde in France early next month. For additional details, go here.
Don McAlpine, cinematographer for The Dressmaker, spoke to about Australian Cinematographers Society this film and his larger career; includes photos from the set.
I'll keep an eye out for any new Endgame reviews or performance images and share any I find here as soon as possible. I'm thinking of adding a few fan images as well. Tickets are still available for both STC Endgame and the Barbican remounting of Waiting For Godot… I can't make it to either (wrong continent) but fans with the resources should definitely hop to it. 😉