First off, I know I've been negligent about updating lately and am very sorry for that. Though Hugo has mostly been on a break (and did not attend The Dressmaker's world premiere in Toronto), there have still been several notable public appearances, including a collaboration with Griffin Film School on an autism awareness public service announcement (which has yet to be released), and an appearance introducing his friend Jenny Morris's recent profile on Australian Story. He's also been spotted at various Sydney events, and images from CinefestOZ continue to trickle in. I'll try to share as much of that as possible
Jasper Jones
But first, an exciting bit of casting news. Around a week ago, the Manjimup Bridgetown Times announced that Hugo Weaving had finally selected his next film project, and had been cast alongside Toni Collette in the film Jasper Jones, based o the popular Australian "coming-of-age mystery novel" by Craig Silvey. While Porchlight Films confirmed Collette's casting, I couldn't find any confirmation about Hugo's casting for several days, though the news was completely plausible. (In addition to being an independent Australian film with a talented cast and strong social message, the film is produced by David Jowsey, who also produced Ivan Sen's Mystery Road. Porchlight Films previously produced one of Hugo's favorites of his own films, Little Fish. So I was very optimistic, but decided to await official confirmation. This arrived yesterday via a press release from Porchlight, which announced Hugo would be playing "Mad Jack Lionel, the town recluse with a mysterious past". Already cast, in addition to Collette, are Susan Prior (who costarred with Hugo in STC's Riflemind in 2007), Levi Miller as the lead character Charlie Bucktin, Aaron McGrath as the title charcter, Matt Nable, Dan Wyllie, Myles Pollard and Angourie Rice.  The film will be directed by Rachel Perkins (Hugo's third collaboration in a row with a female director) and will commence filming in Pemberton, in the south west of West Australia on 26 October, right after Hugo puts in time promoting The Dressmaker. You can read additional reports about the film (written both prior to and after Hugo joined the cast) at FilmInk, SBS, ABC.net, Buzzfeed, and author Silvey's Facebook page. (He seemed quite pleased at the casting news.) 😉 Fortunately the novel is widely available outside of Australia, for fans too curious to wait. Reviewers have compared it to To Kill A Mockingbird.
Hugo Introduces Jenny Morris on Australian Story
Longtime Hugo fans will recall that Hugo had a hilarious cameo (alongside Bryan Brown and other Australian actors) in singer Jenny Morris's 2002 video for "Downtime", and that Morris leads fundraising efforts for the charity group Nordoff Robbins Music Therapy's annual Art of Music auction, which raises funds for music therapy by auctioning off Australian-themed artworks commissioned for the event. (Hugo is a frequent guest at Art of Music and usually makes a purchase.) Morris was also a singer for the legendary 80s band INXS before embarking on a successful solo career. But the documentary series Australian Story reveals that she's recently suffered a debilitating medical setback which threatened to end her music career and led her to find fulfillment in other areas of the industry. Hugo Weaving appears at the beginning to introduce the segment, but he'd be the first to tell you to watch the entire episode streaming on The Australian Story's website, and not just take his brief intro out of context. 😉 I will attempt an embed, but in the event this fails, just follow the links to the external site. Thankfully there ae no international content viewing restrictions this time. The site also includes a full transcript of the program. You can read more about Morris and her condition here, and more about Art of Music here.
[Sorry, no embeds allowed. But do watch it. ]
Here are a few of my screencaps of Hugo:

Hugo Weaving at this year's Art of Music auction, 16 July. Photo: Art of Music 2015 Flickr gallery
Griffith Film School Autism Awareness PSA
Though the PSA itself hasn't yet been broadcast or posted online, several photos of Hugo working with Griffith Film School students on the project have been posted online by participants; you can read the full story of the collaboration at Griffith University's website. According to student/director Cameron March, "My role was to direct Hugo in an awareness video for Autism QLD. When Richard approached me to direct the piece I felt a great deal of responsibility and honour. The opportunity to work with an internationally renowned – yet still humble – actor was an unbelievable experience… To direct a man who has been directed by the likes of Peter Jackson (LOTR), George Miller (Mad Max) and Michael Bay (Transformers) left me feeling very overwhelmed. Despite this, the shoot was a breeze due to Hugo's kindness and professionalism. We also had the pleasure of working with Hugo's nephew Ky Greenwood, who did an unbelievable job in assisting us to tell his story… The film we shot is comprised of both live action and animation elements. We are all extremely excited to give back to a great cause like autism awareness in the form of this video and hope Hugo's participation will boost awareness for Autism Spectrum Disorder. The crew was extremely professional and proficient throughout the shoot, which made my job as the director that much easier. The overall experience was incredible and couldn't have been possible without LiveLab and Griffith Film School."

Hugo Weaving poses with Griffith University Film School students amid a collaboration on an Autism Awareness film. Photo: Nicholas Billot, Griffith University

Hugo Weaving poses with Griffith University Film School students amid a collaboration on an Autism Awareness film. Photo: Nicholas Billot, Griffith University

Photo: Callum Hartgen via Instagram ""Had the pleasure of working w/ this bloke today on a video for a good cause.  #hugoweaving"

Photo: Genny Kertesz via Instagram "Got to meet the amazing Hugo Weaving today & hear him talk about acting, filmmaking [etc] :)"
The Dressmaker Approaches Australian Premiere
Though Hugo Weaving elected not to travel to Toronto for The Dressmaker's TIFF premiere (which turned out to be a wise move, given its poorly-handled red-carpet premiere and somewhat snide reception), he will definitely be on hand for the film's Australian premieres in Sydney (Oct 20) and Melbourne (Oct 18) next week. He hasn't yet given any press interviews in support of the film, but nearly everyone else connected to the project has. The film had mixed reviews at TIFF, but has received almost unanimous praise from additional screening events and other previews, with most non-professional audience members giving a very positive response, especially in Australia. I'll post links to the most positive critical and blogger reviews as well; some critics felt the film was tonally uneven and structurally messy, though they've been generally positive about the acting. Some also got hung up on the age difference between Winslet's character and Hemsworth's. Most casual reviewers on social media have been kinder.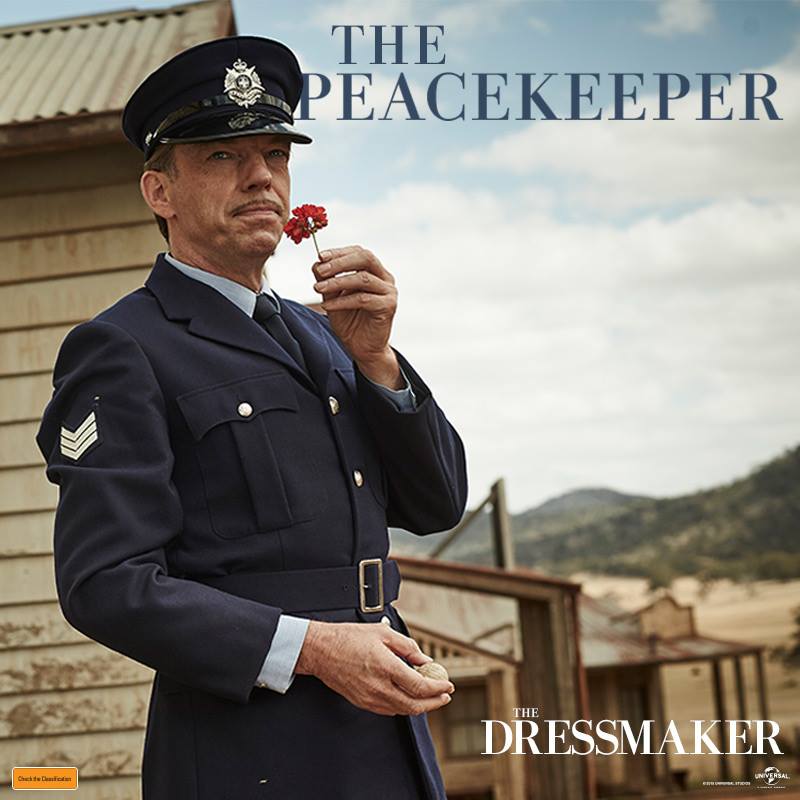 Promotional graphic of Hugo Weaving s Segeant Farrat (via The Dressmaker Facebook, Universal Pictures Australia via Twitter)
You can read interviews with:
Director Jocelyn Moorhouse at: The Saturday Paper, The Australian, The Province, The Hollywood Reporter (also: Kate Winslet & Liam Hemsworth)
Kate Winslet at: Click The City, Vulture, The Wall Street Journal, Vanity Fair (video), USA Today, The Daily Mail, NOW Magazine
Liam Hemsworth at: Sunrise on 7 (video of TV interview), Salon (plus Kate Winslet)
Judy Davis at: The AustralianTimes
Sarah Snook at: The Herald Sun, Vanity Fair
Author Rosalie Ham at: The Hepburn Advocate, The Sydney Morning Herald, The Weekly Review, The Herald Sun, MRCC Library (audio interview)
Colorist Trish Cahill at: Inside Film
You can read positive-leaning reviews (or mixed ones with positive comments about the actors) at InDaily, Screen Daily, Hot On The Street, Toronto Verve, ebuzzword, SBS Movies, Express Tribune, The Film Experience, IndieWire, Heartless Girl, Variety.

Hugo Weaving and director Jocelyn Moorhouse at a Sydney preview screening 13 October. Photo: Clare Wimble, via Twitter
According to The Age (in print edition) Hugo Weaving and Judy Davis may be strong contenders in the supporting categories for this year's AACTA Awards.
CinefestOZ Photos And Other Candids
Here are some fan photos of Hugo take at CinefestOZ in August which have been posted online since my last entry: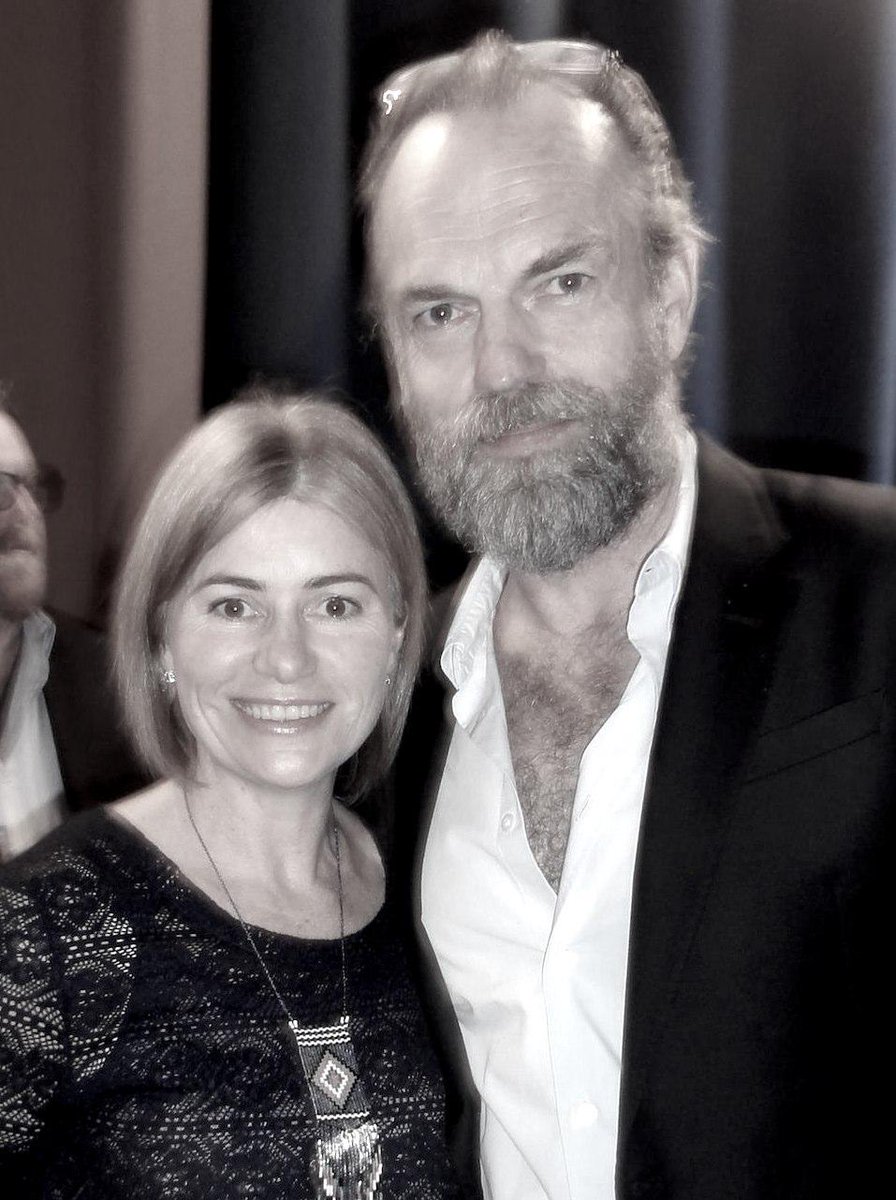 "@cinefestoz 2015 honors Australian favorite #HugoWeaving with the Screen Legend Award, to the delight of WA audiences" Cinesurfer via Twitter

"When you meet #HugoWeaving at #Cinefestoz #winningatlife #fanboy #film" Cameron Whiteford via Instagram
Some fan photos of where Hugo actually was on the night of The Dressmaker's TIFF premiere:

"I think this guy's following me from #brokenhill to Sydney #hugoweaving #ultimolunch #priscillaqueenofthedesert" Sarah McConnell via Twitter
And here's a candid of Hugo with Macbeth costar Paula Arundell at the Sydney premiere of Triptych on 4 October.

Article: The Sun Herald
Next update should be much more timely, with the two upcoming Dressmaker premieres Hugo is scheduled to attend; ideally he'll sit for some interviews as well. Apoogies again for not updating sooner; in addition to three jobs and extra family commitments recently, I've been blinded by a new fandom which eats up a lot of my time, but which I'm not quite ready to go public with. Another character actor crush, though not in Hugo's league. 😉