Hugo Weaving at the Sydney premiere of The Dressmaker, 20 October  Photo: Don Arnold/WireImage
There's a wealth of new material already from both Dressmaker premieres in Australia, as well as Hugo's many press interviews between 18 October (the date of the Melbourne premiere) and today. Hugo will soon have to depart for Western Australia to begin work on Jasper Jones, but has certainly done his bit to promote The Dressmaker, which opens 29 October in Australia and 11 November in the UK. (No US release date has yet been announced, but various European locations have; just check the film's IMDB page.)
At any rate I'll dive into things without further ado, starting with the video interviews, red carpet footage and behind the scenes footage, then I'll move on to the abundant new photos from both premieres and other promotion.
Here's a Behind the Scenes look at The Dressmaker, first shared via the film's Facebook page:
via
The Dressmaker Facebook
Here's Universal Pictures' footage of the Melbourne premiere on 18 October, featuring interviews with Hugo, Liam Hemsworth, Sarah Snook and Jocelyn Moorhouse:
via
Universal Pictures Australia
/Twitter & YouTube
Here's Screen Australia's footage of the same event, featuring Hugo, Sue Maslin, Sarah Snook, Sacha Horler, Jocelyn Moorhouse and Liam Hemsworth :
via
Screen Australia
/Twitter & YouTube
Here's Sky News's footage, same event:
Sky News, via
Sun Herald
Hugo has given several interviews to various media outlets over the past week; a few were live radio/Q&A events that haven't been officially reshared. I'll start off with those that HAVE been and see if the others become available soon. (I was able to tape some of these, but ALWAYS prefer to share material from official sources which have made them publicly available, if only because viewing or listening to live feeds from the other side of the world is always tricky, involving various quality control lapses and, in the case of radio, superfluous material.)
Here's Hugo's interview with 3AWRadio's Denis Walter from 18 October. Always love it when radio sources record video and share to easily-embedable sites like YouTube. 😉
Via
3AWRadio
/YouTube… this looks like part of a longer interview, so I'll keep checking. 😉 But appreciate what's here very much. Includes a few minor plot spoilers.
Hugo gave Australian Women's Weekly a charming interview focusing on his Dressmaker costars, wardrobe and what sort of chick he'd be if born female 😉
via
Australian Women's Weekly
Hugo's in-studio interview on Today featured the usual career retrospective plus details on making The Dressmaker… and what a sequel to Priscilla might look like 😉
via
Today/9jumpin.com.au
Hugo gave a wonderful, in-depth 15 minute interview to Michael Smyth for AB Adelaide; here's the Soundcloud embed:
And finally, today Hugo sat down with ABC News's One on One for an extended interview which will air today; here's their preview excerpt. I'll try to share the whole thing once it's available for streaming. I'm personally glad Hugo DIDN'T play Mr Darcey, though he easily could have. He could've had Colin Firth's type-casting instead of all the post-Smith villains, I guess, but I recall Firth lamenting in an interview after his Oscar win for The King's Speech that he'd always wanted to play a drag queen and was never afforded the opportunity. 😉 Not slighting either actor, by the way; they've actually both chosen roles quite well (occasional Hollywood glitches aside). 😉
ABC News
Here's an additional transcript from ABC's website:
"As he strides into the interview room tall and smiling, Hugo Weaving sports a bushy beard and appears surprisingly relaxed as if he has all day to chat, which he does not.
As we wait for last-minute camera adjustments, he mentions that after four months off in his hometown Sydney, he is due to fly to Western Australia shortly to begin work on the much anticipated film Jasper Jones.
Since the 1980's Hugo Weaving has carved out a successful career in theatre and film, mixing lower-budget Australian productions with huge international blockbusters including The Matrix series, V for Vendetta and The Lord of the Rings trilogy.
For Weaving, there has never been a dilemma about whether to relocate to Hollywood or remain in Australia.
"I'm happy to work overseas," he said on One Plus One, "but my focus is here".
"This is a golden era of film-making in this country, we just don't know that.
"I've been saying that for ages. I think our films are getting better and better, we [Australians] are just not going to see them."
Weaving believes there are two reasons for this.
"The problem is not in the film-makers or the creative's, the problem is somehow selling the idea of our own culture to ourselves," he said.
"Or, we have an industry which is so slanted towards American films that it's very, very hard for Australian films to get a look in."
Weaving is clearly proud of the homegrown industry, despite deriving his reputation from high-grossing blockbusters.
His latest film borrows from both.
It is set in the fifties in a small, fictional Australian town named Dungatar.
The film opens with femme fatale Tilly Dunnage (played by Kate Winslet), returning to her home town from Europe.
She is a glamorous and gifted seamstress who travels with her portable Singer sewing machine, but she has a past. Years ago as a child, Tilly was sent away after being blamed for the death of a school mate.
The film features a who's who of Australian performers including Judy Davis, Liam Hemsworth, Sarah Snook, Rebecca Gibney, Kerry Fox, Shane Jacobson and Barry Otto.
Weaving — who plays Dungatar's policeman Sergeant Horatio Farrat — said he was "immediately interested" in the script when it landed in front of him.
"He's essentially a very nice man," Weaving said.
However, "he does have a secret, he's a cross-dresser. He also feels guilty because he's done something to the heroine, Tilly".
It's got a dark centre, a dark underbelly to it," he says in his deliberate, mellifluous voice.
Weaving was extremely happy to work with director Jocelyn Moorhouse again. It was Moorhouse who cast Weaving in her critically acclaimed 1991 film Proof.
They were both relative newcomers to the screen world. She recently returned to Australia after a stint in Hollywood with her husband, director and writer P. J. Hogan.
"Proof was the first film I had read … that I so wanted to be in," Weaving recalled warmly.
"I jumped on it and I thought, 'that's my film'. I was tested for it and thank-god (Moorhouse) wanted me to be in it."
Proof was released a decade after Weaving graduated from the National Institute of Dramatic Art (NIDA).
He was born in Nigeria, arriving in Australia as a teenager, after an upbringing where the family relocated every few years.
He says he did not have grand dreams when he first entered NIDA.
"I never think too far ahead," he said.

(Photo: Tom Hancock/ABC)
Weaving does not like to put himself above anyone else. He seeks meaning through voracious reading, spending time with his friends and family (partner of 31 years Katrina Greenwood and his children Holly and Harry) and enjoying his farm in northern NSW.
"I have a pretty strong sense of myself as a not particularly special person," he said.
He does, however, enjoy in-depth research and finding the redemptive qualities in the characters he plays. Those qualities are often to be found in how a character interacts with nature.
"I adore nature, without nature and without the natural world we have no perspective on ourselves … I think it's really special and life-affirming and gives me a perspective on who I am," Weaving said.
"I don't have a grand notion of who human beings are because I don't think they are any more special than a tree or a bird or a kangaroo."
But he clearly values what it means to be human and strives to get to the heart of what makes an individual tick whether playing Mitzi Del Bra in The Adventures of Priscilla, Queen of the Desert or the cross-dressing Sergeant Horatio Farrat in the Dressmaker."
*****
THIS JUST IN: Another new Hugo Weaving video interview courtesy NineMSN Mornings:
Nine MSN Mornings/9jumpin.com.au
You can read or view interviews with other Dressmaker cast members and creative team at the following sites:
Liam Hemsworth at The Project TV (Seven News video interview), Screen Australia, Vogue Australia (scans via LiamHemsworthFans on Twitter)
Rosalie Ham at Editing Everything, Niume.com
Jocelyn Moorhouse at ABC News
Judy Davis in The Sydney Morning Herald (and associated papers)
Sarah Snook at The Daily Mail
Sue Maslin at Flicks.co.nz
Plus there's a story on the film's set and production design at Desktop Magazine.
You can read positive reviews and well-written mixed reviews for The Dressmaker at Sunshine Coast Daily, Cocktail Revolution, Impulse Gamer, and Fashion Weekly
Sydney Premiere 20 Oct Photos

"Let the fun begin. Sydney premier of the dressmaker @marieclaireau @UniversalPics: Jackie Frank via Twitter

"See #HugoWeaving & #SarahSnook star in #TheDressmaker" Hoyts Australia via Twitter m(plus next one)

"The stars have arrived at #TheDressmaker Sydney Premiere! #HugoWeaving #SarahSnook @UniversalPicsAU" Hoyts Australia via Twitter

"Guests of honour of the evening at the @marieclaireau screening of @dressmakermovie #Sydney #premiere" Karishma Sarkari via Twitter/Instagram

"Sydney #dressmakerpremier with @jackie_frank @nickybriger @sarah_snook #HugoWeaving" Marie Claire via Instagram

"@sarah_snook & #HugoWeaving at the @marieclaireau red carpet screening of #TheDressmaker" EventCinema via Instagram

"Hugo Weaving is effortlessly cool on the red carpet at the #DressmakerPremiere in Sydney tonight." The Dressmaker via Twitter

"The gang's here- Hugo, Sue, Jocelyn and Sarah reunited on the red carpet at the #DressmakerPremiere in Sydney." The Dressmaker via Twitter

"#TheDressmaker team assemble at the exclusive @marieclaireau red carpet screening in Sydney" Universal Pictures Australia via Twitter (plus next one)

(L to R: Presenter Jackie Frank, Producer Sue Maslin, Director Jocelyn Moorhouse, Nicky Briger, Hugo Weaving and Sarah Snook)

My screencaps of Hugo Weaving, from the live feed of the Sydney premiere Q&A. Hugo accidentally broke a wooden footrest from the bottom of his chair but recovered nicely. 😉

Judy Davis sits to Hugo'd left

Note: I can't find an official copy of this footage online but was able to screen-record the Q&A in two parts. Will share Hugo's section if the person who shot it doesn't re-post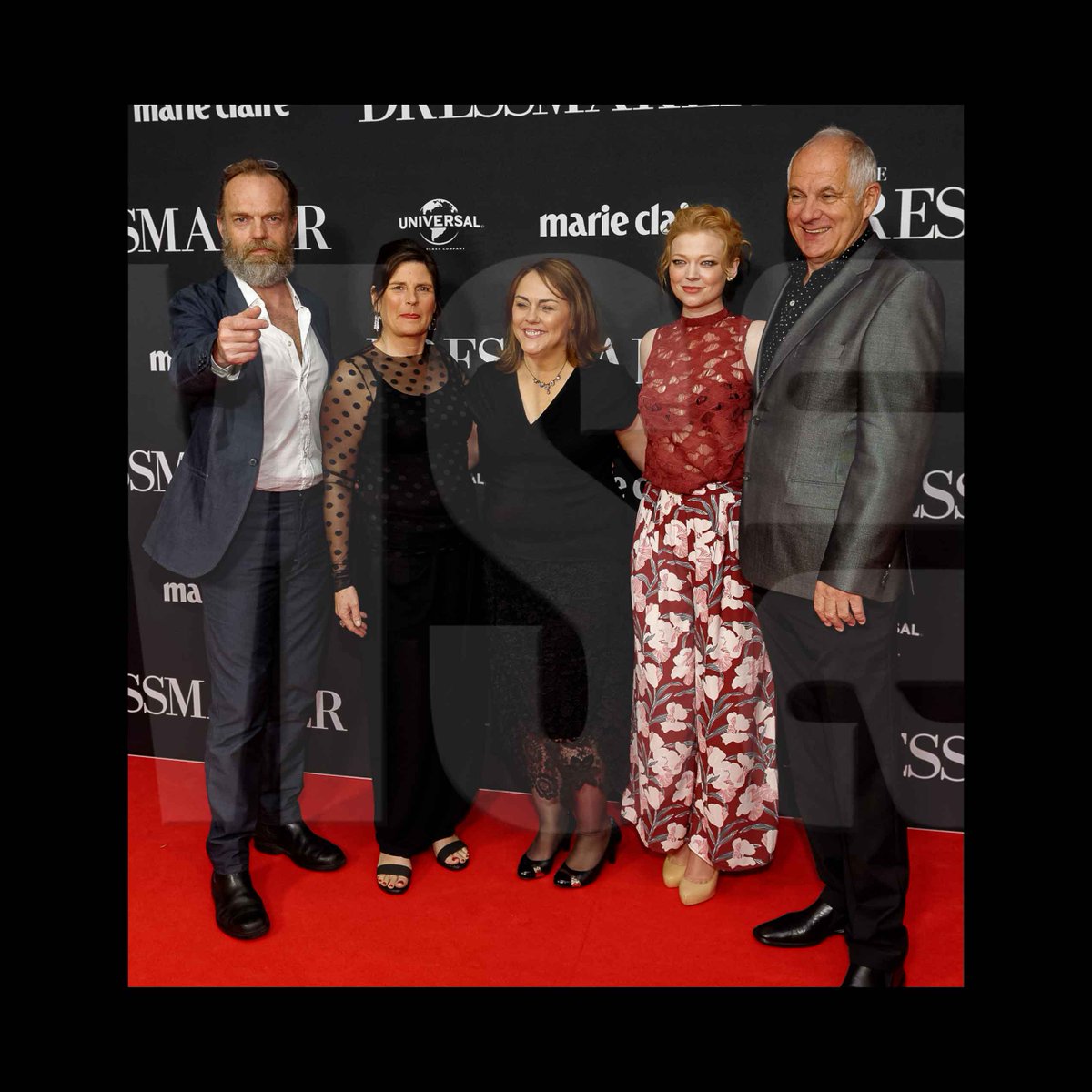 "Cast and Crew arrive for exclusive @marieclaireau red carpet screening of @dressmakermovie in #Sydney" Media Services AP via Twitter

"So lovely seeing you again this evening @NickyBriger!! (albeit briefly) x #TheDressmaker #marieclaire #screening" Karishma Sarkari via Twitter (plus next pic)

"Cast/creators of The Dressmaker at the Syd premiere w publisher @Jackie_frank & editor @NickyBriger @UniversalPicsAU" Marie Claire via Twitter

Hugo Weaving at the 20 Oct Sydney premiere of The Dressmaker. Photo (plus next three) Brandom Voight/Splash News

"Fantastic girls night out #thedressmaker #sydney premiere. Q&A #hugoweaving #judydavis #sarahsnook" Julia via Instagram

"#thedressmaker #ourcoolevent @universalpicsau @marieclaireau #sarahsnook #hugoweaving" Events Department ia Instagram

Photo (plus next three): Don Arnold/WireImage

Photo (Plus next one): El Pics/Getty Images

Photo: The Dressmaker Facebook (plus next three)

Sydney Premiere Q&A with Sarah Snook, Judy Davis and Hugo Weaving

Photo: Richard Milns/Demotix (plus next two)

Photo (plus next five)  MediaServices AP
Sydney Hayden Orpheum Screening Q&A Featuring Hugo Weaving and Jocelyn Moorhouse
Hugo and director Jocelyn Moorhouse also attended a preview screening of The Dressmaker at Sydney's Hayden Orpheum on 21 October; here are some fan photos of that event.

"Some photos of Hugo Weaving tonight at "The Dressmaker" Q&A. He's stunning and witty. Movie is great!" Siena W via Twitter (plus next three)

"oh Hugo you #hugoweaving #haydenorpheum #thedressmaker #film #cinema #theatre" amyohisson via Instagram
"#TheDressmaker. Amazing piece of Australian cinema. Hugo thanks for bringing good beard game. " Brittany Vigee via Twitter
Melbourne Premiere 18 Oct New Photos

Hugo Weaving at the Melbourne premiere of The Dressmaker. Photo: Mal Fairclough/AAP

Hugo Weaving, Sarah Snook and Liam Hemsworth in Melbourne   Photo: Mal Fairclough/AAP


"Bit of a selfie at my first red carpet #thedressmaker"  (Incl Hugo Weaving, Sarah Snook)" Sage Barreda/Instagram

"Hugo and the surprisingly large lighter" Sage Barreda/Instagram

"#HugoWeaving, #SarahSnook & @liamhemsworth at the Melbourne Premiere of #TheDressmaker." MovieJuiceTV via Instagram

This photo plus next one: Universal Pictures Australia via Twitter

Photo: L'Officiel Australia (plus next one)
Dressmaker Promotional Photos and Appearances

Hugo Weaving at a Dressmaker promo interview   Photo: Corporate Cameras via Twitter

Hugo with ABC Radio Melbourne's Raf Epstein  Photo: ABC Radio Melbourne via Twitter

"Hugo Weaving – what a charming man & a pleasure to interview for #movie  #TheDessmaker @UniversalPicsAU @2GB" Janette Lakiss vua Twitter

"This is me, LITERALLY standing in the shadow of the acting giant that is #HugoWeaving @UniversalPicsAU #TheBeard" Yahoo7's Jess Clark via Twitter

"He plays a cross-dressing cop in @DressmakerMovie Would Hugo Weaving ever play Mr Darcy? #OnePlusOne 10am @ABCTV"  ABC's Jane Hutcheon via Twitter
Seven lovely promo portraits of Hugo Weaving and Sarah Snook by David Crosling/AAP; there are five more of Hugo solo here that I hope to share soon.

David Crosling/AAP (plus next six)
Note: I do have additional photos, particularly of the Melbourne premiere, that I'm still sorting and working on (in some cases cleaning up) for optimal presentation here and on my Twitter feed. So stay tuned; for more frequent updates and earliest posting of new material, check out my Twitter feed.
Hugo Cast In Hacksaw Ridge
Some would accuse me of burying the lead by noting this story at the end of my post, and certainly the mainstream media outside of Australia talks far more about this project than The Dressmaker or any of Hugo's other recent projects. But frankly I'm lukewarm at best about this film, mostly because I've never respected Mel Gibson as a director OR as a human being, and am leery of Hugo and so many other talented actors being used to burnish or rehab his image. Hugo's son Harry Greenwood was cast in the film about a month ago; I retweeted news about it then but didn't dwell on the subject.
To back up a bit, Hacksaw Ridge is a World War II drama about a conscientious objector (to be played by Andrew Garfield) who refuses to carry a gun but nontheless enlists as a medic and is later awarded the Medal of Honor after heroics at the Battle of Okinawa. Though the material might be worthy in another director's hands, I'm leery of Gibson somehow turning it into another right-wing pro-war apologia with the sort of creepy religious overtones that have marked his most famous efforts as a director. Though Gibson's anti-Semitic and sexist rants haven't made the news in several years, I don't recall Gibson formally apologizing for them apart from excusing one incident as a side-effect of alcoholism. Even if he has shown contrition over these episodes and no longer holds the fundamentalist views he did in the past, his efforts as a director were heavy-handed exercises in battlefield torture-porn which also had racist and anti-gay overtones at times. Gibson didn't write the screenplay for this film, but it still sounds like yet another jingoistic Hollywood WWII movie at best. So it's not something I'd even consider seeing if Hugo wasn't involved, and he's going to really have to sell me on this before I consider paying money to see it in a theatre. I'll cover it here when Hugo is specifically involved in updates, but am skeptical at this point. I don't know why Hugo signed on, though he seemed more eager to talk about Harry's participation than his own role (see the Today interview, above), so it might be the opportunity to be on the same project as his son, though Hugo says they aren't sharing any scenes, There also might be a better-than-expectef script, or Hugo might want to support the local industry by working on an Australian-made large-scale "prestige" film sure to garner international attention.   (The lead characters are American.)
At any rate, Hugo plays the father of Andrew Garfield's lead character, Desmond T Doss. The film is already in production, but Hugo will be working on Jasper Jones before reporting to the set of this one. For additional details on the film, see Inside Film, Deadline, The Wrap and Variety… most sources repeat essentially the same information. Props to most sites for at least using a somewhat recent photo of Hugo this time. 😉  Again, if anyone can sell me on this, it would be Hugo, so I'm trying not to assume the worst, but I have avoided some of his films in the past and reserve the right to do so again… I would think he'd appreciate thoughtful fans who think for themselves over fawners who treat every project with equal reverence and have no objectivity.  Hugo himself freely calls some of his past films "rubbish".  Including a few I personally happen to like. 😉