Apologies for the gap between entries… as you know, this is a very busy time of year.
The Battle of the Five Armies
I did attend a marathon screening of all three Hobbit films on 15 December but will withhold my full review until the end of the moth, as there are still a few regions whee The Battle of the Five Armies hasn't opened (including Australia), and many reviewers have already been too loose with the spoilers. I will say that yes, these films don't hold a candle to Lord of The Rings. But I had a fun time seeing tis trilogy and– some early technical difficulties aside– it was an effortlessly fun way to spend a day. I was never bored. And I'll dare say that these three films go down easier seen at at once than with a year in between. (Peter Jackson's reliance on cliffhangers this time around is legitimate grounds for criticism; the Lord of the Rings films each ended on a decisive note with one story element completed as the overall arc continued.) Interestingly, An Unexpected Journey improves with a second viewng while The Desolation of Smaug deteriorates a bit– not only due to the distinct lack of Hugo Weaving in the second film.)
Yes, the material probably would've fit just fine in two films rather than three. But I'm reminded of the Beatles' White Album conundrum: most fans say it could have easily been edited down to one great album instead of two "merely" good ones, but I've yet to see two Beatles fans agree completely on WHAT they'd cut. Similarly, reviews critical of BOFA (and The Hobbit trilogy in general) seem divided on whether the extravagant action sequences are in need of trimming or the plotting nuances between. I'm in the former camp. In fact, I'd have enjoyed a longer BOFA if the some character-based material was added to make the transitions between action setpieces a bit less jarring. My favorite parts of the film– and the trilogy– are the small character moments. And the immense talent of most of the actors on hand makes even the underwritten material (and too-swift transitions) work.

Hugo Weaving and Peter Jackson prep for the Dol Guldur rescue scene in BOFA. HD version of this photo here.
If you're only watching these films to see Hugo Weaving (or Cate Blanchett, or Christopher Lee) you might be disappointed. Their sequence battling Nazgul at Dol Guldur (to resolve the Gandalf's capture cliffhanger in DOS) comes early in the film and is over within minutes. Much of Hugo's footage appears to be a stunt double or CG, and he only has about three lines. He has little to do- less than the other White Council members– once he makes the grand entrance seen in all the trailers and TV ads. I would argue the scene is necessary and gives the titular battle greater stakes than the novel as originally written, as it ties this conflict to the larger one in LOTR. While Tolkien might not have staged this specific scene per se, he did explicitly attempt to link The Hobbit and Lord of the Rings through supplemental material, and at one point toyed with the notion of rewriting The Hobbit as a darker tale more in tune with LOTR. While his work is more lyrical and less action-driven than Peter Jackson's take, I would argue no great liberties are taken. Jackson fills in gaps left undefined rather than violating the spirit of Tolkien's work. I'm not an overly devout fan of either the director or the writer– both have provided great entertainment at various times in my life, and both have flaws.
I'll say no more about plot specifics until the film is open everywhere, as I can't get too far into describing what worked (or didn't) about the film without spoilers.  As far as recommending the film, I would wholeheartedly to anyone who likes what they've seen so far. If you hated the first two parts, though, or simply aren't into these sorts of films, BOFA won't magically change your mind. It's completely of a piece with the first two. I actually understand (and in some cases, agree with) various criticism of the film and trilogy. But I have enough affection for the films and characters that even glaring flaws don't matter as much as they might in films featuring less talented actors and filmmakers.
Here are some of the promo videos for The Battle of the Five Armies that have appeared since my last entry:
The Hobbit trilogy B-Roll footage (Hugo at 1.50) ;
Screen Slam
via YouTube
Memories of Middle Earth behind-the-scenes featurette w/actor interviews; Hugo Weaving interview snippet at 1.22
Warner Bros
via YouTube
Completing Middle Earth (six film overview) featurette;
Warner Bros
via YouTube
17 Years in the Making Hobbit/LOTR overview; Hugo footage at 1.39, 2.00, 2.49, and 5.40;
Warner Bros
via YouTube
I'm not even going to attempt to compile all the reviews of the film; many are very cynical. But some of the more balanced, well-written ones appear at Empire Online, Entertainment Focus, Victoria Advocate, The Radio Times, Flickering Myth (1), The Boston Globe, The Scotsman, TIME, Flickering Myth (2), ABS/CBN, Examiner.com, The Daily News Online and MoviePilot.
Additional feature stories about Battle of the Five Armies and The Hobbit trilogy have appeared at The Guardian, Films on Wax (Howard Shore interview about the film's score), Digital Spy, The New York Daily News,
You can watch Evangeline Lilly's gonzo promo interview on Conan at TeamCoco.com and see a behind-the-scenes glimpse of uber-fan Stephen Colbert having the ultimate cosplay fun prepping for his Entertainment Weekly Hobbit cover story at EW Online. (Yes, I have the print magazine (Bilbo cover) and will try to have scans up at Flickr soon.) There's an Ian McKellen photo quiz at TwitchFilm.  And a Cate Blanchett interview which notes The Hobbit in passing at The Daily Telegraph.
…And I've added three Hobbit-themed print articles from The Independent, The Daily Telegraph and The Daily Express to my Flickr Archive. No Hugo Weaving interviews per se in these, but a two feature images of him.
The Mule
I hope some of you were able to participate in #TheMuleLive event back on December 7. (I know several of my Twitter pals were along for the ride).  I rented a copy of the film and tweeted along, and found it an indecent amount of fun.  Though it would be impossible to share everything contributed by the fans, filmmakers (Angus Sampson, Leigh Whannell and several film crew members) and actors (John Noble, Sampson and Whannell, Georgina Haig, Ewen Leslie and Chris Pang), here are some highlights, including wonderful behind-the-scenes images and script pages:

Hugo Weaving, Angus Sampson, Leigh Whannell, Ewen Leslie during pre-production   Photo: Stefan Duscio (The Mule's cinematographer) via Twitter

The cast at an early table-read of the script (Hugo is far down on the left)   Photo: Stefan Duscio (The Mule's cinematographer) via Twitter

Angus Sampson. Hugo Weaving, Ewen Leslie,   on set   Photo: Stefan Duscio (The Mule's cinematographer) via Twitter

Hugo Weaving on set Photo: Stefan Duscio (The Mule's cinematographer) via Twitter
Here are script pages from some of Hugo's (Det Croft's) funniest scenes, as shared by Angus Sampson. Original screenplay by Angus Sampson, Leigh Whannell and Jaime Browne.
"There are tongs for that!" (Croft vs Ziggy)
THAT scene…
"Bit more choke and that would've started"
The Infamous Balloon Scene

The Perils of Australian Lamb

Some other great production images:

"Fiona Rees-Jones' make-up kit for the #HugoWeaving #TheMuleLive" The Mule Movie via Twitter

The film's storyboards  Photo: Stefan Duscio via Twitter

Assembling scenes in the editing room   Photo: Stefan Duscio via Twitter
You can read interviews with Angus Sampson and info about the Live Tweet event at The Sydney Morning Herald, Subculture Entertainment, The West Australian, FilmInk, Quickflix (places The Mule in the Top 10 Australian Films of 2014),
The latest reviews of The Mule (which remain largey positive) can be read at Better Than IMDb, How To Win Game Shows, International Syndicate of Cult Film Critics, Eureka Street, Thy Reviewer, Broadsheet
And if you missed any earlier promo videos or video interviews for The Mule, Angus Sampson has assembled a Playlist (which includes a few of his and Hugo Weaving's press interviews) on YouTube.
The Dressmaker
Of course, Hugo Weaving was unable to participate in #TheMuleLive and in most of the Battle of the Five Armies promotion because he's been busy filming The Dressmaker for director Jocelyn Moorhouse at locations in Victoria. Production formally wrapped a few days ago (December 14), but not before several more photos of Hugo Weaving and other cast members (Kate Winslet and Liam Hemsworth chief among them) appeared online via Instagram and several online papers in the Wimmera area, where the last block of filming took place.
The production team announced filming completion via producer Sue Maslin's second eNews announcement. Click on the link for the full text; here are a few highlights:
"On Friday the 17th of October 2014, we rolled cameras on The Dressmaker at Docklands Studios Melbourne. Eight weeks later we called "Cut!" for the very last time finishing up in Horsham, Victoria. ..
Kate Winslet has been our ideal 'Tilly': beautiful, strong, quick-witted, and even quicker with her period Singer sewing machine. The mother-daughter relationship between our 'Molly', Judy Davis, and Tilly is authentic, moving and a joy to watch. To see these two great actresses working together on the screen has been electric and often hilarious… Liam Hemsworth brings loads of natural charm and warmth to 'Teddy' and it's no wonder Tilly falls for this likeable and devastatingly handsome rogue. And Hugo Weaving is perfect as our debonair 'Sergeant Farrat'. Add to this Sacha Horler as the formidable 'Una' who attempts to rival Tilly and Sarah Snook, a revelation as 'Gertrude' who bowls everyone over in her exquisite gowns designed by Marion Boyce. We are indebted to our entire cast, of which there are so many, who have added such depth and character to the townspeople of Dungatar."
The Wimmera Mail-Times featured several great photos of cast members (including Hugo) enjoying down-time at local haunt The Exchange Hotel , posing with fans. (Captions are from original news article).

"Nathalie Henry and Sharon McDonald meet stars Gyton Grantley and Hugo Weaving at the Exchange Hotel in Horsham on Tuesday night [9 December]."

"Annie Brack meets Hugo Weaving on Tuesday night."

"Katherine Coorey and friends get to meet some of The Dressmaker stars at the Exchange."

"The Dressmaker extra Paige Schmidt, left, and Horsham's Loucas Vettos, right, with Caroline Goodall, Hugo Weaving, Kerry Fox, Sarah Snook and Shane Jacobson outside The Exchange on Wednesday night."
All four above photos: The Wimmera Mail-Times; they have additional photos of the set and other cast members in their online gallery.
Here are some additional fan photos (with original captions) that have appeared on Instagram:

"So I met Hugo Weaving on the set of 'The Dressmaker' the other day. You always think that whenever or if-ever you'll meet your absolute idol then you'll have an intelligent conversation, but take it from me, you end up looking like a bumbling idiot asking for an autograph when the opportunity arises. #hugoweaving #agentsmith #lordelrond #thedressmaker #onset #metgodtoday"
Photo: Charles Thompson via Instagram

"My beautiful mum met Hugo Weaving, @gytongrantley and other cast members of The Dressmaker on Wednesday night! So lucky. After spending the arvo on set and then meeting these guys that evening – I certainly am jealous! #thedressmaker #hugoweaving #horsham"  Photo: Schmenz via Instagram

"Got to meet one of the best Australian actors ever!! #HugoWeaving" Ella Schorback via Instagram
JustJared posted a number of photos of cast members between scenes on set; most are of Kate Winslet, Liam Hemsworth and Winslet's husband Ned Rocknroll, but there was one great pic of Hugo with Kate Winslet. (Featuring his infamous fire-carbonized glasses– yes, apparently Hugo needs bifocals now. Guess we're all gettin' old together.) 😉

Hugo Weaving, Kate Winslet and a Dressmaker crew member on the film's Melbourne set   Photo: JustJared; no specific photographer credit given; enlargement here
An additional JustJared gallery doesn't feature Hugo, but shares some amazing shots of Kate Winslet in a dazzling red dress and Liam Hemsworth in rugby gear.
The Wimmera Mail-Times posted several related stories (and loads of set pics featuring Winslet, Hemsworth and many costumes extras). You can find the links to all here. Hugo Weaving is mentioned but there are no interviews or photos in these pieces.
The film's production-wrap announcement was covered by Variety, Screen Daily, The Courier-Mail, The Daily Mail, Inside Film, Weekly Times Now and Digital Spy. All featured the film's first official stil, featuring Kate Winslet (below). Jocelyn Moorhouse is quoted as calling the film "'Unforgiven' with a sewing machine" and adds "Working with Kate, Judy, Liam and Hugo was wonderful. A great crew, brilliant supporting cast and beautiful locations, costume and design helped make the shoot a delight."  The Lowdown Under included a number of set photos, including some from the film's Facebook page.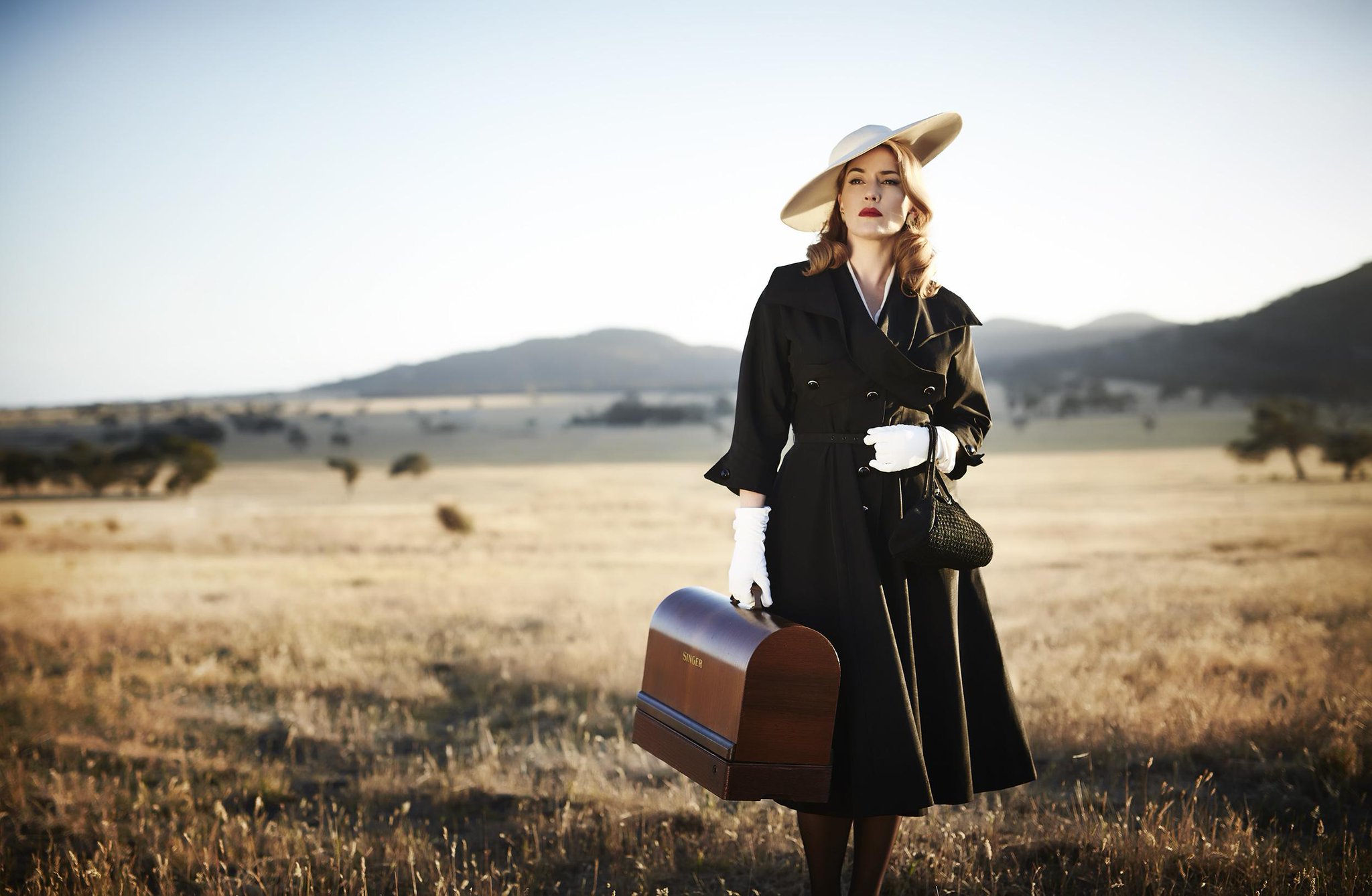 Kate Winslet as Tilly in The Dressmaker   Film still via Empire on Twitter
In Other Hugo Weaving News
You can now stream Mystery Road on Netflix (in the US) and Healing on QuickFlix (Australia.) Healing is also available on DVD in Australia (region 4) only as of December 3; a US release and European release are tentatively scheduled for next year, but no specifics have been announced, nor any info on whether this would be a cinema run or direct-to-video/streaming/DVD/Blu-Ray. I assume that Starz/Encore will eventually broadcast the film on cable in the US.