It's been a slow couple of weeks for breaking news since Sundance ended. I assume Hugo Weaving has been taking a well-earned break, possibly gearing up for Endgame rehearsals at Sydney Theatre Co. (The play, which teams Hugo with Bruce Spence for his second go-round with Samuel Beckett in the past few years, begins performances March 31.) Hugo was also spotted in the audience at last night's STC premiere of Tennessee Williams' Suddenly Last Summer, starring his former director and costar Robyn Nevin. His son Harry Greenwood– now making waves on Australian TV in Gallipoli— was also on hand. No, no pictures as of yet: Hugo is often adept at dodging press photo ops when he's attending plays as a viewer, but sometimes indulges us. We'll have to wait and see.
More previously-unseen photos of Hugo from January's Sundance press junket for Strangerland continue to surface, though, so I'll share all I've found since the last entry. I've also given up on HuffPost Live sharing their Hugo Weaving/Joseph Fiennes interview (which was webcast live on January 24 but hasn't been re-posted) in anything resembling a timely manner. So I've transcribed the whole thing and will post it here (from my audio recording) along with photos taken at the taping. HuffPost might be waiting until the film's formal release, whenever that might be, though all of the other media outlets who taped Strangerland cast interviews shared their material the same week.
I still hope HuffPost eventually shares their footage of the interview, which would be far superior to this. But for now, I'll do what I can. I'd share the audio too if I wasn't afraid of lawsuit threats. I've long since stopped trying to guess what might or might not make content providers needlessly pissy, but it's always a good idea to err on the side of caution. That said, this material is too good to merely live-broadcast then sit on for weeks. The actors were there expressly to promote their film, and I'll do what I can to faciltate that, given how disrespected this film was by the largely-snide hipster press at the festival. Warning: the following does contain a few plot spoilers and overuse of the word 'process'. 😉
Transcript: HuffPostLive interview with Hugo Weaving and Joseph Fiennes at Sundance, promoting Strangerland, 24 Jan 2015
Interviewed by Ricky Camilleri at the ChefDance & HuffPost Live Media Lounge
Interview photos: Tiffany Rose/Getty Images
RC: I'm joined by Hugo Weaving and Joseph Fiennes who star in the film Strangerland with Nicole Kidman. I saw the movie last night, I was gushing over it with you guys just a minute ago. Thank you so much for joining me. Incredible performances. Incredible performances. When you read the script, were you nervous at all? We you worried about taking on these roles?
HW: No…I don't… I think… Whenever I read a script, I just read the script rather than think about 'the doing' of it. I'm just reading the script for what it is. I don't know about you, Joe, but–
 RC: Sort of read it as a fan first, almost?
HW: Not as a 'fan', just to read it as a story, and to understand what it is, and just to read the minute detail within it–
RC: Right–
HW: How the humans interact. Just read it as a story. And THEN you go, 'Well, that's something I want to do." And then you think–
RC: Can I do it? How could I do it?
HW: Yeah. If the offer's there, THEN you start thinking about all those things. So the initial thing is just the story itself.
JF: Also, Kim is– our director, Kim Farrant– her process with the actors is kind of not common, it's unusual… her dedication to the rehearsal period [the] sort of mining and sort of emotional exploration. And so, just reading the script and talking to her on the phone and gauging, 'Ah, this is the kind of laboratory we're going to be involved in' was really exciting.
RC: How exactly is her process different, working with actors, considering what you're used to, you said?
JF: She's been an actress, so she understands that, and she… rather like Nicole and Hugo, for me… create a very, very safe and protected environment in which to explore, and to fail and to examine. And so that conversation, and the time to have that conversation– although, as you know [in] the independent world of making movies, you never have [too much] time– But you really did feel that she made every effort, so she was there weekends, days off, mornings, nights, really excavating, mining, and that's rare.
RC: People always say that actors–FOR actors– make the best directors. Right? At the end of the day, sometimes actors have projects that they direct [which don't come out as good, but actors on set make the best directors. Why is that? What about knowing the process of the actor really helps?
HW: Well, maybe it's an understanding that all actors are different, as all human beings are different. So every actor's "process" is different. Maybe just that in itself is a help for an actor/director because they understand that each individual has a very different process, a different way of approaching something, whereas… but I think there are directors who understand that very very well too, so I wouldn't say ALL actors would make great directors. A lot of them would be awful. So I think it depends of the individual, really.
RC: We should summarize the film, give an idea as to what is about. We're getting deep into the process here, and we're not talking about what the movie's about [laughs]. It's an incredible story. You [Joseph] and Nicole Kidman play a husband and wife– kind of having trouble, kind of on the rocks– and your two children go missing, and you're [Hugo] the cop who's sent to investigate it. Do you guys want to open up more about some of the–
 JF: There's a history [between my and Nicole's characters] which brings them to a strange land, and that is that their daughter had an affair with teacher at school, so they've moved from one location to another.
HW: So when we first meet them, they've just arrived in this new town. He's go the job as the local pharmacist, and… they're very much [just] settling in, and unsettled by this past experience in this other town.
RC: Pharmacist is such a perfect occupation for your character–
 HW: Yeah, it is, isn't it?
 RC: There's something about pharmacists that I've always found to be, like, stiff and rigid–
HW: [Laughs]
 JF: [Laughs] There's– yes, clinical, but there's also– what I love is that he is the carer for the community, so he wears a public face– a mask, if you like– which is all about dedication and attention to the community. But the one place where he's missing the contact and the care is right at the home, because he feels such a shame of what's [happened] in the episode before. So he really becomes so involved in his work as a way of deadening having to deal with that. I don't think he's got the facility or the dialogue to explore that theme. I think he feels such rage and shame. That he's caring for the community and then that community kind of lets him down, because it could be any one of those [people] that has taken his daughter. So it's an interesting place.
RC: And we also get that great foreshadow at the top of the movie where he says, 'I will not have my business strewn out in front of the people of this town like last time.' And as a viewer I was like, 'Oh, yes you will.' [Laughs]
HW: [Laughs] Yeah!
RC: 'This is coming!' You [think you can] say that at the first act of the movie and NOT have that happen by the end…
JF: It's the idea that your public persona is laid bare, that at any cost… I cannot have my private life… That devalues the strength of his position in the community.
HW: I love the way that one of the first actions we see him taking is that, at night he is actively going around houses, looking in windows, just to see if the daughter is–
RC: Because he doesn't want to be seen to be searching during the day, which is so strange–
HW: Yeah. Everything buried and hidden, even his searching–
RC: It's all private.
JF: I think he's trying to keep control of the situation, because he's lost it. It's all about pent-up control–
RC: But it's even weirder [that way], when he's peeping in windows–
JF: That brings about a worse effect, yeah.
RC: And it's like, whose window is that? He's just going around to neighbors, peeking in?
JF: I think that's what it is.
HW: Yeah.
JF: He's going to, sort of, suspects that he might imagine that she might go to within the vicinity.
RC: Talk about working with Nicole Kidman. Man, she is a powerhouse, right? She's this big brand star who takes the biggest risks I think I've ever seen an actress take.
HW: Yes, she does. She's immensely brave. But the lovely thing about Nic is that she's a very… present person. Yes, she's a big star, but people endow her with a lot of stuff. She just wants to do her work really well, she does–
RC: And that's what you get a sense of with her–
HW: And she's very… Being with her on set is very easy, to breathe with her in a scene. You know? It's very easy to just do your work well with her, and she is very brave, and I… She said a great thing, 'Between action and cut, I will do anything.'
RC: Wow.
HW: And it's not an uncritical mind or facility… It's actually [that] she's just prepared to go anywhere between action and cut. And it was a fantastic thing to say. And that's a measure of how brave she is.

Photo: HuffPost Live/Instagram
RC: When you're doing scenes like this with her, and she's doing anything, she's going to these wild, desperate places emotionally, do you feel like you, as the actor in that scene, have to be present and aware, and sensitive to how she's going to feel about this off-camera, or do you feel that affects your process of being on camera as well? I mean, how do you work out the sensitivity of a moment with some of the stuff that she has to do in that film?
HW: Like anything in life, if someone's– if you're aware of the difficulties of something for them, or– I think, just being aware of other people is sort of what actors hopefully do anyway. We try and be aware of other people outside ourselves–
RC: The presence–
HW: –And then when you're in that situation, just being aware– everyone on set, not just the other actors.
RC: We were talking a little bit about process, and I don't want to give any spoilers away, but we were talking about a scene in the film where we see everything that you've [Joseph] gone through go over your face in one take. One shot. And it's unbelievable how you were able to get there. Can you talk to me about gearing up to do that scene?
JF: We were lucky enough to shoot– in terms of that scene– chronologically, so that ended up being pretty much toward the end of schedule and so all of the release was… sort of ready to be let go. I think I played the character with, you know… for me the one word that came from this whole process was 'shame'. And a man that has a public persona, and has to carry the shame, and… he becomes blocked. He becomes a man that is enraged. he has no… he's impotent. He has no control. He's impotent in many ways.
RC: Yes–
 JF: Mentally, physically, spiritually. Because he's lost control. And I think that there is that one moment when he realizes– without giving anything away, he reads his daughter's diary, and he realizes the extent of damage that's probably caused by him. And it's interesting to kind of… as parents– I'm a parent, Hugo's a parent– that thing that your children are sponges on all levels, not just sort of intellectually, but very much emotionally. And I think there's a huge kind of chasm, I think, at a certain age, when his daughter's sexuality awakened, he felt threatened, and probably receded from that. So there are many components built into that moment.
RC: I loved how, in the film, you imagine when something like this happens– a child goes missing– there are all of these avenues that you could start going down as a parent, be they false, be they true. And in the end of the film, I think, for a certain type of viewer, they go, 'That's not wrapped up', and it's like, no that IS wrapped up. That's all that it was for them. You know, that's not a plot point. That's just people going crazy.
HW: That is, for me, the greatest strength of the film: it IS about impotence, really, everyone's inability to express what they feel, to find what they want, to take the right action– 'cause there's not a lot you can actually do. So the film's great strength is in that failure and inability of people to connect with each other, and to move forward in their lives. Because when something like the loss of a child happens, the loss is so extreme, and the not-knowing what happened is so open-ended, that you are literally incapable of doing anything. And it's a great– I think that when the film's at its best, it's when that's so palpable.
RC: Absolutely. Is there a certain irony, you think, to the story, that getting past this shame, getting past this impotence, may have [required] this tragedy? The greatest tragedy that would cause all of this other impotence for so many other families, may have been in many ways the saving grace of this relationship?
JF: Right, that's very astute. And I love the way you've seen that, because I think that, at the end, it's the beginning of possible repair, because come right– we hurtle– we're thrown right into this disintegration of a relationship, amd marriage, and all that encompasses, and at the end, they connect. There's a moment of touch. There's a moment of genuine connection which has been so absent. And I think that from that moment, there's a possibility– there's a sort of redemptive possibility. So that's a really big component. I think there IS an irony in that. You're absolutely right.
RC: Yeah. Well, guys, thanks so much for being here. It's been real pleasure talking to you.
HW, JF: Thank you.
RC: Congratulations on making such a powerful film, and premiering at Sundance.
HW: Thanks.
JF: Thanks a lot.
RC: Pleasure talking to you.

Photo: ChefDance Facebook
***
More Photos of Hugo Weaving at Sundance
All taken 23 January unless otherwise noted.

Photo (plus next three) Jeff Vespa, Getty Images

Photo (plus next one): Daniel Bergeron/Corbis Outline

Photo (plus next two): Larry Busacca/Getty Images
Given how stunning these are, I'm tempted to say the photographers calculatedly saved the best for last… and there's hope more beautiful portraits may still emerge. You can learn more about Larry Busacca's stunning portraits at PetaPixel.
We also have one rather flippant new video entry from Sundance, AJ+'s "Red Carpet Hardball", in which various celebs at the Strangerland and other premieres are ambushed by the snarky reporter with complex hard-news questions completely out of place at such an event. I don't think Hugo is given enough credit, frankly, as he does answer a challenging question, and unlike Chiwetel Eijiofor (who admittedly does a great job) probably hasn't been asked this question before. I guess we should be glad Hugo wasn't also ambushed with a "How do we fix Nigeria?" question. He hasn't actually been to Nigeria since the year of his birth. 😉  I do think there's a fair context for asking actors and other thoughtful celebs such questions, but a red carpet event where many reporters are clamoring for minimal face-time sure ain't it. Call me square, but I actually wanted to hear more about THE MOVIE.  Especially given how few media outlets have deigned to shared premiere footage.
AJ+
via YouTube
Strangerland still doesn't have a release date or any sort of official media presence, which is bizarre given that even small Australian indies like Last Ride, Mystery Road, The Dressmaker– and particularly The Mule– have been so well promoted on social media. The film's new distributer Alchemy has a shell of a website with no real content about films as of yet, and is competing with at least half a dozen other filmmakers/distributors with very similar names. I hate to say it, but it looks like this might be Hugo's worst-handled film in terms of marketing since The Tender Hook and the US release of Mystery Road.  I hope Alchemy proves me wrong in a decisive way soon, because I'm still very excited about this film, and still think the Sundance disapproval seemed shrill and adolescent, more undeserved media piling-on of Nicole Kidman, who deseves better.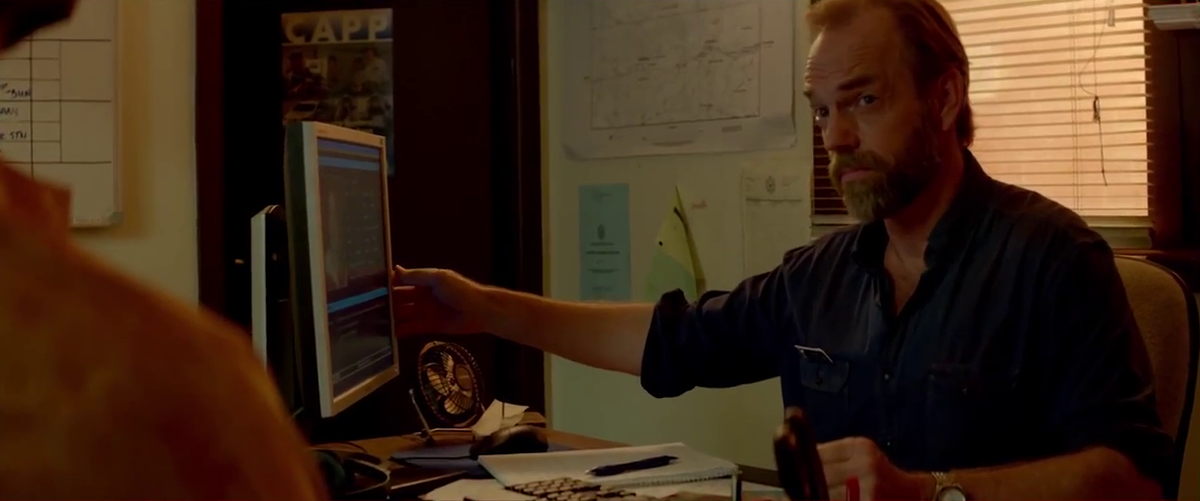 Hugo Weaving in a brief preview scene from Strangerland (via AP News  and Cinefix)
You can read a new interview with Strangerland director Kim Farrant at IndieWire. And a balanced, positive review at The People's Movies.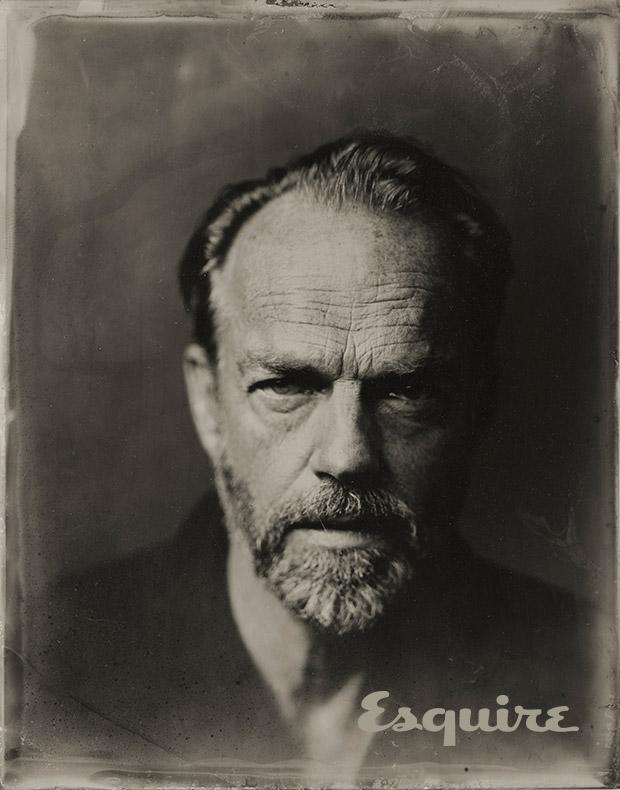 "Hugo Weaving photographed by Victoria Will in vintage-style portrait for @Esquiremag. #HugoWeaving #Sundance2015 " JohnSant87 via Twitter
And here's my candidate for Strangest Strangerland Press Article, but it features a new photo of Hugo (with Kim Farrant, Niole Kidman and… Kim Farrant's massage therapist brother.) 😉

The Waiheke Times, via Stuff.Co.NZ
In Other Hugo Weaving News
STC has updated their page for Endgame, adding a lot of background info on the play and its themes. No word yet on whether rehearsals have officially begun, but they probably will soon. Tickets remain available for most performances. The play runs through 9 May.
The Dressmaker is deep into post-production, and according to Deadline, some early footage of the project was shared at the just-ended 2015 Berlinale for marketing/distribution purposes. Obviously it's too early to expect a final edit this soon. The film's Facebook page recently noted that David Hirschfelder (who also scored Healing and Kidman's The Railway Man) is composing the score. There will also be a movie tie-in reissue of Rosalie Ham's source novel, welcome news for international readers who can't locate a copy of the original printing for under $35 plus shipping from Australia. 😉
Tim Winton's The Turning has received mostly favorable notices in kits UK release (from 6 February) includinfg reviews from The Independent, Dog and A Wolf, The List, Flickreel.com, The Irish Post and The Hollywood News. FILM3SIXTY reposted their excellent Berlinale 2014 interview with Hugo Weaving and director Davod Wenham discussing their contribution, "Commission".
And The Mule continues to draw better reviews than either The Turning or Strangerland, ironically, the latest in Badass Digest, Technology Tell, Catch of The Day, and The South China Morning Post. And you can now buy the film's way-cool 1980s-style soundtrack.
Finally, I'm not a big proponent of Valentine's Day, which I consider a manufactured holiday designed primarily to sell greeting cards and chocolates and foster an atmosphere of romantic insecurity. 😉 But I realize some people may feel differently, and I loved the "unguarded moment" existential gesture of Hugo Weaving picking flowers near the Strangerland set, seen in these photos which recently surfaced courtesy INFPhoto. 😉